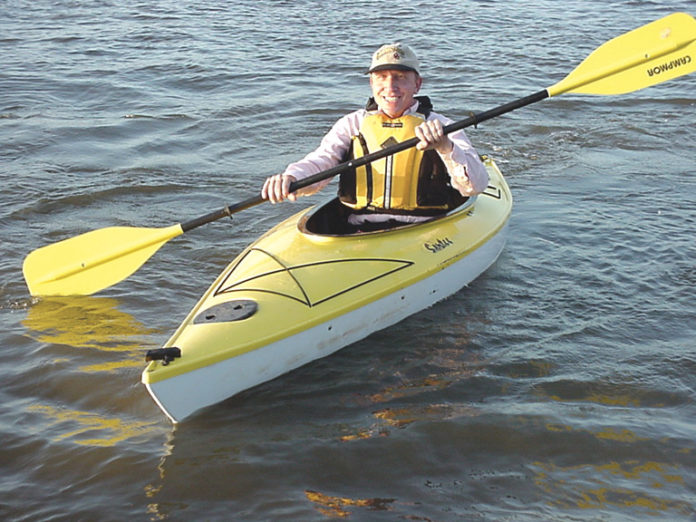 Story and photos by Darl DeVault
Recent retiree Rob Walker, 64, wants to share the concept that social distancing is an automatic added benefit of learning to kayak while exploring Oklahoma's many places to get on the water. He explains that the flow of any river, the currents and the variations in any lake enforces social distancing. >From this, he insists seniors who take up the sport of kayaking are assured a COVID-19 safe recreational outing.
"Social distancing comes with the territory when you're kayaking because you cannot get that close to each other without intending to get close to each other," Edmond resident Walker said. "And certainly, if you are on one of Oklahoma's rivers the current is such a variable that you have to consciously work to get within social distance of someone, making it safe to have a wonderful outing on the water."
Oklahoma's 1,231 square miles of water provide new senior paddle sport enthusiasts with plenty of safe opportunities for recreation. Paddle sport insiders say our state's 78,603 miles of rivers entice senior kayakers to become outdoor enthusiasts.
Although magazine and television ads often portray sea and whitewater kayaking, Oklahoma has none of the former and little of the latter. Flatwater kayaking (also called recreational kayaking) with wide, lightweight plastic touring boats, dominates in Oklahoma.
A new generation of these wider, inexpensive flatwater kayaks with dynamic control and lightweight construction is fueling a paddle sport explosion. With the control and balance provided by these smaller, wider boats, many seniors have been enticed to try the sport.
With the COVID-19 pandemic requiring people to be six feet away from each other even in a recreational setting, safety on the water is now a plus. The need for social distancing means that for seniors kayaking is one of the safest forms of exercise.
Overall safety is also determined by other things that go on each day like the weather and the river flow rate seniors might be on or the conditions in a lake.
"I advise anyone planning to kayak or canoe to first go online to the many web sites detailing flow conditions and weather predictions," said Larry Floyd, Surrey Hill outdoorsman and hiking book author. "With the demand placed on our rivers by the large number of paddlers in Oklahoma many organizations help us float safe by monitoring flow rates and weather conditions."
This kayak boom is accompanied by growing scientific analysis of river conditions that make the sport safer than ever. The National Oceanic Atmospheric Administration's National Weather Service data is presented and interpreted on numerous Web sites that give the paddler plenty of information to plan a safe trip. A link to the main site is: https://water.weather.gov/ahps/ The weather service provides this info to help promote its weather awareness activities.
Walker says fellow seniors who bicycle catch on to the effortless balance and the instant feedback provided by the new generation wider kayaks. He says many comment on how similar the two feelings are and yet one can relax more in a kayak when choosing to drift along with the river to admire the scenery.
The 60-mile section of the Illinois River near Tahlequah, where it flows nearly due west for its first 15 miles in Oklahoma until it joins Flint Creek, is a slow-moving place to relax according to Walker. He said you will find people in rubber rafts, canoes and kayaks traversing the river all summer. There the river ranges from 40 to 80 feet in width, with elms, maples, and oaks on the riverbank.
Recent technology has upgraded the quality and lowered the price of boats available to the recreational kayaker, while providing great kayaking opportunities for those of all ages, shapes, abilities, and fitness levels. As newcomers to the sport, many seniors enjoy the stability and ease of boarding these wider recreational boats.
Seniors can easily find out if they enjoy kayaking by renting one for a few hours. Flat Tide Paddleboard Rentals puts you on the water in kayaks and paddleboards at the northeast corner of Lake Overholser near the Route 66 Bridge on the weekends. Nearby RIVERSPORT at Overholser also rents all paddle sport recreational craft.
Seniors can use their kayaks on local lakes, ponds, rivers, or Class II streams. Most kayaks have a variety of uses such as weekend, full week, or longer self-supported river trips.
Many seniors are attracted to these new generation boats ranging from sit-on-tops to open-cockpit tandems. The closed-cockpit singles seen on Oklahoma lakes and rivers are generally shorter and wider (27-30 inches) than the standard expedition-style (20-25 inches). This makes them easy to maneuver and more stable. This feeling of being in control while gliding effortlessly through the water provides even the newbie senior the confidence to take a spin on flat water.
Some of these wider for seniors kayaks can be seen online at this link: https://kayakmanual.com/best-kayaks-for-senior-citizens/
Other seniors are buying kayaks for fishing platforms, with many seen seriously fishing from a kayak on Oklahoma water. "Fishing is one of the strongest segments of all of kayaking," Floyd said. "Recreational kayak fishing is huge in Oklahoma with many different types and styles of fishing kayaks – whether you want sit on top or sit in the kayak."
With all the major boat builders offering Web sites with tours of their products, one can comparison shop like never before. Shoppers should review the weight and features of many boats before purchasing. Again, stressing safety, everyone should wear a PFD (personal floatation device or lifejacket) on the water.
The Oklahoma River in downtown Oklahoma City is a boon to recreational kayaking. Organizers have created RIVERSPORT at the Chesapeake Boathouse to rent equipment and provide instruction to paddlers interested in kayaking and a wide variety of paddle sports such as stand up paddle boarding, whitewater kayaking and dragon boating.