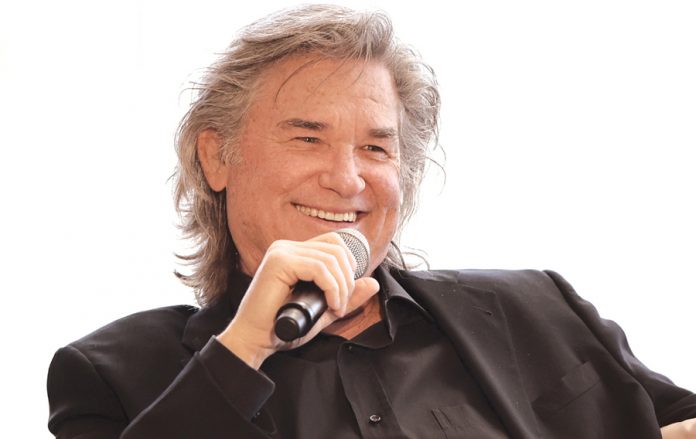 Story by Darl DeVault, Contributing Editor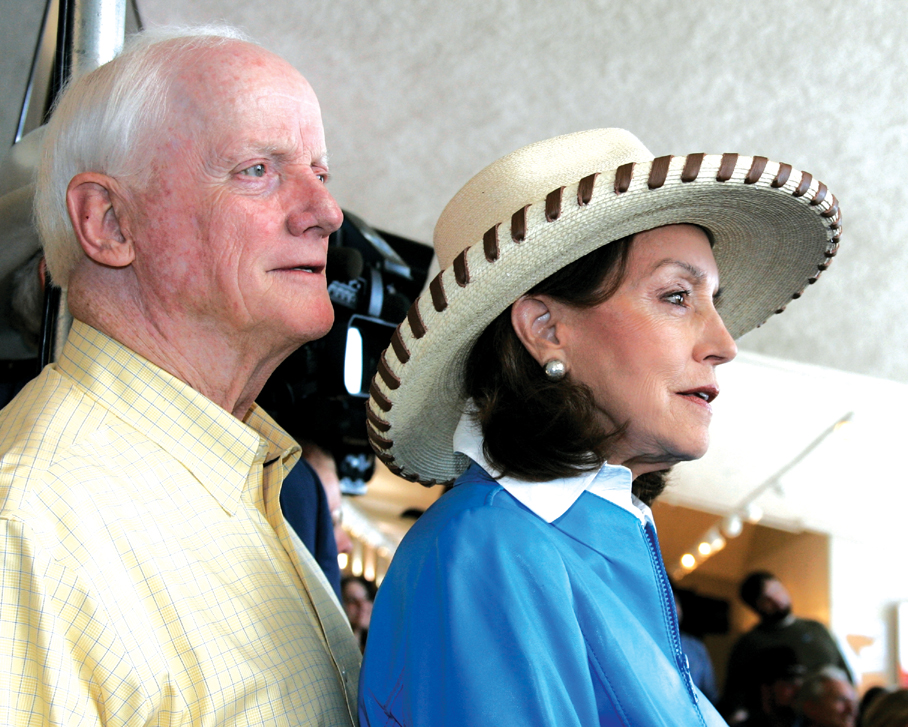 In a conversation with an early-career friend and actor Michael McGreevey, Kurt Russell, 71, provided detail about his long career in TV and movies before a standing-room-only audience the morning before he received a great honor. Many seniors with a lifelong appreciation for Western heritage and culture gathered to hear him speak.
He was in Oklahoma City on April 9 to be inducted into the Hall of Great Western Performers along with his father, Bing Russell, later that night during the Western Heritage Awards at the National Cowboy & Western Heritage Museum. Russell's father, Neil Oliver "Bing" Russell, who died in 2003, acted in many Western TV and film productions, including Bonanza. For several years Bing played Deputy Clem Poster in the TV series Bonanza.
Russell treated the crowd of 440, of whom 100 stood for the hour-long conversation to candid, sometimes humorous and unrehearsed insights into his career. He took corrections from the audience several times to keep his stories moving forward.
Russell explained some of his early work. He described meeting Elvis Presley as a 10-year-old uncredited bit player in one of his films, "It Happened at the World's Fair" in 1963.
Russell talked about his move from Hollywood to buy a ranch near Aspen, Colo., when he was 25.
He discussed how acting in the super successful 1979 ABC Movie of the Week "Elvis the Movie," playing Presley at 27, earned him a Primetime Emmy nomination. Later a shorter, re-edited version of "Elvis" played in theatres throughout Europe and Australia. He said the highly-rated TV movie performance sparked his film career, and he has not done TV since. Russell's father Bing co-starred in the biopic as Elvis's father, Vernon Presley.
The discussion then turned to his roles in Westerns, where he starred as legendary lawman Wyatt Earp in the iconic 1993 film "Tombstone." While some writers cite the movie as an absolute cult classic because it was a box office, purists realize it is one of the most iconic Westerns ever in depicting Western dialog.
Russell told the audience, "Tombstone" is getting what it deserves (continued acclaim). As far as I'm concerned, when it comes to dialogue, no Western stands up to "Tombstone."
Oklahomans agree, as evidenced by the Oklahoma State University football program's use of a scene from the film shown on their stadium's big screen as the Cowboys run onto the field. They loudly play 10 seconds of the scene near the movie's end where Earp screams, "the laws coming, you tell'em I'm coming and hells coming with me, you hear, hell's coming with me."
Although screenwriter Kevin Jarre ("Glory") began directing his script for "Tombstone," producers fired him after a month. Russell said, "After helping secure financing for the film, the director was fired. They wanted me to take over the movie. I called Sylvester Stallone, who recommended George Cosmatos, who had done Rambo II with him. When he arrived, I said to George, "I'm going to give you a shot list every night, and that's what's going to be."
Russell revealed other fascinating bits of the behind-the-scenes drama on the movie's set. He was forced to cut 22 pages from the script and yet still respect all the great actors he had helped gather for the production.
This extra effort on the film explains Russell's understated role as Earp for most of the movie, whose character was supposed to be retired from gunplay to be a gambler. Instead, Val Kilmer played the majority of the scenes involving a feared killer, Doc Holliday, capable of instilling fear and dispatching his opponent without a hint of remorse. Some writers think Kilmer stole the many scenes he was in because of his edgy, extremely believable portrayal of all the physical tics of a person with tuberculosis living in a hot climate.
Not at the event in OKC, Kilmer confirmed much of this in a 2017 blog post (via The Hollywood Reporter), saying: "Russell's totally correct about how hard he worked the day before for the next day's shot list and the tremendous effort he and I both put into editing, as the studio [Hollywood Pictures] wouldn't give us any extra time to make up for the whole month we lost with the first director. I watched Kurt sacrifice his role and energy to devote himself as a storyteller, even going so far as to draw up shot lists to help our replacement director, George Cosmatos, who came in with only two days prep." Kilmer continued in 2017: "I have such admiration for Kurt. He sacrificed lots of energy that would have gone into his role to save the film. Everyone cared, don't get me wrong, but Kurt put his money where his mouth was, and not many stars extend themselves for the cast and crew. Not like he did."
Russell also starred in 2015 Westerns "Bone Tomahawk" and "The Hateful Eight". In 2019, "The Hateful Eight" was again released as a re-edited four-episode miniseries on Netflix with the subtitle Extended Version. Russell explained his role in "Bone Tomahawk", cited as Western horror, was so powerful it will be discussed 20 to 30 years into the future.
He finished by taking five questions from the audience in an approachable manner, including a child's request for his autograph. An audience member has posted a YouTube video of the event at Kurt Russell Full Panel Discussion with Michael McGreevey 04-09-2022 2022 Western Heritage Awards – YouTube
The Museum's website says it best: Through its three Halls of Fame, the National Cowboy & Western Heritage Museum honors and memorializes the men and women who have, through their exemplary lives, careers, and achievements, embodied and perpetuated the heritage of the American West. Every inductee, whether a real cowboy in the Hall of Great Westerners, a "reel" cowboy in the Hall of Great Western Performers, or a rodeo cowboy in the Rodeo Hall of Fame, perpetuates and enriches facets of this Western heritage. By honoring them, the Museum, in a sense, provides a generational continuity with the past, present and future and bears witness to an evolving American West.