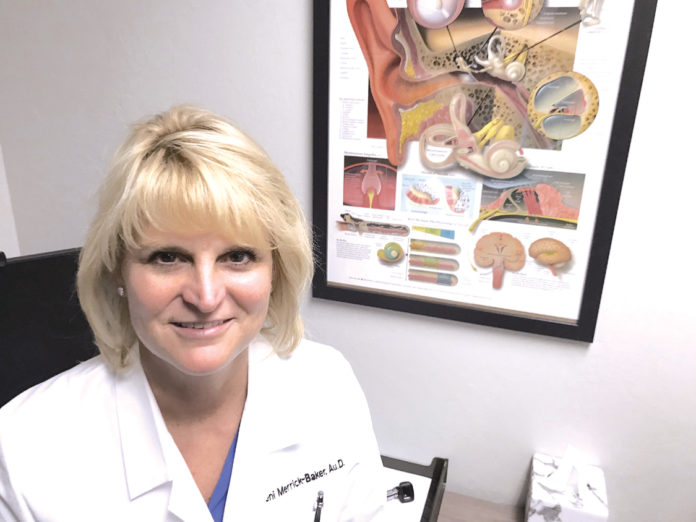 Story and photo by James Coburn, Feature Writer
Hearing loss can be so gradual until it becomes a problem with age, said Dr. Jeni Merrick-Baker, a clinical audiologist and owner of Ears of Oklahoma, located in Oklahoma City.
Ears of Oklahoma treats a range of hearing disorders among patients older than 18.
"Everybody typically starts losing their hearing in their 40s, but we don't notice it at first," Baker said. "If there ever is a sudden hearing loss and you just wake up one day and the hearing is gone in one ear, then that's an issue that you have to see an ear specialist or otologist within 24 hours to try to get that hearing back."
Most of her clients come to Baker for problems such as ringing in their ears, otherwise known as tinnitus. Tinnitus affects about 15-20 percent of people, according to the Mayo Clinic. It is especially common in older adults.
"It's more and more common every day," Baker said. "We're just seeing it so much more especially in the baby boom generation, due most likely to some loud noise and concerts."
Baker begins her diagnosis after clearing wax from the ear canal. A comprehensive hearing test is done to learn the type of hearing loss a patient is experiencing and the best method of treatment. Hearing aids may be fitted when needed.
Family members will notice the speaker volume going up. Typically, a spouse will encourage their loved on to visit Ears of Oklahoma after noticing their husband or wife is having trouble hearing conversation at a restaurant or a place with a competing background noise. Older adults might complain that they have difficulty in hearing their grandchildren speak.
"That's always a sign that they know there's some loss there, just because of the range the kids voices typically fall in," Baker said.
Recent advances in technology has made it easier for audiologists to restore more lifestyles with improved hearing.
Hearing aids are receptive to Bluetooth now. Clients wearing one can receive a phone call directly in their ears without holding the phone next to their ear. Bluetooth technology can be sent directly to the hearing aid as well.
The brain is wired to hear in stereo to process hearing. Sound is filtered for clarity before it ever reaches the eardrum.
"So basically, if the spouse is with them watching the TV, they can set the volume wherever they want," Baker said.
An app designed for tinnitus helps to minimize ringing in the ears.
Additionally, Bluetooth technology enables the use of a bi-cross hearing aid. Sound is transferred to the deaf ear from the healthy hear.
"It gives people back the location of sound," she said.
A rewarding part of Baker's profession is hearing patients tell her that their life is better now after going to Ears of Oklahoma.
"They can hear in a very difficult situation — for instance in a noisy restaurant," she said.
Research indicates that even a mild hearing loss may double the risk of dementia, Baker continued.
"A moderate to severe hearing loss triples it. And if it's a true, severe hearing loss, you're five times more likely to develop dementia early."
People get their life back with restored hearing. They are no longer nervous about not saying the right thing in a conversation.
Baker looks forward to the end of the pandemic. Technology allows her to enter an office, assisted living or home to test and provide hearing aids in the comfort of home.
"That's something that's real exciting and I can't wait for that to start happening," she said.
Twenty years ago, Baker began her practice in Ardmore. She continues to have the clinic there. Baker had been with the Otologic Medical Clinic at the Hough Ear Institute for several years and decided to open her second independent practice of her own in Oklahoma City. She branched off in November to the Ears of Oklahoma location at 3400 NW 56th St., Oklahoma City.
Patients come to see Baker from many parts of the state. It's nice to have a practice in Ardmore, she said.
"I'm one of the very few in southern Oklahoma," she said.
Baker recommends well fitting earplugs to protect hearing during loud concerts or when exposed to loud industrial noise. Persons working in conditions of excessive industrial noise should have proper hearing protection, she advised.
Helping others to hear better is a passion
Baker has had since childhood. She had a friend growing up who had a hearing loss.
"When we'd go swimming, she had to take her hearing aids out and she couldn't hear anything," she said. "Ever since then I've had a passion to try to help people. It's miserable not to hear birds and hear the things we take for granted every day of our life. So, to give that back to a person, and to watch them hear for the first time — things they haven't heard — we both cry. When I put in hearing aids for the first time it's very, very rewarding." For more information visit www.earsofoklahoma.com or call 405-673-1327.