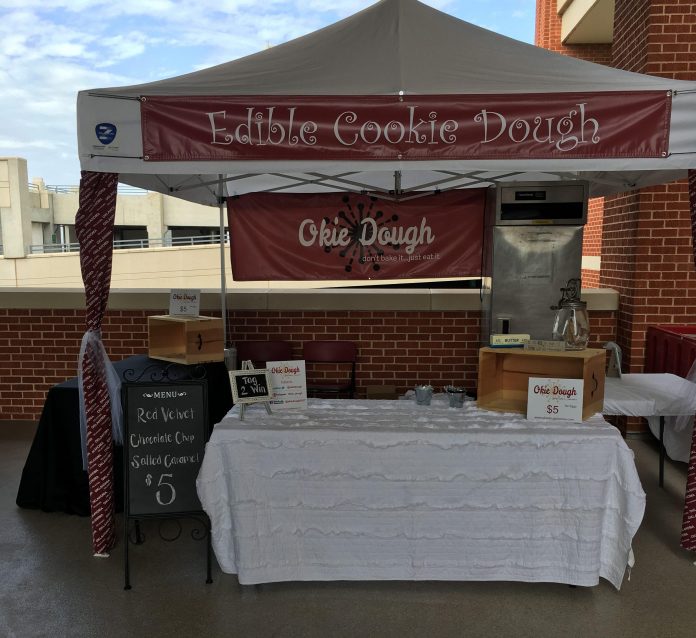 Edible cookie dough may be the next best dessert to hit the shelves.
Thanks to Dhea and Karla Hudson, owners of Okie Dough, this tasty treat is now available across Oklahoma.
The cookie dough is made without eggs or added milk and made with heat-treated flour, so it is completely safe to eat. Available in about 15 flavors, Okie Dough can be eaten straight from the freezer or refrigerator because it lasts up to 12 weeks in the freezer and up to eight weeks in the refrigerator.
The most challenging part of being in the business is making it clear to customers that the product is safe to eat, Dhea Hudson said.
"The nostalgia of eating cookie dough is unlike that of any other dessert," Dhea Hudson said. "I hear all the time that there is an emotional connection that can't be manufactured. It's inherent in the product and unique to cookie dough."
The idea behind Okie Dough started in school when Dhea was a high school counselor.
"I often would bring baked goods to my students," she said. "When they asked for my cookie dough instead of the cookies, I was hesitant because of the raw eggs, and I didn't want to make anyone sick. So I began experimenting with my original chocolate chip cookie dough recipe without eggs. I would bring a batch to school, and the kids would disapprove or approve. And finally on the fifth time, everyone really liked it. I had done my research on the heat-treating of the flour by then, so sharing at school was completely safe. And that is how Okie Dough was created."
The business began in April 2017. In the first year, Okie Dough made it to 10 festivals, all home Oklahoma University football games, the Cox Convention Center, the Chesapeake Arena for all Thunder games and events, the Texas Motor Speedway, and many more.
Okie Dough also joined the Made in Oklahoma Program this year. The product is made using flour from Shawnee Mills in Shawnee, Okla., butter from the Hiland Dairy in Chandler, Okla., and Griffins Vanilla from Muskogee, Okla. For more information, visit madeinoklahoma.net/products/okie-dough, okiedoughlicious.com, or find Okie Dough on Facebook.