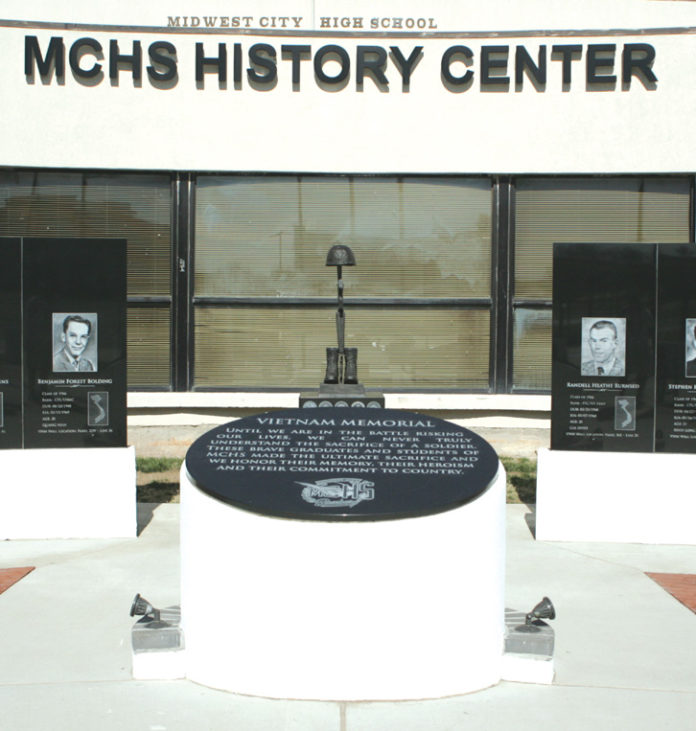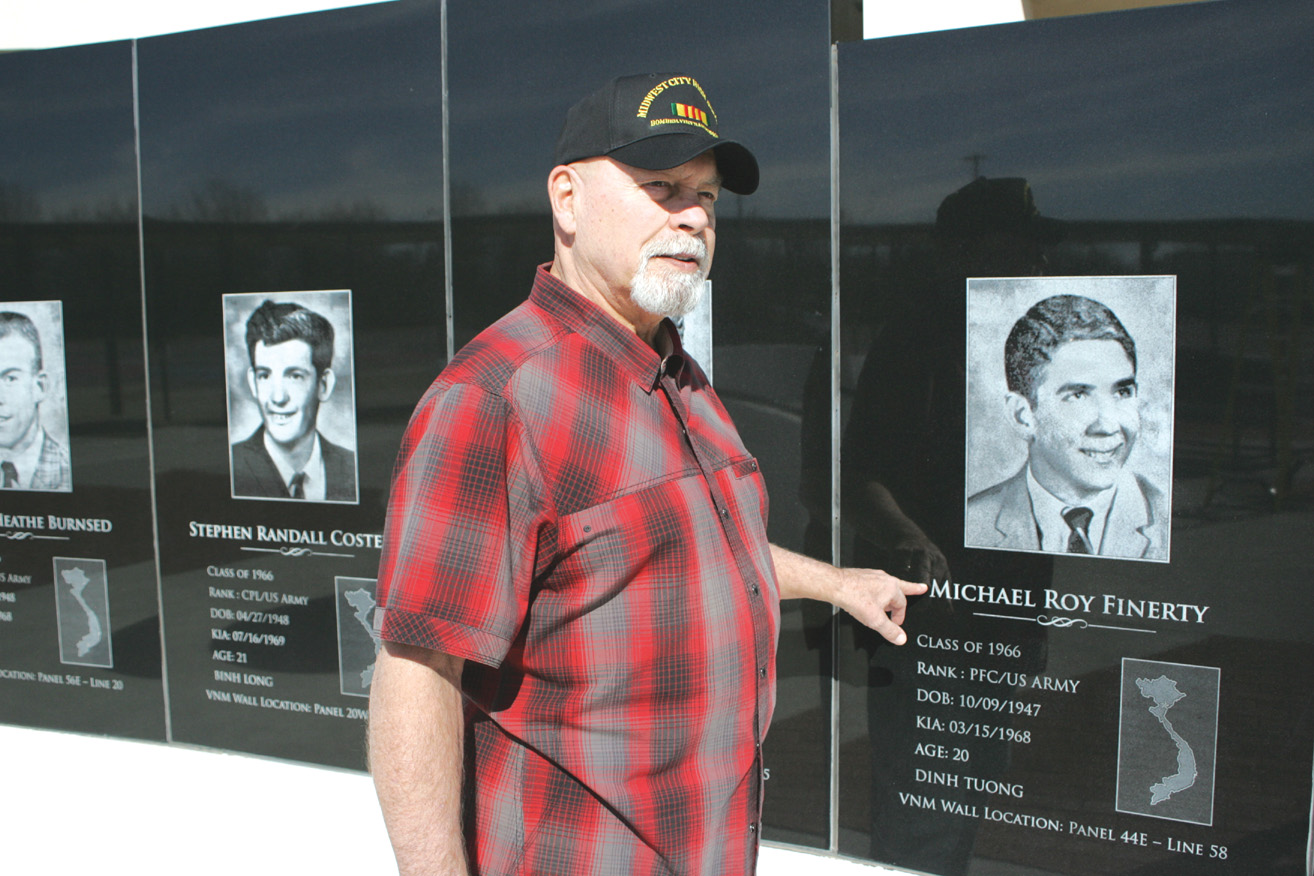 Organizing alum and Vietnam Era veteran Bob Osmond, 73, points to one of the iconic black granite tablets that honors the 22 courageous soldiers killed in action in the Vietnam War after attending Midwest City High School.Story and photos by Darl DeVault
As Vietnam Veterans Recognition Day approaches March 29, Midwest City High School's Vietnam Memorial Wall of Honor and Bomber Plaza is an iconic example of America's devotion to the memory of its courageous students who died there.
The memorial features two large black granite walls resting on two-foot bases honoring 22 soldiers from Midwest City who were killed in action during the Vietnam War. Some 50 years after the conflict, it is unique in the United States. Each soldier's photo and biographical information is depicted on a personal eight-foot tall tablet along the walls.
The patriots' graduation class from MCHS is listed along with their date of birth. Their branch of service and rank is shown with their age on the date of their death. Careful study of the dates reveals that one of the soldiers quit school early to enlist.
The information also places the soldiers' contribution in larger context, listing the province and showing the location on a map of Vietnam on each tablet. The tablets also list where the fallen's name appears on the Vietnam Veterans Memorial in Washington, DC. On the reverse of the first tablet is a map of Vietnam showing the provinces with how many MCHS soldiers died in each one.
Vietnam Era veteran and now retired policeman Bob Osmond, 73, led a rare effort to memorialize his fellow MCHS soldiers' lives to ensure their patriotic devotion is not lost to history. The memorial, dedicated Veterans Day 2018 before an audience of 1,100 veterans and alumni, hosted its next significant event in 2019 when MCHS's 1964 class reunion gathered there for photos.
"Our school mascot is a Bomber, a B52 Stratofortress in these men's times," Osmond said. "We wanted to honor fellow Bombers—those who gave their all in Vietnam by lifting up their memory on the Wall of Honor. We see this as lasting tribute to their sacrifice on the campus they so proudly attended."
The veteran alumni-led group who built the memorial sought a simple goal—to further Gen. George S. Patton Jr.'s ideal: "Let me not mourn for men who have died fighting, but rather, let me be glad that heroes lived."
"Our research shows no other high school in the United States has honored its Vietnam War classmates with personal panels depicting photos and biographical information like Midwest City has done," said Chad Williams, Director of Research at the Oklahoma Historical Society (Oklahoma History Center). "This memorial may prove to become the most iconic of its type in America because it is the first of its kind. The creation of this memorial proves patriotism runs deep in Midwest City, Oklahoma."
The memorial is located just one mile from Tinker Air Force Base, the largest Air Force Materiel Command base in the country with more than 26,000 military and civilian employees. During the Vietnam War, Tinker provided logistics and communications support to Air Force units in Southeast Asia.
"With the influence of Tinker in our backyard, ours was a specially motivated cadre of soldiers who enlisted to fight in Vietnam," Osmond said. "We were proud to honor these courageous men. Recruiting support to build this memorial was as logical to our group as their effort to defend our country by joining the military back then."
During the four years the committee members engaged in the design, marketing, fundraising, construction, and dedication activities, the mission expanded.
When the MCHS Class of 1964 first envisioned the project in 2014, during its 50th reunion, the idea started smaller. They first wanted to honor the 22 MCHS students on individual upright black granite tablets. By dedication day on Veterans Day 2018, the idea had grown. There are now hundreds more military veterans honored on inscribed bricks, purchased by admirers, embedded in the Bomber Plaza. Separate markers now honor alumni who died in the 1995 Oklahoma City Murrah Building Bombing and in Operation Iraqi Freedom.
Osmond points out the irony of one brave soldier's effort to defend his country. Ronald C. High quit school early to serve, only to die in August 1968—a few months after his MCHS classmates graduated.
The Wall of Honor memorializes Rex B. Freeman (1953), Allen P. Miller (1960), Donald L. Bernard (1963), 1964 graduates: Edward G. Baker, James L. Eatmon, John K. Johnson, James "Delton" Moffett; 1965 graduates: Larry L. Riley, Lawrence S. Robbins, Sammy R. Smith; 1966 graduates: Benjamin F. Bolding, Randell H. Burnsed, Stephen R. Costello, Stephen S. Donohue, Michael R. Finerty, James D. Guffey, Randall L. McElreath; 1967 graduates: Jerry A. Kiser, Kenneth W. Skinner; 1968 senior Ronald C. High; 1968 graduates: Albin L. Kendall, and Jimmy D. Sanders.
A separate Honor Roll at the memorial includes graduates who died in the Murrah Federal Building Bombing in 1995: Paul D. Ice (1970), Kimberly K. Clark and Kathy L. Seidl (1974). Also honored is Lance M. Chase (1991), who died in Operation Iraqi Freedom.
Additional space has been set aside to honor future Bomber students. Each week MCHS Junior ROTC cadets clean the grounds and polish the black granite tablets—another detail organizers incorporated into the project. Lit at night, the elegant, tree-lined memorial with bench seating welcomes visitor's day and night. The address is 213 Elm St., on the school's south side and in front of the MCHS History Center.
Osmond (1964) chaired the organizing committee of alumni. Others serving were Gayle Guffey Wallis (1961); Keith Simpson, (1962); former Okla. Sen. Dave Herbert as fundraising chairman and Charles Sharp, (1963). Other 1964 classmates Garry Avery, Tony Callaway, Chaniece Kennedy Harkey as secretary, and Myles Houseberg Jr. helped organize.
The MCHS Bomber Vietnam Memorial Project, a 501 (c)(3) nonprofit, was especially aided by Dallas Architect Tony Callaway. The MCHS graduate and Vietnam veteran donated his architectural skills to design the plaza. This selfless donation allowed the group to spend the $250,000 raised on the structure without cost to the school district.
The organizing group of MCHS graduates also included Ralph Woodrum, (1965); David Miles and Linda Stell Smith as treasurer, (1966); John Laakman and former Oklahoma County Sheriff John Whetsel, (1967); Suzi Kaiser Byrne, Mike Chase, Walta Rollin, (1968); and Charlene Marino Prater, (1970).
The Mid-Del School Board endorsed the memorial at the outset. The City of Midwest City made a $90,000 pledge through the Midwest City Hospital Authority grants program that jump-started an equal amount of community fundraising. The gift followed a moving City Council meeting on February 27, 2018, at which Mayor Matt Dukes, Council Member Pat Byrne and others described the loss of loved ones in Vietnam. They talked about their own military service, and a need to honor Vietnam veterans in a way that had been absent at the time of their service.
Gold-level giving sponsors included Osmond and his wife, Diane, John Hill, Guthery Family, Clark Construction, John Williams, Hudiburg Auto Group, Bratcher Construction, Roger Brady, Tony Callaway, Tony's Tree Plantation, Gary and Cindy Weese, Breeden Painting, Rick McElreath, and Dave and Robin Herbert.
Black-level giving sponsors were Tinker Federal Credit Union, Ray Williams, James Bennett, Tom Stidham, Golden Palace, Barnes Friederich Funeral Home, Arvest Foundation, and J. Mike Hunter.
Information about helping with fundraising and the purchase of supporting bricks, pavers and Challenge Coins is found on the memorial's Web site at www.bombervietnammemorial.org.