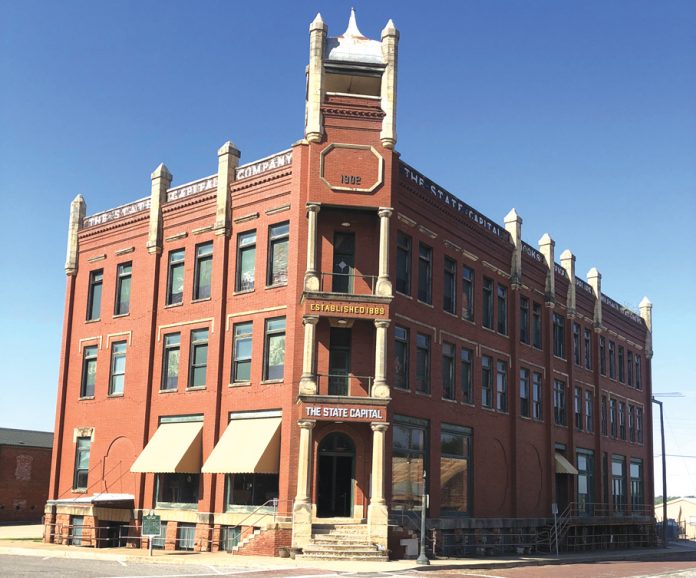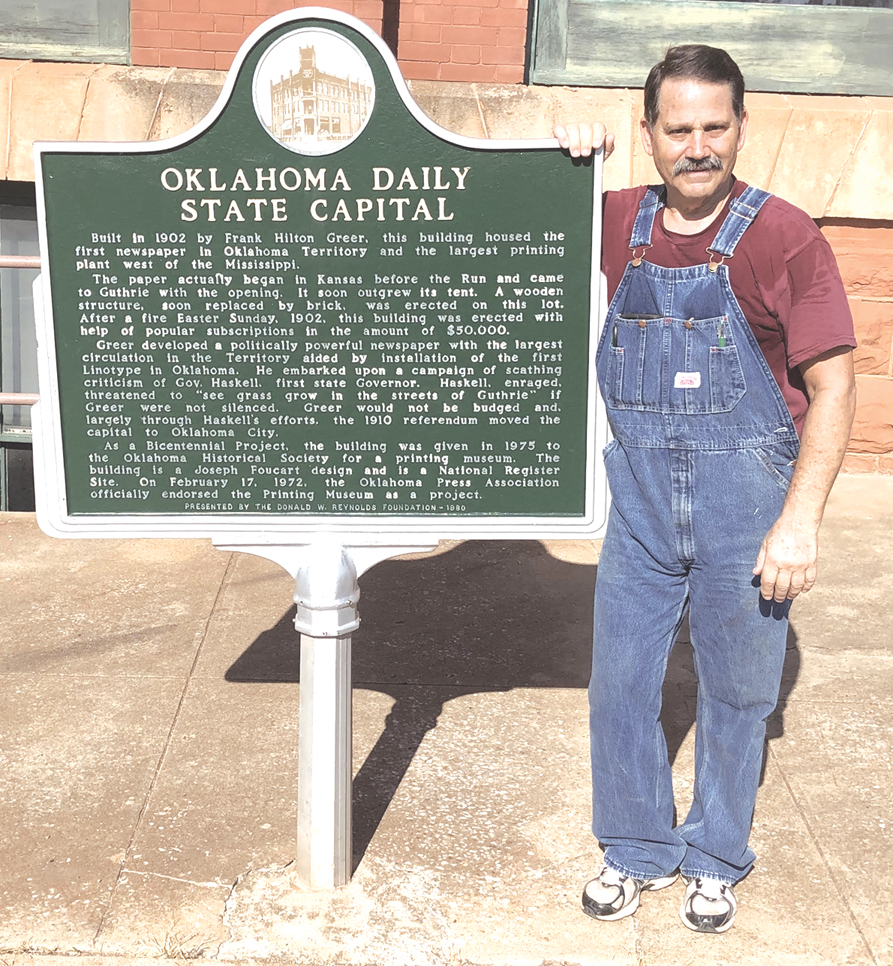 Story and photos by Van Mitchell, contributing writer
"A Night for the Museum" fundraiser featuring live and silent auctions and entertainment, will be held Thursday, Oct. 13 from 6 p.m. to 8:30 p.m. at the State Capital Publishing Museum, located at 301 West Harrison in Guthrie.
Proceeds from the event will go towards restoration efforts of the historic building that was built in 1902 and served as home to Oklahoma's first newspaper.
The fundraiser will include Hors d'oeuvres, music by Justin Echols, Auctioneer Barrett Bray, and keynote speakers Dr. Bob Blackburn and Trait Thompson, the former and current Executive Director of the Oklahoma Historical Society (OHS).
Reserve tickets can be purchased by visiting www.publishingmuseum.org
"We are going to have some really cool auction items including a photo safari trip to South Africa," said Lynn Bilodeau, CEO of Guthrie Tomorrow Coalition, Inc., dba/State Capital Publishing Museum, which was created to acquire, restore, renovate, preserve, maintain, and recognize the historical significance of the building. "My wife Sherri and I took that trip in 2017, and it really is a trip of a lifetime. There will also be a lot of raffle items as well."
Bilodeau hopes to exceed the $93,000 raised from their 2021 museum fundraiser, and said the fundraiser will be an opportunity to show off some of their restoration efforts.
"We are going to be able to show off four of the windows on the first floor that will be fully restored," he said. "We wanted to show off some progress."
The State Capital Publishing Museum building is on the National Register of Historic Places. It was here on Nov. 16, 1907, that President Theodore Roosevelt sent a teletype message congratulating Oklahoma Indian Territory for becoming the 46th state in the Union.
"Not only is this building the tangible representation of Oklahoma's early history, it also represents a time when our forebears built for beauty and for the ages," Trait Thompson said in a press release. "Nobody builds like this anymore because it is too expensive and time consuming. This building is worth preserving because once it's gone, we will never see anything like it again."
The building was constructed in 1902 from a design by Belgian architect Joseph Foucart, the first professional architect in Oklahoma Territory.
The building "is more than bricks and mortar," Bob Blackburn said in a press release.
"It's an example of important pre-statehood architecture, and the site where so much Oklahoma Territory history was documented," he said.
The building was the home of the turn-of-the-20th-century State Capital newspaper and was a museum for years until it fell into disrepair.
In 2012 the building's boiler broke down and was deemed irreparable, and the museum closed.
Bilodeau said after some shifting in state government, the State of Oklahoma almost forced OHS to sell the building to a developer with plans to convert the building into affordable senior housing by using low-income housing tax credits.
Fearing that much of the rich history of the building would be lost forever, concerned citizens from all over the state of Oklahoma began a concerted effort to stop the conversion.
A coalition of private citizens, City Council, the Guthrie Chamber of Commerce and others successfully negotiated a deal which allowed the current owner (/dba The State Capital Publishing Museum) to take title to the property, along with the historical contents, on June 27, 2018 from the OHS.
As part of that deal, The State Capital Publishing Museum has committed to spend (in dollars or fair-market labor) a minimum of $262,000 towards repairing, preserving and restoring the building by June 27, 2023. This amount was agreed upon based on two assessments of the building's current worth.
Bilodeau said the State Capital Publishing Museum Board outlined a plan of action to assist with execution of restoration and renovation of the building, which is estimated to cost $10 million.
"We want to do modern HVAC in the building," he said. "We want it to be a four-season facility. We want an external elevator on the first floor on the west side of the building that would access all of the floors, and we would be ADA compliant. It will also serve as a fire escape."
Bilodeau said they hope to renovate some of the building's upper floors into office/meeting space.
"We would also be able to rent it out to offset the maintenance of the building," he said. "We are going to have to find other sources of fundraising besides a fundraiser."
Bilodeau said he wants the museum restored so future generations can learn about its place in Oklahoma history.
"We want to have at least one field trip during the school year," he said. "They can see what their ancestors had to do to get something into print."
Bilodeau and his wife Sherri have become very involved in their Guthrie community, and are both involved with the museum fundraising efforts.
"Sherri and I live next door to that building," he said. "Our house and that building were built at the exact same time. I feel a kinship to the building because of that."
For more information about the State Capital Publishing Museum call (405) 282-4123.