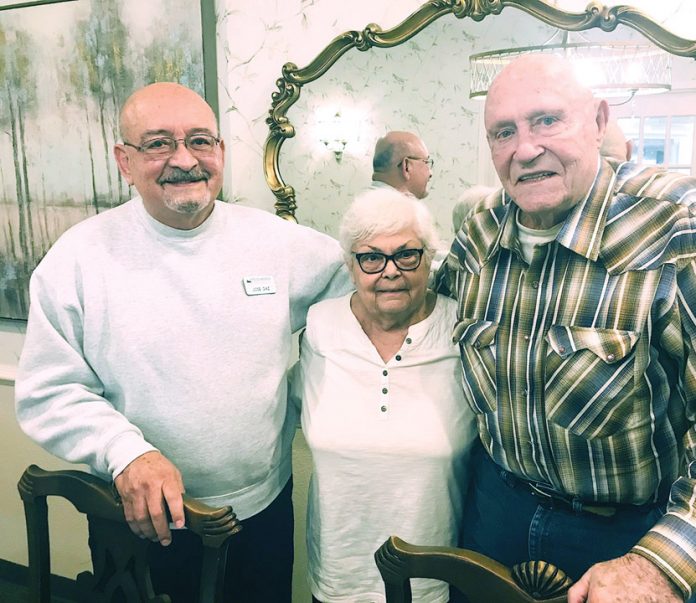 Tealridge Independent Living begins new normal
With COVID numbers dropping and the increasing number of vaccines that have been given in the state of Oklahoma, one could say that senior living communities are opening up! What wonderful news it is! Many people who were almost ready to make the decision to move during 2020 but placed their plans on hold have decided it is time to return to their search and make their final selections. Tealridge Retirement community has seen a significant influx of inquiries and  move-ins during the last 60 days!
During the pandemic, Tealridge Retirement Community in Edmond followed the recommendations of county and state health departments. As the state began relaxing some of its COVID-19 recommendations, so did Tealridge.
Gov. Kevin Stitt recently signed Executive Order 2021-11 to withdraw and rescind the COVID-19 State of Emergency.
"We are open! Residents are able to accept guests in their apartments. In fact, we are conducting tours in person. We  feel very fortunate that we are able to provide that place where residents can socialize and get back to normal", said Melissa Mahaffey, Tealridge Retirement Community executive director.
The community continues to follow recommendations set by the county health department. Currently, residents continue to wear masks in common areas. However, Tealridge Independent Living is offering full dining again while maintaining an area in the dining room for residents who choose to eat by themselves or whenever an individual is not fully vaccinated.
"All in all, we are back and stronger than ever. Our community has continued to be the choice for so many seniors – we are growing!" Mahaffey said.
Joe and Sandra Ward, along with resident Jose Diaz, are among the residents who recently moved to Tealridge Independent Living.
"I think Tealridge has managed the CDC guidelines very well," Jose said.
Retirees are eager to be a part of the Tealridge Family. The "opening" of the community encouraged Jose and the Wards to not waste a lot of time to make the decision to move. Jose said he wants to find ways to volunteer at Tealridge and meet all the residents.
In fact, people are wanting to make sure that they are somewhere that they will not feel isolated. When the pandemic was at its highest peak, Joe and Sandra were unable to socialize with friends or neighbors during darker days of the pandemic. They didn't go out of their single family home because everybody was scared. They didn't want to get sick, but they were impressed by the safety standards and amenities they found at Tealridge. Sandra said life at Tealridge Independent Living has made her feel safer during the pandemic.
"I was flabbergasted when I came down to visit the community. I looked around and saw a  nice living room and super dining room," Joe said. "They showed me a couple of apartments and one that we finally settled on. People would wave to me or tell me, hello. It was just open and wide, clean and smelled good. Everybody you talked with was happy. I observed people sitting and visiting with one another. It appeared that everyone got along great and welcomed me. It was super."
Sandra said she became impressed with Tealridge when driving up to the front door.
"From the very beginning it started off so nice," Sandra said. "I was so pleased that people were there to help me so soon when we arrived. I just can't tell you how much I love the place. I am impressed with it. People here help you and they're great."
The sales staff made a great impression on Jose, he said. He told his son that he was looking for a good place to relocate. He checked out a couple of other independent living centers, but they were not for him. Tealridge Independent Living best suited his needs, including health care concerns, he said.
Sales Coordinator Cathy McComas said the long-established residents at Tealridge are ready to get back to familiar ways of life whenever possible.
"They understand things have to open up slowly," McComas explained. "I have people say, 'Can my daughter have lunch with me,' or 'when can we do this or that'. We're just as excited as they are. We're ready to get back to family night. We're ready to get back to lunch tours. We're ready to get back to things we were doing before, but we're being very cautious. We're opening up a little bit at a time."
COVID never really excluded people in the community from reaching out to Tealridge in previous months, said Kristen Moss, retirement counselor. Now many of those individuals who put their moving decisions on hold are approaching the retirement community saying they want a new tour. The next day, they call and let me know they are ready to make the move, Moss said.
While people were in their own homes during the pandemic, we were seeing more people that were not able to see their families. And families are even calling saying. "My gosh, I had no idea what was going on with mom, because we chose not to go inside their home for fear that we could potential create a health risk to them."
COVID vaccinations changed everything. Families are no longer feeling the need to stay put in their home. It's exciting for the Tealridge staff to be able to share the community, build on success, and be a resource for people, Moss said.
They even help people navigate to find resources they need, Moss has also counseled people as to where to get COVID shots.
We are delighted that so many people have chosen to make a decision to move to our community. This is family, we are all here at Tealridge to create a great environment where everyone feels welcome!" Moss said.
To learn more about the Tealridge Retirement community call (405) 604-5433 or visit our website www.tealridge.com. Visit us at 2200 NE 140th St, Edmond, OK 73013.