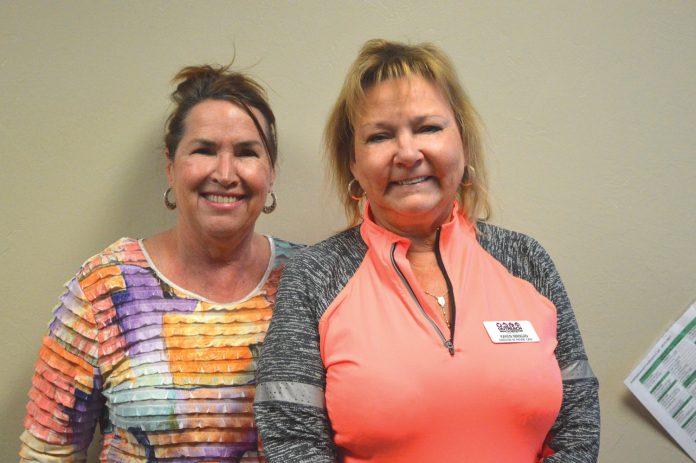 story and photo by Traci Chapman
Outreach Health Services might be new to the Oklahoma City metropolitan area, but it's a company that brings with it more than four decades of caregiving for seniors and individuals with disabilities.
"As the company has this depth of experience, so do we," said Karen Mangan, Outreach Health RN director of patient care. "We have bonded over our shared outlook of patient care and service."
Mangan forged that bond with Outreach Administrator Ginger Meyers, a home health administrators of more than 30 years' experience, the last 20 in Oklahoma City, she said.
"I've just always been in the business of caregiving," Meyers said.
Mangan has been in nursing for about 40 years – 10 as an LPN, 30 as RN, working in virtually every aspect of healthcare.
"I was at my doctor's office and they offered me a job as a file clerk, and it just went from there," she said. "It's always just been my calling, what I knew I was meant to do."
Their backgrounds were a natural fit, then, for Outreach Health, Meyers said. Founded in 1975 in Texas by William Ball, Outreach was one of the first home health agencies in that state, according to company literature. Today, more than 8,000 employees across Texas – and now in Oklahoma City – provide home care, self-directed and personal emergency response services, assistance to women, infants and children, pediatric and behavioral health services.
"We have some really significant differences to other companies in this field – not only our long-range track record, but the fact we are both family owned and operated and our philosophy is faith-based," Meyers said. "That's something that really called to me, and it's illustrated in everything we do."
That includes not only patients, but employees, Mangan and Meyers said. Outreach makes how staff see themselves as a part of the firm's crucial mission a priority, helping them to reach new professional levels while empowering patients and their families, Meyers said.
"It truly is a positive, supportive environment," she said. "We support each other while we support those we work to help every day."
"That kind of environment is positive for everyone," Mangan said. "When you have the right people, dedicated employees who really live for this kind of service, you want to make sure they're happy.
"That, then, makes the care they give even more significant – not just technically superior, but with a kind of care that comes from the heart, as well as through skills," she said.
Outreach Health works hard to ensure just that, Meyers said. In addition to standard benefits like health insurance, the company offers emergency assistance funds, scholarship and loan programs, as well as counseling and outreach programs that include a library for employee growth, chaplains and Bible studies. That type of care extends to Outreach's patients, Mangan said. Beyond physical care and assistance, caregivers provide friendship and companionship, a sense of safety and a symbol of faith. Chaplains are also available to those clients who need or ask for their services, while caregivers fulfill duties ranging from bathing and hygiene, mobility assistance, home safety assessments, shopping, housekeeping and meal preparation, transportation and escort to community events and other activities, medication and doctor's appointment reminders and more, she said.
"Of course, there are so many other things we offer, including RN visits and assessments, pre- and post-operative care assistance, hospital sitting and much more," Mangan said.
Many of those Outreach Health seeks to serve are older individuals, although some might be dealing with disabilities at a younger age, chronic conditions and the like, Meyers said.
"Normally we're looking at geriatric, multiple diagnosis patients unable to care for themselves," she said.
Beginning July 1, Outreach will begin its ADvantage Waiver contract, a program designed for "frail elderly and adults with physical disabilities age 21 and over who do not have intellectual disabilities or a cognitive impairment," according to Oklahoma Health Care Authority.
Services available under ADvantage Waiver include: * Case management * Adult day health, including personal care * Skilled nursing in a home health setting; * Physical and respiratory therapy * Hospice * Speech/language therapy * Specialized medical equipment/supplies and environmental modifications * Respite and Restorative home delivered meals.
As Meyers and Mangan count down to the July 1 ADvantage kick-off, their first focus is to continue their efforts to build up their staff, individuals who will bring the care and commitment that has been a way of life for each of them.
"We're very strong advocates for people having their own choice, and we like being a part of making that possible," Meyers said. "Having the right staff is how we do that."
For more information about Outreach Health, go online to its website at www.outreachhealth.com or contact Mangan or Meyers via email at [email protected] or by phone at 405-256-2998.