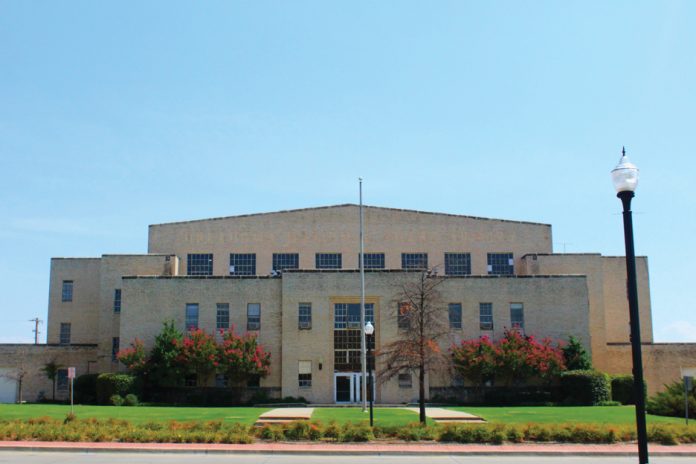 Bobby Anderson
Staff Writer
A piece of national history right here in Oklahoma City will soon be repurposed as the 23rd Street Armory is brought to life once again.
The home to Oklahoma's National Guard for decades, the building will soon be revitalized by new owners COOP Ale Works.
The Oklahoma Office of Management and Enterprise Services (OMES) recently accepted the company's proposal to acquire and redevelop the armory, which includes restoring the building and creating a unique experience.
"Oklahoma City is our home and we always wanted to return to the core of the city. In planning for a final home for the brewery, we wanted to find a place that is meaningful to our town and state, and gives us an opportunity to create an incredible experience," said Daniel Mercer, co-founder of COOP Ale Works. "The Armory, with its unique history, structure and space, is the perfect fit and we believe it will become a venue that attracts visitors from across the state, country and world."
Under COOP's proposal, the 87,000-plus-square-foot building will be purchased from the state for $600,000 and returned to its former glory with updates to the interior functionality. The exterior will be maintained to honor its unique history with modern refreshes, including updated windows, while the inside will be transformed into a bustling brewery production floor, full-service restaurant, 22-room boutique hotel, multiple event spaces, offices and meeting rooms.
In total, COOP plans to dedicate $20 million to the overall project.
A 60-barrel, state-of-the-art brewhouse on the first floor will be the heart of the operation. Fermentation, conditioning, packaging and other production equipment will occupy the remainder of the 22,000-square-foot drill hall floor. More than 30,000 square feet of perimeter space surrounding the production floor will house brewery storage, offices, barrel aging, cold storage, shipping, receiving and more.
On the second floor, the east wing will become an 8,000-square-foot restaurant and taproom, with indoor and patio seating for more than 160 patrons. The full-service restaurant will serve a diverse collection of food and beverages. On the third floor of the east wing, dedicated event spaces will be available for community and private events.
Sean Mossman is the director of sales and marketing for COOP Aleworks. The need for expansion for COOP started two years ago, just two years after moving into a second venue.
"We began to start looking for places that could house a much bigger operation for us," Mossman said. "Among the things we really wanted along with space was to create a brewery Oklahoma City could be proud of. To accomplish that we needed to move back into the urban core which is in the process of being revitalized."
"When we saw the Armory and it became available it was a real no-brainer. It checked every box."
COOP Ale Works is a craft brewery based in Oklahoma City, dedicated to brewing full-flavored beers. Since 2009, COOP has created a core lineup of six year-round canned beers in addition to four seasonal canned beers.
A 22-room boutique hotel will tie the experience together. Hotel rooms will occupy the second and third floors of the west wing of the building with a refined lobby located on the west side of first floor to welcome guests.
The proposal also includes five acres surrounding the armory building as well as leases for two adjacent properties. The additional properties will provide substantial parking, opportunities for retail and downtown living, and green space.
A new building would have been easier but Mossman said COOP wanted to strengthen ties in OKC.
"We focused early on for something on the Register of Historic Places or just meant something to the community through time," Mossman said.
The 23rd Street Armory, constructed in 1938, was designed by architect and Oklahoma Army National Guard Major Bryan Nolen and was built as part of the Depression-era Works Progress Administration. At the time of its original construction, it was promoted as the only armory in Oklahoma funded entirely by state funds generated from oil wells located on the Oklahoma State Capitol grounds. The three-story building served as the state's hub for the Oklahoma National Guard and the storied 45th Infantry Division.
"Our commitment to preserving the building is really important from our perspective as is doing honor to the 45th Infantry," Mossman said. "We've gotten testimony from dozens of people who have went through that building and it means so much to them and they're excited somebody is doing something with it that's meaningful and it's not being knocked down and forgotten."
Mossman said COOP will invest $20 million into renovations with projected annual economic activity of $26 million to OKC.