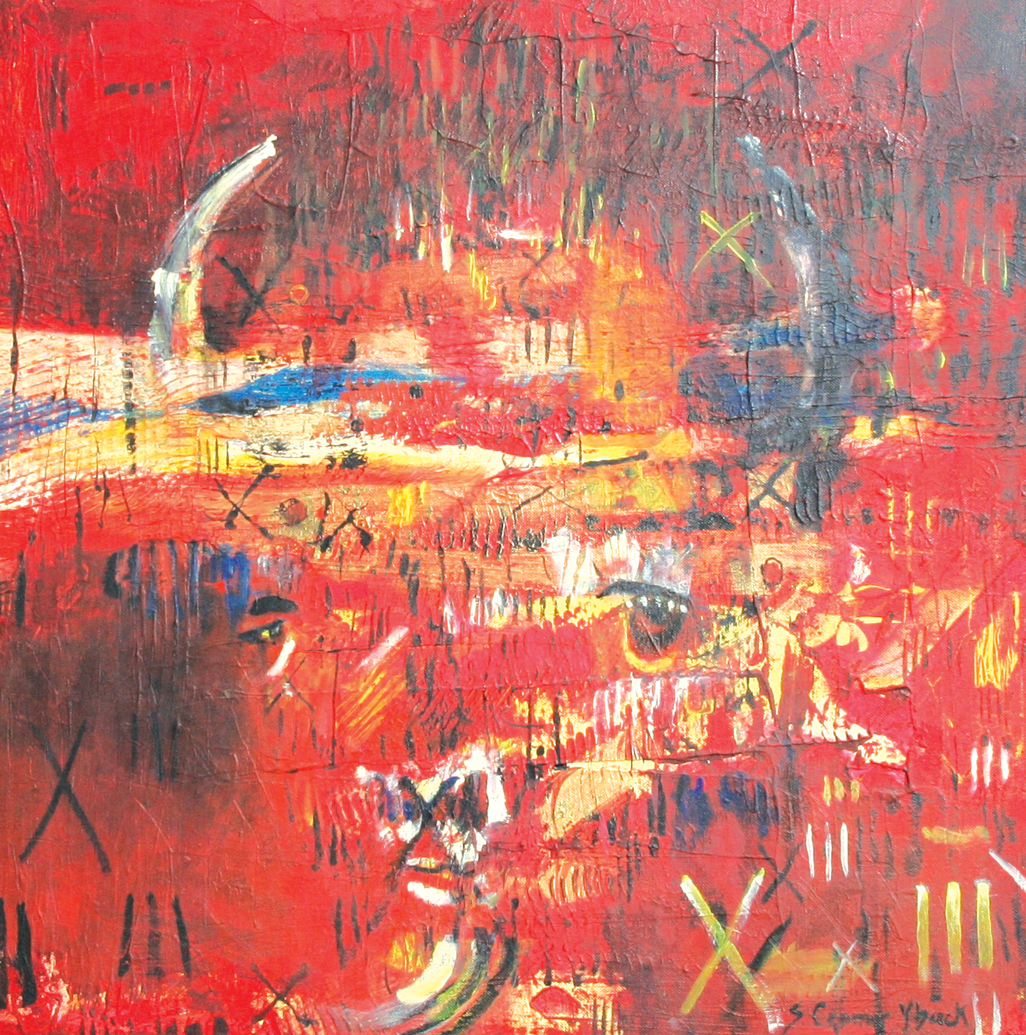 Story and photos by Darl Devault, Feature Writer
After retiring, do you have to choose between being a serious artist or an art teacher? The answer is no if you are genuinely talented at both for Susan Cromer Yback, 64, as she now teaches youth and adults art after teaching elementary school art for a career.
She is now interrupting her retirement and a fulfilling second career as a full-time artist to teach art again. Yback first became retirement privileged after teaching elementary art in the Putnam City School District for 30 years.
She transitioned from teaching full time and began full-time production of her original works after retirement. Now teaching art on a much more personalized level, she sells her art at 2927 Paseo Drive. Yback's classes and art have become a mainstay of Paseo Gallery One near the southern edge of the historic Paseo Arts District N.W. 27th & 30th Streets and Walker & Hudson in Oklahoma City.
She keeps busy as both a painter in acrylic and a clay artist. Her last decade of creating in the Paseo Arts District has led her to see art differently than during her decades in public school art education. She says she has learned to practice her authentic artistic process while integrating technical and conceptual skills to share a clear message with her students.
"I am excited to begin every class where I can express my creative energy in teaching—an art form in and of itself!" Yback said. "Although I love traditional art, I like to change things up, take a different approach to present an image."
During her classroom years, Yback participated in many workshops for teachers at the Oklahoma Arts Institute at Quartz Mountain in southwest Oklahoma. There she learned or developed skills such as printmaking from master artists from all over the United States.
She also teaches a pottery class on Saturdays at the House of Clay at 1100 Northwest 30th Street. She teaches artists of all ages pottery hand building. Yback fires the pottery for the class of eight to 10 students each week.
While interviewing her at the Paseo Galley One, observing her teaching a class and talking about her work hanging in her studio/gallery there, it is difficult to determine where she lands on the artist/art teacher continuum.
"Now I find my creative spark as an artist is most important," Yback said. "But I sure like sharing my love of art with my students."
At the Paseo Gallery One location on Tuesdays and Thursdays, she instructs children through high school age in acrylic painting. "I am often pleasantly surprised by my young student's wide scope of educational art experience," Yback said. "I enjoy guiding students through the creative process, empowering them to create unique and meaningful artworks."
As she has grown and developed as an artist, she is stretching her emphasis to embrace her husband's influence, a member of the Great Sioux Nation. Her latest adventures include paintings of Native American themes in what has always been a career where collectors see varied techniques and styles in her paintings.
She often paints scenes with horses or bison in vibrant acrylic as the central theme while working in depictions of people. One of her latest is a realistic portrait of a bison embedded in an earthy abstract work. This masterful artistry is subdued, yet the bison stands out while looking at the viewer depicted in a unique background blend of abstract organic and brown acrylic colors.
She says she was heavily influenced by Henri Matisse and how Pablo Picasso tore things apart and then put them back together. Her painting mentioned above is all of that. In other Native American-themed art, she has channeled the way Joan Miro employed abstraction with extensive use of swaths of color lines in her paintings.
Yback credits Katherine Liontas-Warren, a former professor at Cameron University in Lawton, Okla. as a primary influence. "My art education classes, especially with Oklahoma Art Education Association, have always been a solid foundation, although my interest in expressing my artistic energy might shift from day to day, month to month, through the years," Yback said. "I like to work quickly. I have learned more ways to do that since retirement."
Western and Native American art themes run through her work. Yback points to her husband David for that influence. "He is a member of the Great Sioux Nation. Over the years, I have become really interested in his heritage," Yback said. "He is a descendant of a Lakota Sioux Chief Many Horses. I have worked on researching David's lineage and often portraying his heritage in my work."
She is usually present at the studio during the First Friday Gallery Walk, with the next one 6-10 p.m. Friday, March 4, Yback says, "First Friday has become a wonderful tradition for all of us who work along the Paseo, and I love it."
The Gallery Walk will have more than 20 galleries featuring more than 80 artists who will host opening receptions, promising something for everyone.
Accepting commissions in an accessible and engaging manner, Yback says her original works vary in price. Her more significant pieces fall within the range of serious collectors. She may be contacted at s[email protected] or by phone/text at 405-662-6551.