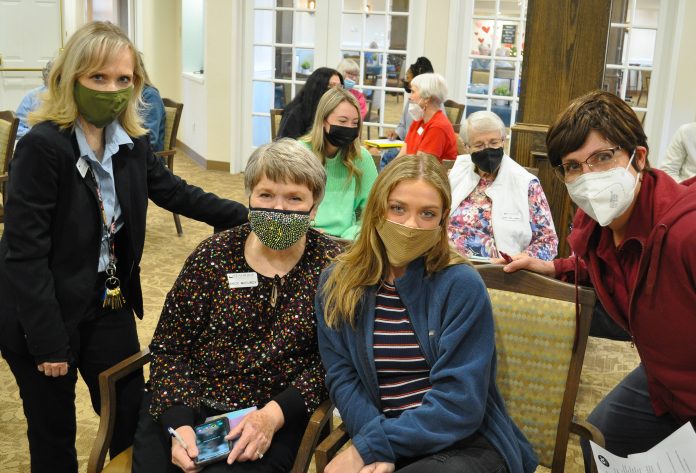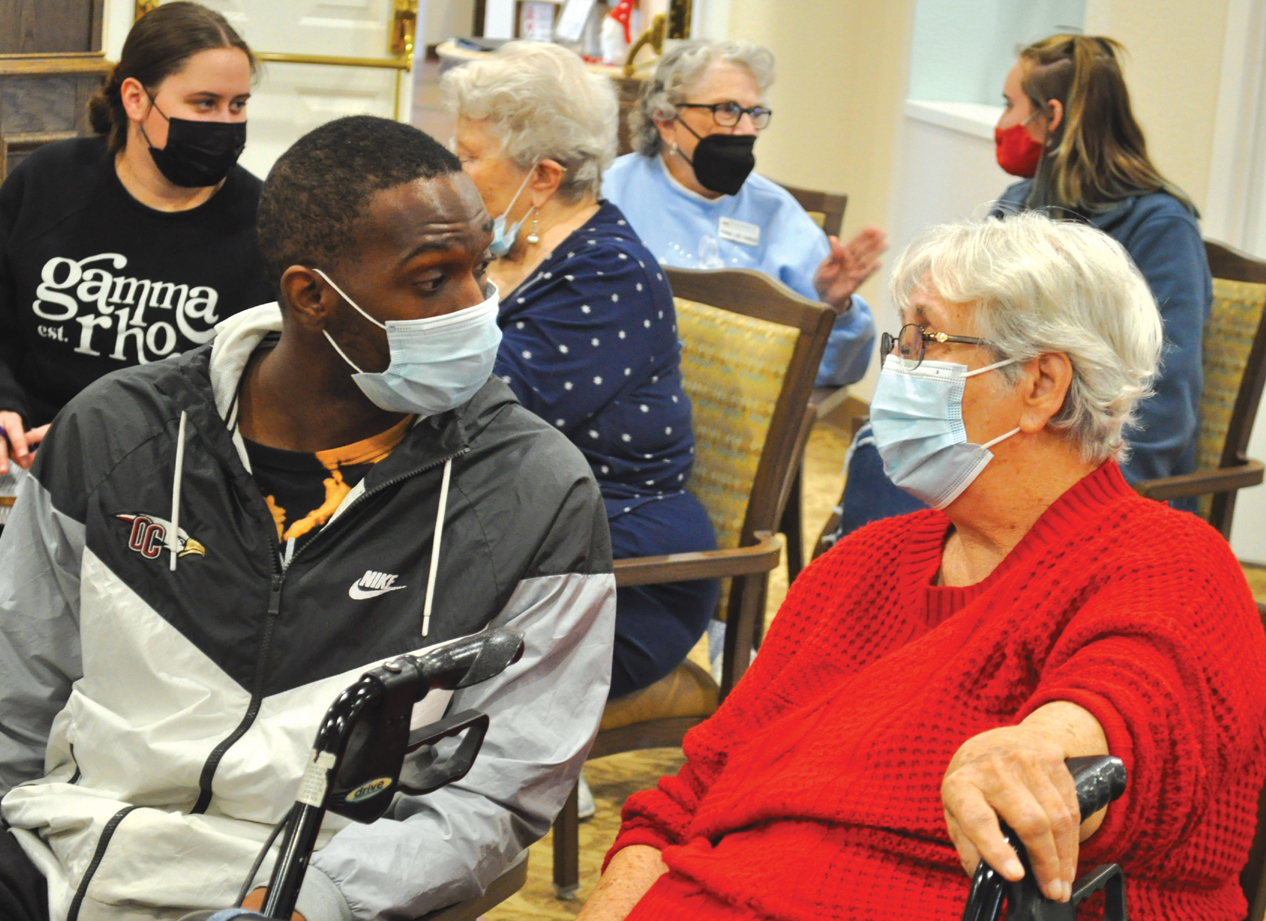 story and photos by Bobby Anderson, Staff Writer
It was mid-February and the conversations next door to the Tealridge Retirement Community dining room flowed like water.
Daily laughter and connection aren't uncommon occurrences at the all-inclusive Edmond retirement community, but this day something was different.
On this day, residents had the undivided attention of a group of Oklahoma Christian University students hoping to cull a lifetime of experience and knowledge to help them on their educational journey.
For a minimum of eight hours during the spring semester, nearly 40 college students from multiple disciplines are involved with a program that pairs them with a Tealridge resident.
Leading the program is Dr. Tina Winn, professor of psychology.
Dr. Winn said psychology students and family science majors both are gaining the benefit of the living history lessons they receive during each meeting.
For the students, it's a chance to learn and grow.
For residents, it's a chance to share their legacy.
"We're studying it out of the book. Now they get to take that and put it into context and personalize it," Winn said. "My goal is for them to take the theories and the ideas and apply them in a way that it's meaningful. It's going to enhance their understanding and break down some of the myths and increase awareness and comfort levels among the generations.
"It's one thing to learn it out of the book but then when it gets applied and contextualized it becomes meaningful and something that can be used."
Winn's doctorate is in counseling and student personnel. She's taught in psychology and family science areas since 1998.
She's taught at the University of Science and Arts of Oklahoma in Chickasha and Northwestern Oklahoma State University in Alva.
She says this program is one of the most meaningful she's participated in because of the chance for both sides to benefit and share.
"At the end (of the course) my ultimate, bottom line hope is for them to have a deep understanding of people in this stage of life but also in themselves and how they see themself progressing," Winn said. "Once we break down some of the myths it really impacts how we live today even if we are not in late adulthood we are heading there."
Facilitating the program is Tealridge Executive Director Melissa Mahaffey, MHA.
"Each retiree has a wonderful story to tell," Mahaffey said. "Each individual – both students and residents – will be blessed beyond measure for the time that they will be able to spend with one another."
"We have residents that have life experiences that are unmatched to any textbook at any level of education. Each participant will no doubt have a better understanding of what was life some six decades ago or even longer. Socialization, meaningful interactions and purposeful life is what it is all about. We are very fortunate to be able to partner with such a great professor and students."
Each student is paired with a resident for the entirety of the semester. Over the course of the semester, weekly meetings will occur.
Winn said one of the goals is to reinforce how active of a demographic the senior population represents. Learning from that group and getting feedback on issues ranging from government policy to religion to family values will be vital to students as they begin their careers in their chosen fields.
Every day in the U.S., 10,000 people turn 65, and the number of older adults will more than double during the next several decades to top 88 million people and represent more than 20 percent of the population by 2050.
"I strongly believe that communication and knowledge are important for all generations," Mahaffey said. "Each generation has something to share with each other – whether it be a skill, true historical accounts of memorial events, or just a way to share knowledge about an important event in someone's life. Bridging the gap between generations will absolutely be a meaningful memory for both resident and student."
And it all starts with a conversation.
For more information about Tealridge Retirement Community visit: https://www.tealridge.com/ or call 405-608-8020.