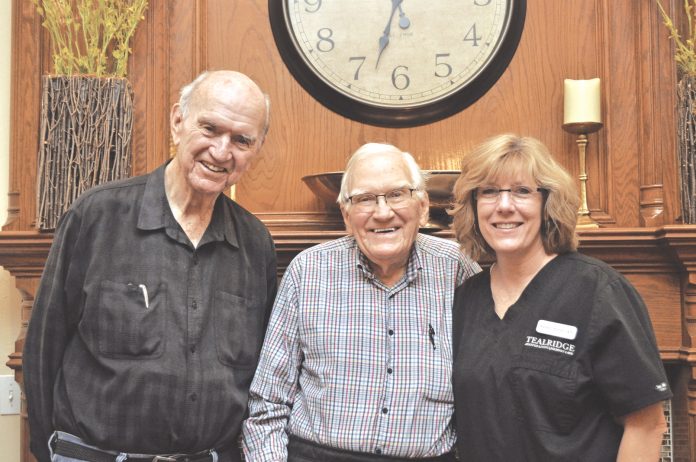 by Vickie Jenkins, Staff Writer
Welcome to Tealridge Retirement Community. We offer Independent Living apartments, Assisted Living services and apartments, and Memory Care.
Our all-inclusive retirement community located in Edmond, Oklahoma is designed for you to be able to live in maintenance-free comfort, which frees you to retire on your terms. We are here to help make the transition easier for you or your loved one. -Tealridge Retirement Community-
With a bright smile and a friendly handshake, Sandy Sitter is the Assistant Director of Nursing. Sandy is an RN, BSN at Tealridge Retirement Center, where she has been working for about a year. With high standards of caring for others, it's no surprise she was named Nurse of the Year 2019 by the Oklahoma Assistant Living Association and was also Nurse of the Year in 1994, presented by Baptist Hospital.
Growing up in Nebraska, Sandy moved to Oklahoma City, OK in 1987. She went to York College in Nebraska, came here to go to Oklahoma Christian College and UCO for nursing, where she met her husband, married and has lived here ever since.
"I actually got my degree in Psychology but due to some medical reasons, I stayed home at the time. There was a big gap from when I quit working until I had a real desire to go to school again to be a nurse. It all came about when my grandmother had cancer. I noticed all of the nurses were so kind, making my grandmother feel as comfortable as they could. I told myself that I wanted to go to nursing school and I would take care of the patients just like the nurses had cared for my grandmother. My grandmother passed away before she saw me graduate nursing school yet, I know she is proud of me for pursuing such a career," Sandy commented. "Little did I know that my grandmother was forming my life in my everyday walk, preparing for my job as a nurse," she added.
"One of my first jobs as a nurse was working in the cancer unit at Baptist Hospital. From there I worked at Integris Hospice. That is where I learned that all senior residents should be treated with dignity and respect. I love caring for the elders," she said.
When asking Sandy what her favorite part of her job as Assistant Director of Assisted Living is, she replied, "It is definitely the love that I have for the residents. I just love them all so much. Right now, we have room for 84 residents and currently, we have 64 residents. I like the fact that I have a close relationship with all of them."
If Sandy were to give advice to someone going into the medical field, she would tell them not to lose sight of who your patient is. "Don't get so wrapped up on the medical side that you lose track of who they are as a person. Take care of the patient as if you were in their place," she said.
On a personal note, asking Sandy to describe herself. "Well, that is certainly a hard question," she said with a laugh. "I am very compassionate and I am a loyal friend. I value my friendships; a very important deal for me. I am a mom, and I have two daughters; Jenna, 25, who lives in North Carolina and Kristen, 19 who attends Oklahoma Christian University. I love spending time with them. I am a Christian and attend Life Church in Edmond and I love the Lord. I have a sweet little dog named Millie; just a good ole dog and I like taking her for walks. I am a huge animal lover. I think humor and laughter is important so you will probably see me having a pretty good time here at Tealridge," she said.
Encouraging words and a positive attitude are what make Sandy an outstanding nurse. "First thing in the morning, I give my day to the Lord, and I always treat others with dignity and respect. I am happy, and even keeled. I think about my words before I say them and I treat people the way I want to be treated. My love for others comes from my heart," she said.
If you were to sum up your life in two words, what would those two words be? "That would be BLESSED and HAPPY," she replied with a smile.