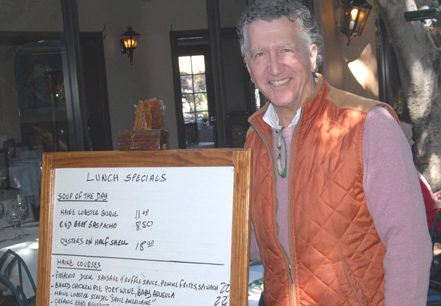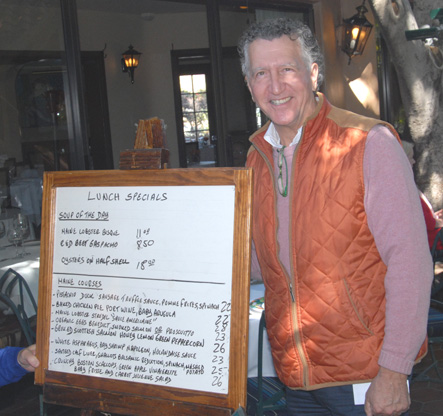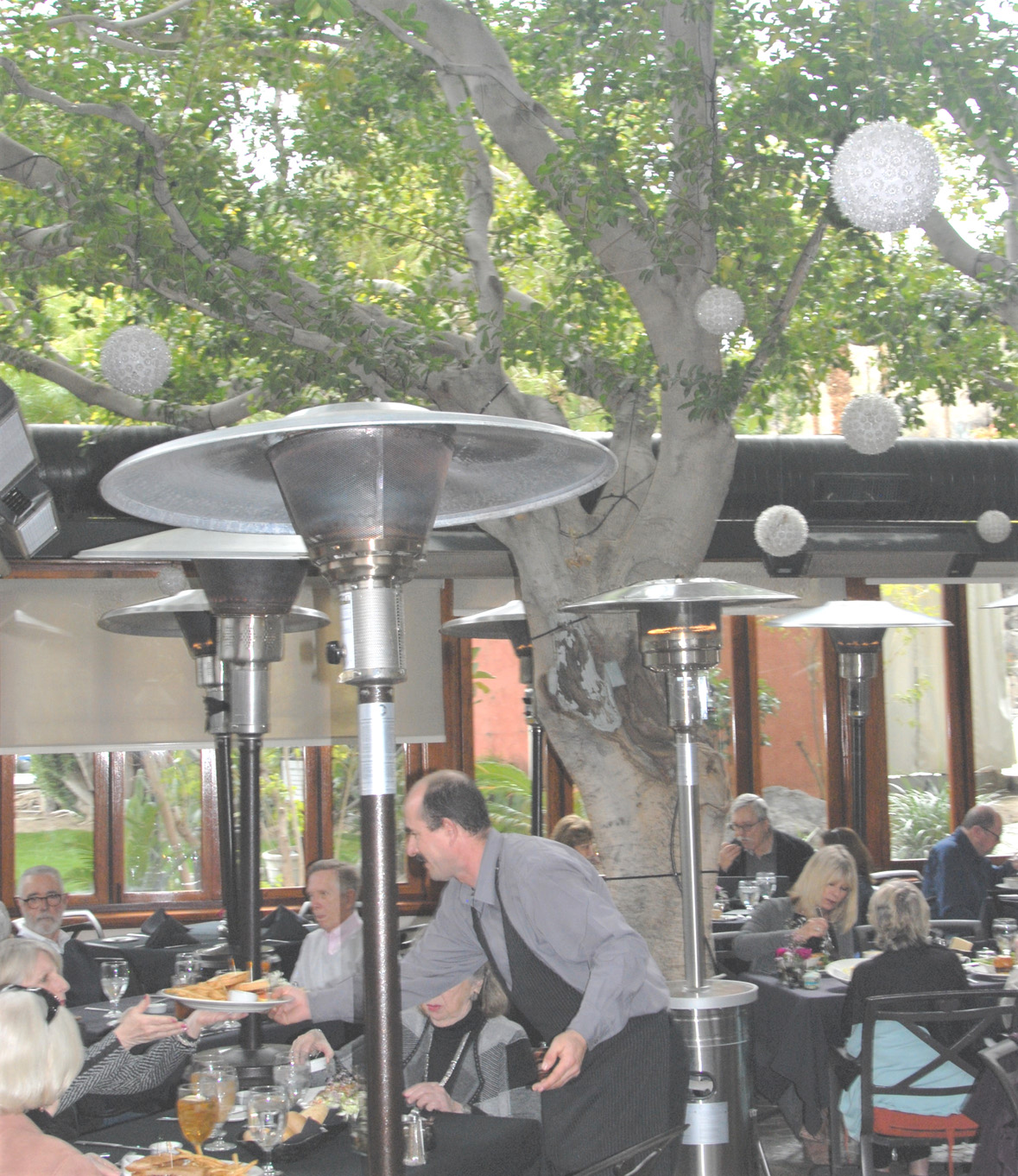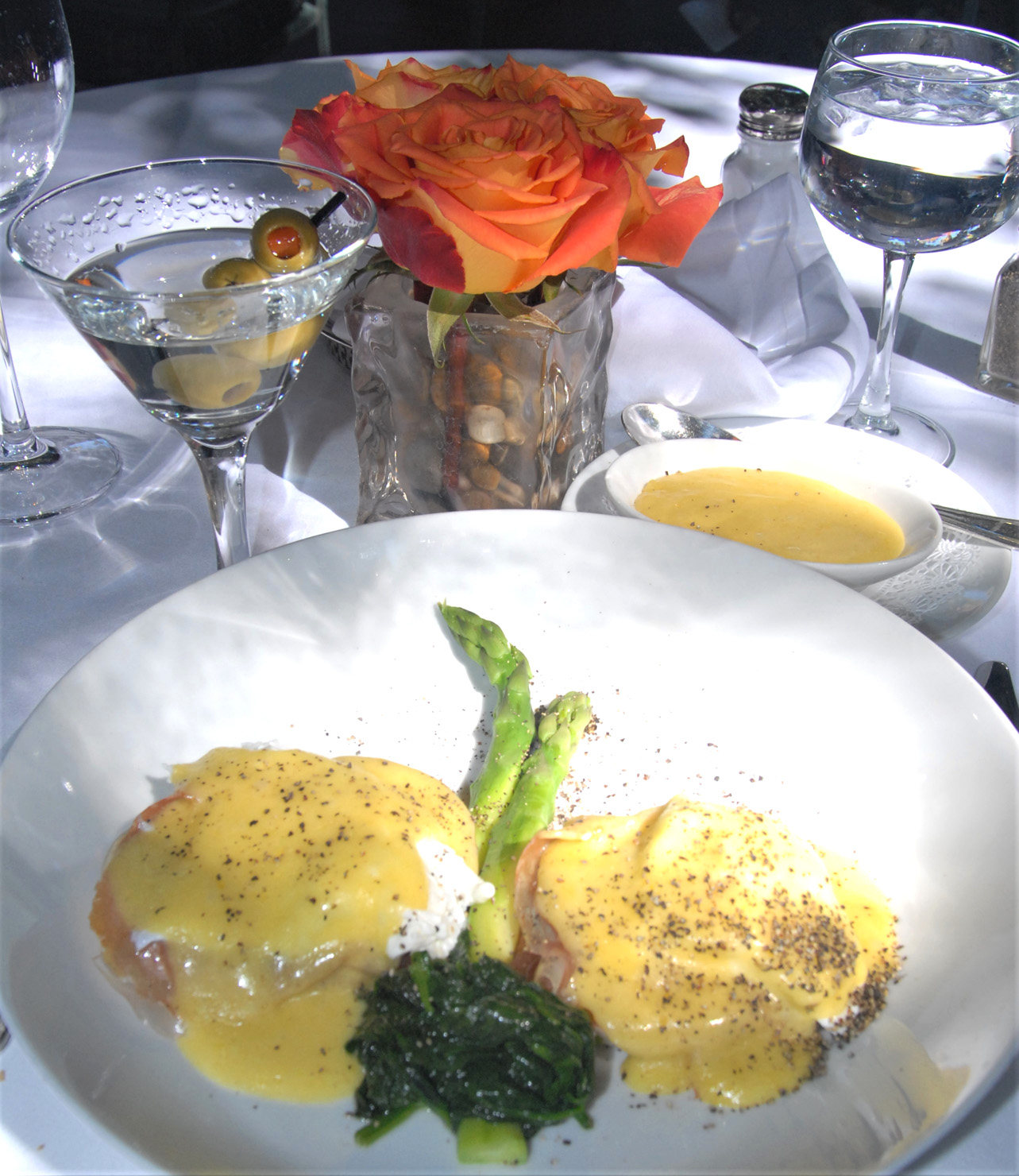 Photography and Text by Terry "Travels with Terry" Zinn [email protected]
Here are more options for your travel comfort tour as we continue our Palm Springs tasting which began in last months issue. Restaurants abound in Greater Palm Springs. I say Greater Palm Springs as that includes the adjacent towns of Cathedral City, Palm Desert, Desert Hot Springs, and Rancho Mirage. Each city has its own upscale resorts and dining options too numerous to mention here.
Concentrating on Palm Springs proper we find, Spencer's, https://www.spencersrestaurant.com, next to the racket club, also with welcomed valet parking, which offers an excellent and cozy patio dining beneath an ancient spreading ficus tree. Very very popular and busy in a friendly way, but when I ordered my Martini with "ice on the pond", meaning so cold and diligently shaken that tiny ice floats on the top, I got my beverage but with ice on the side in a glass, which I found amusing. It was so busy the waiter must have misheard my instructions. The well-dressed luncheon clientele were also enjoying the exquisite tomato basil bisque with the a little too dry honey brine pork chops, and delicious corn cake. Eaves dropping on neighboring tables juicy conversations can be intriguing. Spencer's has a strict dining scheduled and reservations are mandatory, even for lunch.
For a touch of French dining, Le Vallauris, www.levallauris.com, on West Tahquitz Canyon Way, is your choice. Tucked up near a canyon cliff, Le Vallauris with its fresh roses distributed throughout the dining areas, the chalk board type menus, and the congenial and efficient wait staff lets you know you are in a special place. With upscale elegance, dining inside or preferred out, was the perfect bon voyage for me as I was flying out that afternoon. I saved the best for last. The many items on the luncheon menu all were tempting, but with my theme of comfort food I had the Eggs Benedict with prosciutto. I like a super lemony Hollandaise but did not need to ask for more of it on the side, as it was generously served. When I think of this dish in the future, it will always be compared to mine at Le Vallauris. Owner Omar, who travels the world was kind enough to join me for a brief conversation and pose for a photo as he was explaining the chalkboard menu to other eager patrons. In keeping with seasonal best gourmet dishes, Le Vallauris offers frequent email updates to the menu, to remind you of their expertise in freshness and an initiation to return,
Of course reservations are needed in Palm Springs whether for dining or of course for overnight lodgings. I had no reservation at the poolside/patio at the Riviera Resort (psriviera.com) but had a delight lunch lounging around the pool like I was a guest. I think the accommodations there would be perfect for a mid-range budget.
On the upscale side of Palm Springs is the new downtown Kimpton Rowen. (rowanpalmsprings.com) The posh high-rise roof top restaurant, Four Saints, is a touch of elegance from the liquor bottles floating above the bar and the see and be seen dining area which is topped off only by the adjacent roof top pool and specialty bar. You need not order a full meal as an $18 appetizer and beverage can satisfy your palate. An eccentric Palm Springs sight was a well-behaved dog rolled into the dining room in a black baby stroller. I asked my entertaining waiter about this and he said,"You can see anything in Palm Springs."
If you are an adventurous male, the all male clothing optional accommodation at INNdulge, https://inndulge.com/, in the Warm Springs neighborhood will be a most comfortable experience, with morning Continental breakfast, evening cocktail time, congenial guests and heated pool and hot tub. The staff is most helpful in offering suggestions for your Greater Palm Springs experience. The bars clustered on E Arenas Road is a hit and miss pleasure.
Comfort can easily be discovered in Greater Palms Springs with prepared planning. Due to a recent flash flood the aerial tramway was closed, but is recommended. With a car it can be entertaining just driving around with no real destination in mind. You might find you self at the Palm Springs original sight or the botanical gardens or an unexpected stop at an art gallery or antique shop. Having visited there several times over the years, I had an idea of what would suit my comfort level, and in retrospect I accomplished another happy destination experience.
While the personnel is over whelmed at the CVB they can be contacted at www.visitgreaterpalmsprings.com Their hard copy visitor's guide, more like a magazine, is more helpful than their online edition. In it you will find shopping suggestions for each greater Palm Springs city. They will send you one but you must request such several weeks in advance of your browsing.