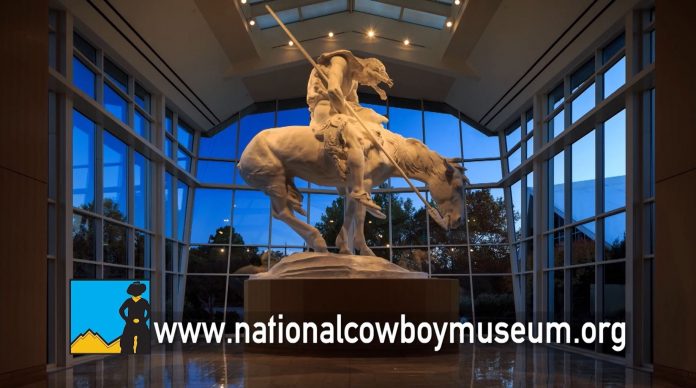 Photography and Text by Terry "Travels with Terry" Zinn [email protected]
March 21, M.J.Van Deventer will be the guest speaker for a noon "Brown Bag Luncheon" at the National Cowboy & Western Heritage Museum. She will speak on "Jerome Tiger ~ The Enduring Legend." Her talk, which is open to the public free of charge, is one of several activities about the late artist's life and influence, complementing a retrospective of Jerome's influence and art, which hangs through May, 2018.
Jerome Tiger began to paint in "Indian Style" in 1962. Nettie Wheeler of Muskogee, Oklahoma, recognized Jerome's talent and encouraged him in his artistic endeavors. Jerome submitted his early work to the 1962 Philbrook Art Center's Annual Indian Art Exhibition and later was invited to have his first major exhibition where nearly all of his images sold out. A full blood Muscogee Creek-Seminole, Tiger's style is said to be a combination of "spiritual vision, humane understanding, and technical virtuosity" but with traditional subject matter and composition.
Speaker, M.J. Van Deventer-Shelton says, "I grew up in Muskogee and became acquainted with Jerome Tiger through an English class at Muskogee Central High School in the late 1950s. Sitting next to Jerome in that class, I often watched him draw while the rest of the class labored over diagramming complex sentences."
Fast forward to 1967 and the untimely accidental death of Jerome Tiger. By the late 1970s, M. J. embarked on a research journey to piece together the fragments of Jerome's life, visit the artists and collectors he influenced and research the enduring quality of his art ~ paintings that changed the face of Native American art.
While serving as the Director of Publications and editor of Persimmon Hill for the National Cowboy & Western Heritage Museum for 18 years, Van Deventer had the opportunity to study Jerome's art and become friends with Arthur and Shifra Silberman, whose gift of Jerome's art has made this museum's Jerome Tiger paintings, the largest archive of his art.
Van Deventer is a graduate of Northeastern State University in Tahlequah and received a Master's Degree in Communications from Oklahoma State University. She did post graduate work in the pre-law program at Tulsa Junior College and also studied at Syracuse University in New York on a Wall Street Journal Fellowship.
For 25 years, she was a newspaper reporter/editor for the Stillwater News Press, Tulsa World, the Daily Oklahoman, Fort Worth Star Telegram and the Tulsa Tribune, which nominated her for a Pulitzer Prize for public service reporting. During that time, she also was an adjunct professor of journalism at OSU and the University of Central Oklahoma.
An award-winning journalist, her articles have appeared in Southwest Art, Oklahoma Today, Tulsa People, Oklahoma Magazine, Traditional Home, Art Gallery International, Cowboys & Indians and Triple AAA's Home & Away. She is the author or co-author of 10 books and is currently completing a biography on Jerome Tiger and the well-known Oklahoma sculptor, Harold T. Holden.
Her passions are writing, cooking, gardening and traveling, especially to Santa Fe, New Mexico. She is a past chairman of the Muskogee Area Master Gardeners, and current President of the Muskogee Area Arts Council. She is a board member of the Five Civilized Tribes Museum, which has the second largest holding of Jerome's art, including his only sculpture and his last work, The Stickballer.
The National Cowboy & Western Heritage Museum is America's premier institution of Western history, art, and culture. Founded in 1955, the Museum, located in Oklahoma City, collects, preserves, and exhibits an internationally renowned collection of Western art and artifacts while sponsoring dynamic educational programs to stimulate interest in the enduring legacy of the American West. More than 10 million visitors from around the world have sought out this unique museum to gain better understanding of the West: a region and a history that permeates our national culture.
The National Cowboy & Western Heritage Museum features a superb collection of classic and contemporary Western art, including works by Frederic Remington and Charles M. Russell, as well as sculptor James Earle Fraser's magnificent work, The End of the Trail. The exhibition wing houses a turn-of-the-century town and interactive history galleries that focus on the American cowboy, rodeos, Native American culture, Victorian firearms, frontier military, and Western performers. Outside, beautifully landscaped gardens flank the Children's Cowboy Corral and interactive children's space.
Additional information about the Brown Bag Luncheon Series is available by contacting Tara Carr at the National Cowboy Museum, (405) 478-2250.