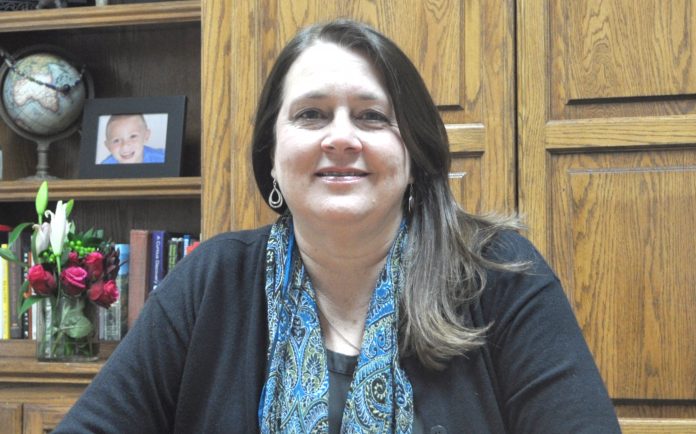 by Vickie Jenkins, Staff Writer
Meet Ginny Curtis, Licensed Insurance Agent of MCM Insurance, Medicare and Retirement. The company is family owned and operated and they are proud of their combined team experience of 50 years. MCM Insurance is focused on those with Medicare and the options that they can offer. With comprehensive Medicare help, there are many carriers, not centering on one individual company, instead, offering a wide variety of products, setting their goal to help individuals get the coverage they need and deserve. The name of the company, MCM Insurance comes from the first initial of the 3 owner's last names. Jennifer Melton, Ginny Curtis and Tonderai Bassoppo-Moyo.
As Ginny sits behind her desk, she explains the MCM Insurance with professionalism and ease, giving that comfortable, down-to-earth feeling. She speaks with confidence and pride, giving her words a bit of strength, dedication and answers. "I've been doing this for 32 years," she says with a smile. It is obvious that she is very comfortable speaking about the advantages of MCM Insurance. "I enjoy my job and helping others. If I didn't, I wouldn't be here, "she adds.
"Not a lot of people realize they can come to us and we can help them get more coverage than what they are getting now. We can help the Veterans in a lot of ways. We just need to reach out to them. We are trying to get the word out as much as we can. We focus on offering information sessions called Navigating through Medicare. This session is intended to fully educate on Medicare and the options available. I'd say that about 98% of our clients are Medicare and that is why we try to help them any way that we can. It gives our clients a big advantage overall."
MCM Insurance serves the whole state of Oklahoma. Appointments can be set up at their office, in the customer's home or even a coffee shop if they prefer. They aim to please and want to do the very best for their clients.
The services that are offered by MCM Insurance are Medicare supplement, prescription drug plans, Medicare advantage plans, hospital indemnity, short term care, final expense, cancer, heart attack, stroke, dental, vision and hearing. Today, in this ever changing world, it is good to have one office and one team working for the clients.
"We love to participate in local community events." Ginny says. We can schedule one of our presentation or they can contact MCM to have a table at their event."
Some of the questions that seem to be asked when talking to a MCM agent are: Can you help me with insurance even if I am under 65? What if I have been diagnosed with cancer or have to spend time in a hospital or nursing home? Can you set up my family business with group insurance? Do you offer vision and dental plans? The answer to all of these questions is YES! They will be happy to help you in any way they can.
"We are a small office, yet we are very unique. I love the fact that we are family owned and operated. "We treat everyone with the highest of respect, focusing on what is right for that person. We take an unbiased approach and do our best," Ginny comments.
On a personal note, Ginny is a pleasant individual who seems to have a positive attitude, taking on a positive attitude in everything she does. Born in Chicago, she moved to Oklahoma when she was a teenager.
Between Ginny and her husband, they have 6 children, 16 grandchildren, (another one on the way) ages 1 through 23, and 1 great grandchild. "That can be a hand full sometimes," she said. When she is home, she enjoys spending time with her family. Her hobbies include sewing and cooking, which she loves doing both.
If you would like to schedule an appointment with an MCM agent to attend a session on Navigating through Medicare, or schedule a presentation, you can reach the office at 405-842-0494. If you would like more information, check out the website at www.mcmmedicare.com. The office is located at 2232 West Hefner Road, Suite A, Oklahoma City, OK 73120. Hours are Monday through Friday, 10:00-3:00, Saturday by appointment only and closed on Sundays.
Overall, MCM Insurance and their team will be happy to help you with any of your insurance needs. Give them a call; you will be glad you did.