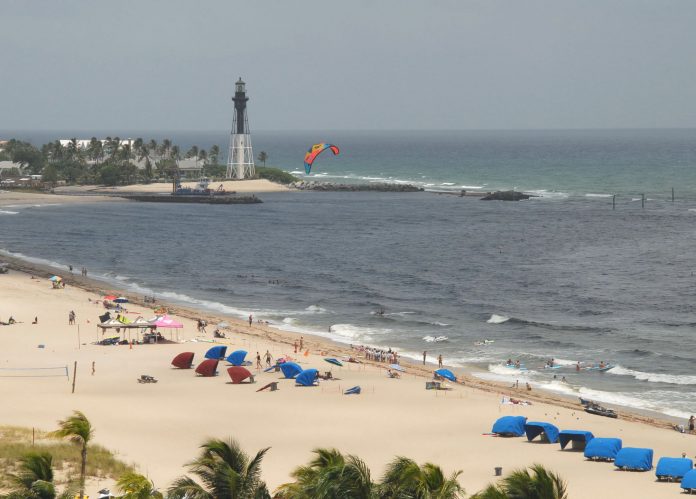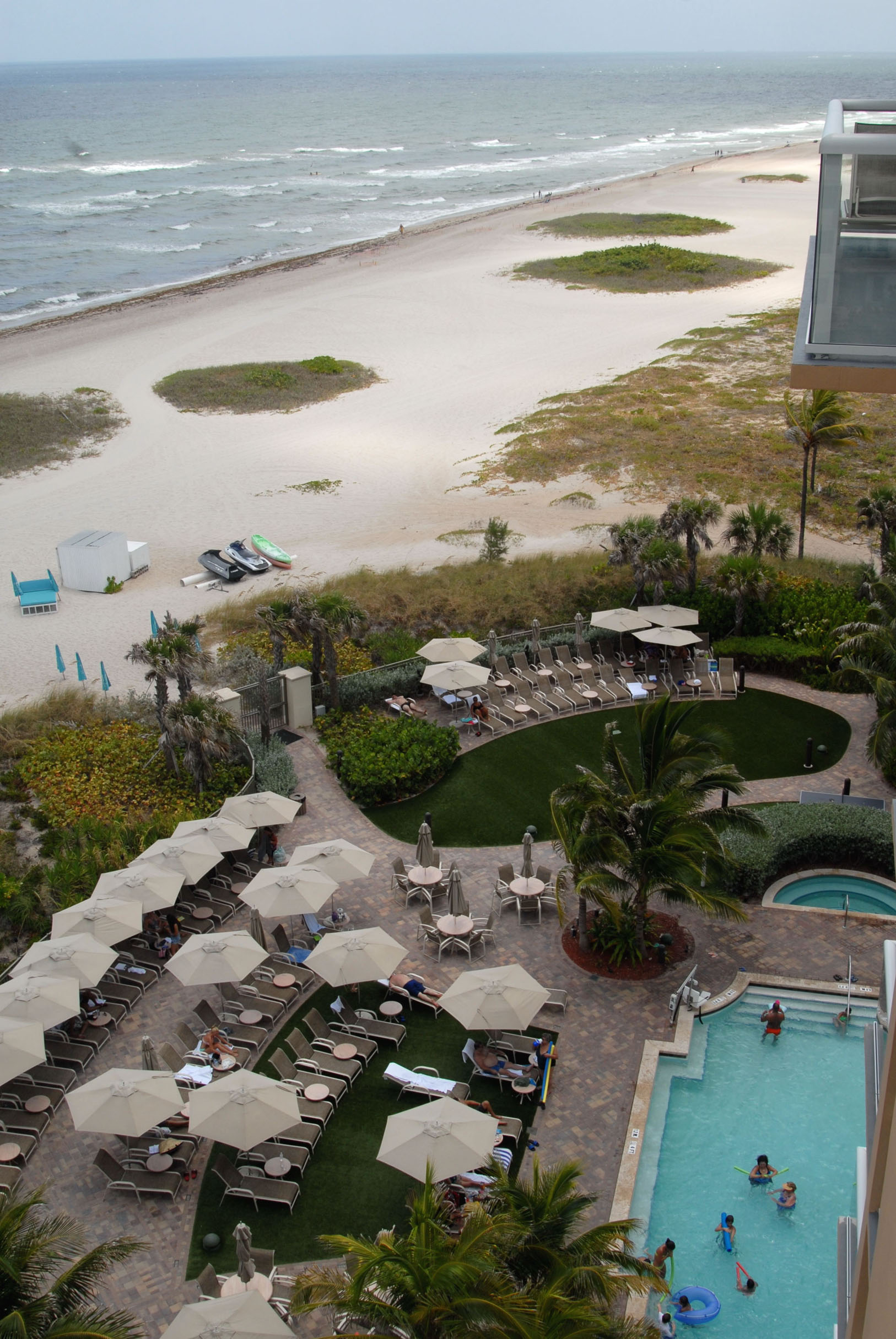 Photography and Text by Terry "Travels with Terry" Zinn  [email protected]
Some Florida resorts are located amid a massive amount of traffic and tourist activity. The Marriott Pompano Beach Resort and Spa is somewhat off the beaten track, and is boon for motorists, with their own transportation.
While a stroll within a mile of the property can be charming, there are not many cafes, restaurants or shops within the immediate area. If your desire is to get away from it all, and just ensconce yourself in a comfortable setting with pristine and maintained beaches, 2 pools, 2 towers of accommodations and delicious eating experiences, Marriott Pompano Beach Resort and Spa may be your ideal.
When you consider a visit to Florida at any time of year, it is important to keep in mind the annual hurricane season from mid-summer through September. Of course these days, predictable weather patterns of past years seem to be unpredictable. It's a boon to Pompano that they are far North of Miami Beach with its recent health headlines. It also is North of Fort Lauderdale, and a comfortable distance from its neighbor Lauderdale-By-the-Sea, which is a more active community with its many eateries and entertainment options. Again motorists will find it near enough to quench a typical Florida tourist's appetite.
Near Pompano is the Hillsboro Lighthouse, privately owned and only open for tours at certain times, being a coast guard operated property. Upcoming tour dates for 2016 are: September 10, October 8, November 6, and December 3.
Happily, sequestered in your ninth floor ocean front room with balcony, you might find the sporadic afternoon thunderstorm a real 3-D entertainment, more impactful than the best free action disaster movie, shown on your large in room TV screen. Be sure and inquire about a corner suite room, for added luxury. As with many upscale hotels, housekeeping may be sporadic, even when alerting them to your out of room schedule.
Check in time is listed at 4 pm, but as someone I know had to do, you might have to wait until 6 pm, which will give you time to explore the property, Atlantic Ocean beach, Spa, and exercise room or grab a bite to eat.
McCoy's restaurant both comfortably inside or out by the active pools, offers a variety of delectable meal options and beverages with congenial wait staff. If you're a fan of specially cocktails, with the proper and courtesy instruction, they follow through with your requests most satisfactorily.
Florida still offers what many sun worshipers require and the family welcoming Marriott's Pompano Beach Resort, might be your new favorite Florida oasis for you and your extended family.
For more information and reservations: www.marriott.com/fllpm
Mr. Terry Zinn – Travel Editor
Past President: International Food Wine and Travel Writers Association
http://realtraveladventures.com/author/zinn/
http://www.examiner.com/travel-in-oklahoma-city/terry-zinn
www.new.seniornewsandliving.com – www.martinitravels.com