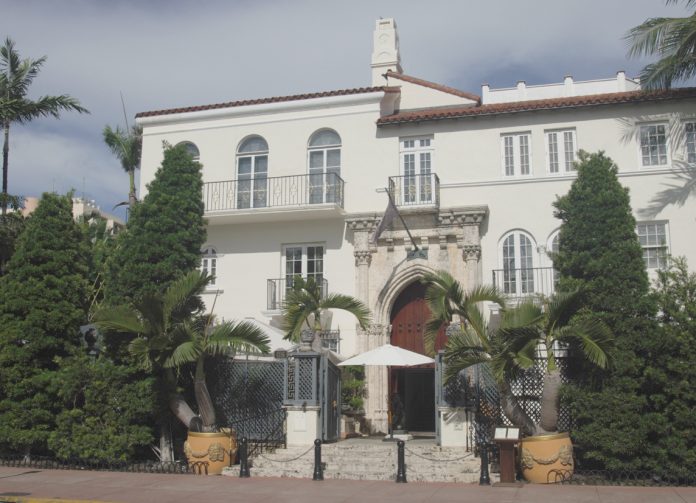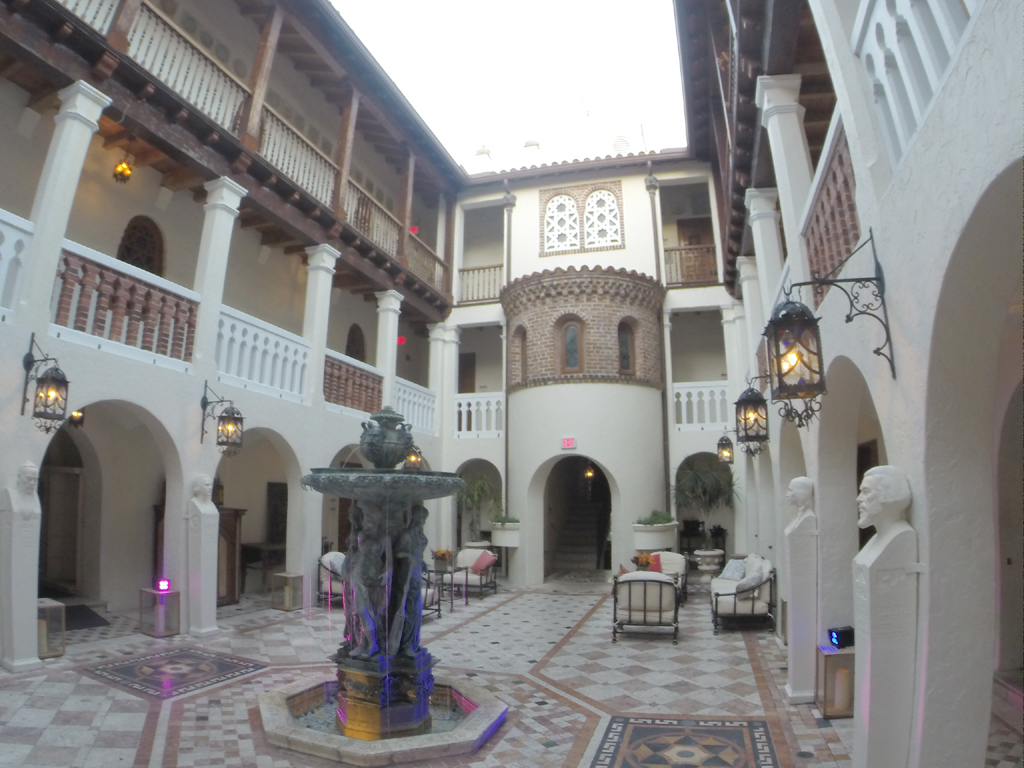 Photography and Text by Terry "Travels with Terry" Zinn  [email protected]
Often the best part of visiting a destination is splurging for an upscale gourmet meal, or two. This is the case in Miami Florida where the ambiance, service and ultimate perfect meal comes together with the BLT Prime at the National Doral Resort Hotel and dinning at the infamous South Beach Gianni Versace Villa.
Sometimes the simplest of menu items, if prepared to perfection, can be the memory you take away from a destination city. The BLT Prime at the National Doral Resort's Filet Mignon is a prime example. Despite the Miami August heat dining outside overlooking the Big Monster golf course can be elegant for sipping your pre dinner cocktail, but soon you may want to move in to the elegant dining room with a more comfortable temperature. Sometimes the mind over thinks the body's own thermostat and you have to concede to air condition comfort.
Moving from your preferred exterior to the interior is graciously accomplished by the congenital and efficient wait staff, who I feel agreed for their serving comfort as well, the traditional indoor dining was preferred.
You might think a good prime filet with accompanying sides, is not a complicated gourmet challenge, but when prepared with skill it can be an over the top savory satisfaction. This is the case at the BLT Prime.
Of course the accommodations at the recently renovated hotel are up to its reputation standards. If you get upgraded to an available mini suite, of two bathrooms (one huge with shower, tub, expansive double sink lavatory, and one on a more modest scale for guest), two big screen TVs, large bedroom and siting/living room, is a gracious oasis.
On another upscale over the top luxury experience, book a dinner or two at the exclusive, but accessible Villa Versace in the middle of popular South Beach. There are two dining areas in this infamous home of fashion and style designer Gianni Versace. If you are stay at any of the affordable South Beach icon hotels, it is a pleasant stroll down Ocean Drive, either on the less traveled Eastern ocean park side, or if you prefer to dodge dinners at the many outside bumped out tables on the Western side. Needless to say Ocean Drive is always a traffic lover's delight, and in the evening even more so where many come just to drive by the pastel colored lights illuminating classic art décor architecture.
The mansion was officially named Casa Casuarina for more than a decade, where it first operated as a private club and then as a boutique hotel. It reopened in 2013 under new management. Locals still refer to it as 'the Versace mansion'.
It is reported that Versace bought a neglected three-story, Mediterranean-style home, originally built in 1930 by Standard Oil heir Alden Freeman, and a dilapidated hotel next door in 1992 and spent $33m on renovations.
To add to the villas notoriety Versace was shot dead on its front steps by serial killer Andrew Cunanan in 1997. The 10-suite Villa by Barton G boasts a 54-foot 'thousand mosaic' swimming pool lined in 24-carat gold, which was designed by Versace.
You will be met by the guard at the street side gate and then you may announce yourself to your hostess coming out of the main entrance. You will be invited to sit in the patio area, a formality even though you have previously made your dining reservations which are strictly required. You will be told no cameras are allowed and so you are instructed to check such at the reception desk. Cel phone cameras are currently allowed although standard cameras are not. In time you are escorted to your table, past an elaborate interior courtyard with fountain and past the intimate cocktail bar. By now you know you are somewhere special.
The interior dining room is almost oppressive with its intricate walls of rock and tile mosaics. The mood is brooding and your fellow room diners explode your imagination when you conger up what might be their history. The outside terrace overlooking the Roman villa styled pool and cabana area is the delight of South Beach. You almost hate to order your meal in anticipation of its finish and your need to leave. Again a perfect beef filet is an exquisite choice. If you are offered a dinner salad to start off, be warned the size is gigantic and so is the variety of greens.
A Martini toast to Gianni and this Villa is a must, to pay tribute to a man of means and his open to the dining public of his South Beach Villa. While an upscale dining experience may not be in your travel budget, but is there a price for an over the top memory you recall year after year?
Editor's Note: Terry Zinn is past president of the International Food Wine and Travel Writers Association.
Mr. Terry Zinn – Travel Editor
Past President: International Food Wine and Travel Writers Association
http://realtraveladventures.com/author/zinn/
www.new.seniornewsandliving.com – www.martinitravels.com