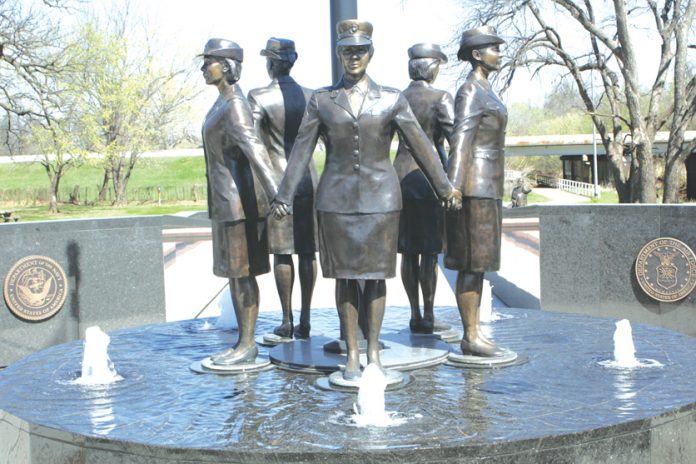 Women's Veterans Monument Sets the Standard for Honoring America's Best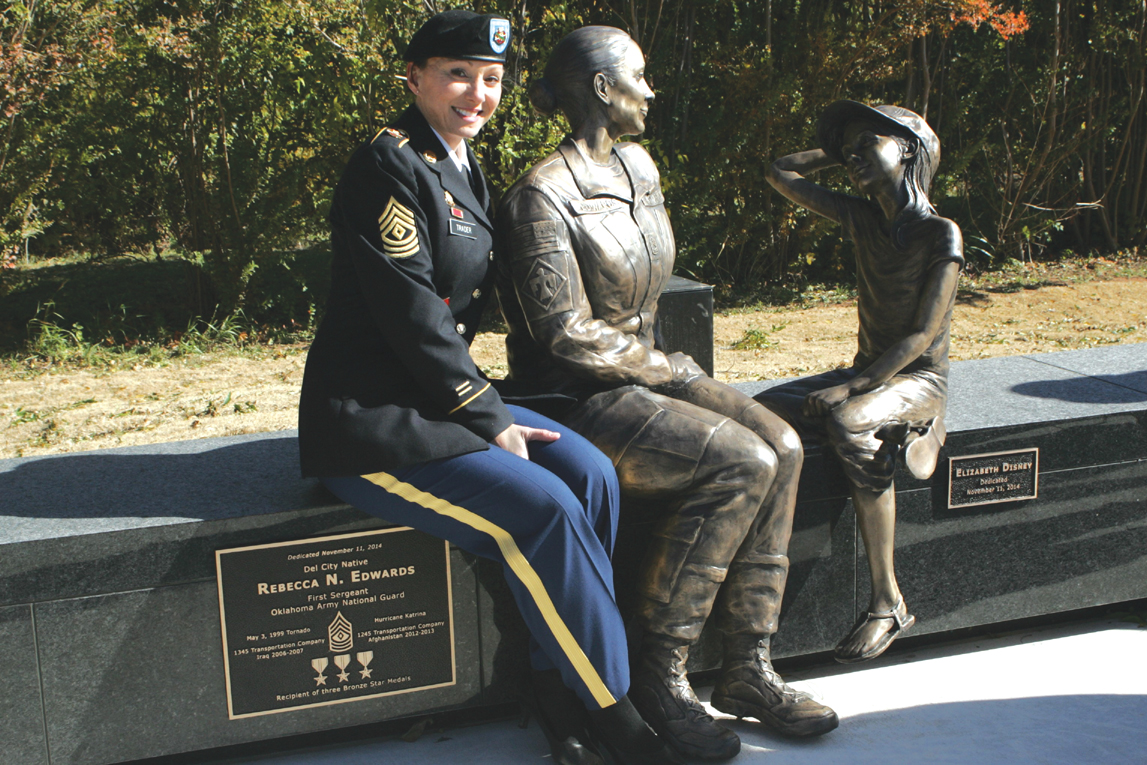 Story and photos by Darl Devault, Feature Writer
With the privilege and opportunity approaching of honoring all military service on upcoming Veterans Day more than 300,000 women have volunteered to serve our country in Iraq and Afghanistan.
The little known Del City monument created as America's only inclusive bronze monument honoring women veterans patriotically illustrates this pride.
Dedicated in 2014, this Women's Veterans Monument honoring the two million women who have served and are serving in the armed forces is our nation's first inclusive-of-all-services tribute.
Sculpted by Luther, Okla. artist Joel Randell, the monument honors women who today make up 16 percent of the enlisted forces, and 18 percent of the officer corp.
In the years since its unveiling, this first-of-its-kind public art has engaged the art community. Oklahoma's most famous illustrator and fine art painter, Mike Wimmer, sought out the monument as a visitor.
"Joel Randell celebrates the poise, dignity and strength of the women serving in our armed forces," Wimmer said recently. "Its patriotic expression of figurative realism gives honor to the women who stand up with uncommon valor to serve and protect their nation, community and family. He captured every figurative detail in meticulously representing and honoring the achievements of real women in their chosen branch of military service."
The polished black granite monument depicts five bronze slightly-larger-than-life uniformed Army, Marines, Navy, Air Force and Coast Guard women.
It also features an Oklahoma Army National Guard uniformed woman speaking with a little girl inquiring when she can serve. The mother and daughter are sitting at a reflecting pool before the mother's departure to serve her country.
The centerpiece is the servicewomen in intricately-correct dress uniforms and caps. They are facing outward in a circle, holding hands. Planners said this represents the strength and unity between them to form a symbol of strength and purpose around a flagpole with a large American flag.
An all-woman committee of eight veterans guided the artist during the $1.5 million project, spending three years planning the monument.
The women, who had attained all levels of military rank and responsibility, designed the overall look and paid attention to the greatest detail. They made sure their service uniform depictions could pass any critical dress inspection a fellow veteran might make of the bronze statues.
Oklahomans SSgt Laurel "Chip" Chambers, MSgt Barbara L. Curry, Capt. Jennifer Grant, Sp4 Linda Kiselburgh, SMSgt Deborah L. McQuillar, AZCS Carolyn Mischke, SSgt Dorothy Rimbold and Lt. Col. Julie Wende served on the committee.
The monument stands in Patriot Park, the site of several veterans' memorials and monuments and a Veterans Day ceremony each year opposite the Del City Community Center just off I-35. In 1995 the city built the first monument to honor all of Del City's war dead since World War II. A Fallen Soldier Battle Cross honors veterans who served in Iraq and Afghanistan. A Blue Star Mothers Memorial joined the Vietnam War artwork and soldier mausoleum in 2011.
This newest monument—to those who take the oath to serve their country, allows Del City citizens and leaders to make a strong statement that women veterans deserve honors. This monument says ladies do their share—from the initial historical commitment to provide support, to the now dangerous duty of combat. The folks from this small city next to Tinker AFB celebrate the patriotism that binds them to the goal, keeping America free.
By depicting a youth conversing with a role model, the monument also conveys the multigenerational relationship between women who have served and now younger generations.
With owner John Free Jr., supervising, The Bronze Horse Foundry in Pawhuska, Okla., cast the monument's bronze figures.
"These seven patriotic figures in one masterpiece are really something," Free said after installing the statues. "People really like that the artist researched these subjects so strongly for accuracy, because this bronze art is going to stand here forever."
One Lawton, Okla. combat veteran saw firsthand how a fellow female soldier made the ultimate sacrifice in combat.
Eleanor McDaniel, 67, a veteran of Operation Desert Storm/Desert Shield as the first Comanche woman to serve in U.S. combat as the highest-decorated Comanche woman recalled Army Spec. Lori Ann Piestewa. Piestewa, a Hopi, died after an ambush in March 2003 in Iraq.
Piestewa was the first Native American woman killed in combat on foreign soil. McDaniel said the monument honors the sacrifices of all military women, whether in combat or during peacetime.
"This monument is well deserved and long overdue," McDaniel said in 2014. "Other communities should follow the example. Recognition of this magnitude for our women in the military is uncommon, but many extraordinary women have served and deserve that recognition. I am deeply grateful to the people of Del City and all those that made it possible to recognize and honor the service and sacrifice of all the women of the U.S. military."
Arizona's government renamed Squaw Peak in the Phoenix Mountains as Piestewa Peak in 2008 and renamed the freeway that passes nearby in her honor.