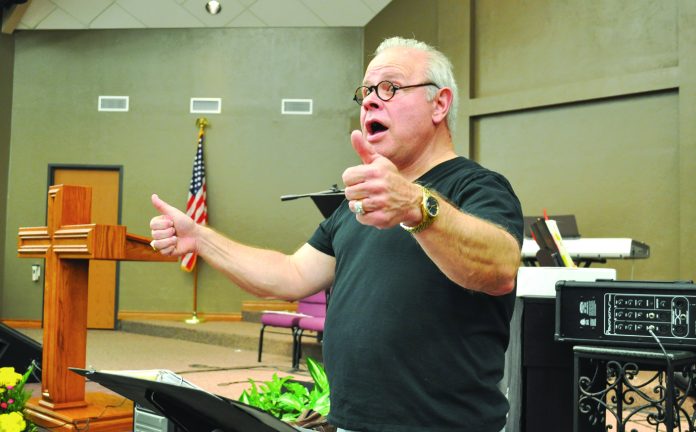 story and photos by Bobby Anderson, Staff Writer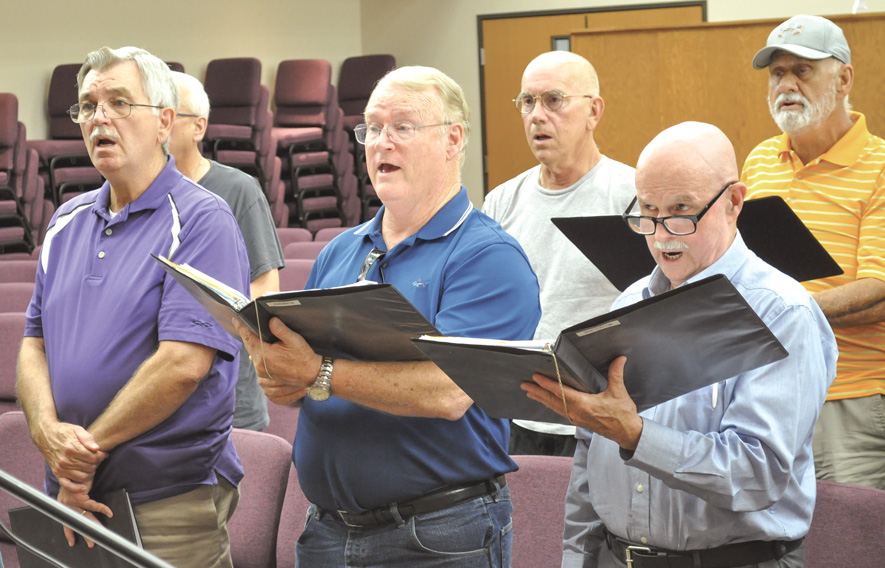 On Sundays strangers gather at New Heights Baptist Church on the city's south side and sing their praises to the Lord.
But each Monday night, Capitol Hill alumni get together at New Heights to sing in praise of Albert "Ozzie" Ossenkop.
Randy Parsons directs Ozzie's Capitol Hill Alumni Choir, a group composed solely of individuals taught by the local choral legend.
Members are either Ossenkop's former students, their spouses or those he taught in church choirs.
Membership is by audition only and encompasses Capitol Hill students from 1963 to 1972.
"But we all auditioned 50 or 60 years ago," Parsons laughed. "Ozzie was a great showman, a great choral director and taught us not only the love of music but he loved all of us.
"He made us feel special."
The choir started after a couple of large reunions honoring their former director. Hundreds of students came out of the woodwork for those.
Ossenkop taught for 34 years and passed in 2011 at the age of 89.
During the later years, the group gathered each Christmas to serenade him at Legend at Rivendell.
"Many of the choir stayed in touch and would come to visit and still consider him like a father," Parsons said. "As he aged our love for him probably increased because we could care for him a little bit like he cared for us."
But when Ossenkop passed there was a void.
A couple of alumni got the idea of gathering members to sing for the lighting of the Stockyards Christmas tree.
"That's what got us started and now we are the official choir of Stockyards City and we sing every year at the lighting," he said. "We figured if we were going to do this let's do this with the songs Ozzie taught us."
The choir doesn't just sing, it performs Ossenkop's original arrangements he taught back in high school.
This will be the fourth season for Ozzie's Capitol Hill Alumni Choir, which performs around 14 shows yearly.
In late August, the group performed at the Capitol Hill Alumni Association Annual Banquet.
One of Ossenkop's students made it all the way. Tenor Chris Merritt has performed all over the world from Carnegie Hall to London's Royal Opera House.
Ossenkop took his choirs all over as well. Disneyland, Montreal, San Antonio – Ossenkop's choirs toured performing his annual Musical Extravaganza, a collection of show tunes he arranged.
Member Cheryl Tolsen was part of Ossenkop's last choir. Coincidentally, her mother was in Ossenkop's first choir.
"The alto doesn't fall far from the tree," Parsons joked.
On Monday nights you'll find Kathy Perkins, Class of 1968, accompanying the choir on piano the same way she did in high school.
Following Labor Day, Parsons said the group will look to add more members. Anyone who was taught by Ossenkop is welcome to join this month to begin work on the group's Christmas performances.
Carol Netherton (Class of 68) serves as the group's secretary and treasurer.
"He was just full of vitality and vivaciousness," she remembered. "I don't know anybody who didn't like him. He was like a father to so many."
Alana Stephens (Class of 69) described her mentor as '"a big old teddy bear." Seeing Ossenkop each morning at 7:25 a.m. was always a treat.
"He really was interested in all of us kids," Stephens said. "He wasn't just a teacher."
Ossenkop's expectations were straightforward: no smoking, no drinking, be an A+ person.
Even decades later, when Ossenkop would see one of his students he could tell them what voice part they sang and even remembered details about their families. "One teacher's influence has been multiplied over all these years and is still being multiplied," Parsons said. "Nobody pays these people to come. They have to put up with me but they come week after week, year after year. We enjoy each other but our main motivation is we want to honor the guy that started it all."
Ossenkop left an indelible mark on every member of the choir.
Juanita Gasaway (Class of 1968) still has two pictures of Ossenkop on her cell phone. The first is of him holding her first son in 1970. The second was Ossenkop holding her son's son in 2010.
"He had a heart of gold," Gasaway said.