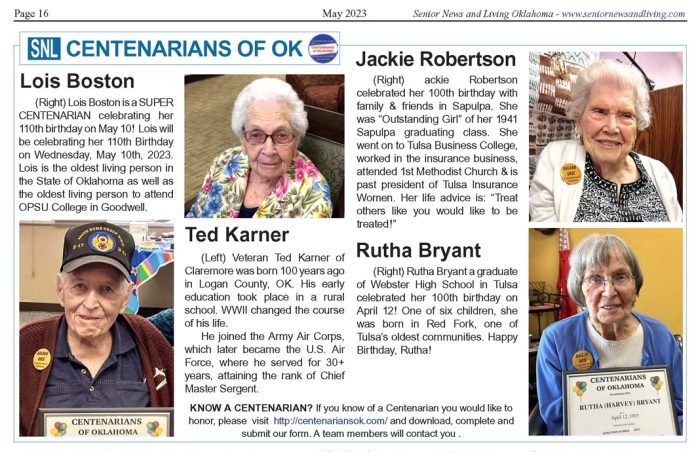 Lois Boston, (TOP left) Lois Boston is a SUPER CENTENARIAN celebrating her 110th birthday on May 10! Lois will be celebrating her 110th Birthday on Wednesday, May 10th, 2023. Lois is the oldest living person in the State of Oklahoma as well as the oldest living person to attend OPSU College in Goodwell.
Ted Karner, (BOTTOM Left) Veteran Ted Karner of Claremore was born 100 years ago in Logan County, OK. His early education took place in a rural school. WWII changed the course of his life. He joined the Army Air Corps, which later became the U.S. Air Force, where he served for 30+ years, attaining the rank of Chief Master Sergent.
Jackie Robertson, (TOP Right) ackie Robertson celebrated her 100th birthday with family & friends in Sapulpa. She was "Outstanding Girl" of her 1941 Sapulpa graduating class. She went on to Tulsa Business College, worked in the insurance business, attended 1st Methodist Church & is past president of Tulsa Insurance Women. Her life advice is: "Treat others like you would like to be treated!"
Rutha Bryant, (BOTTOM Right) Rutha Bryant a graduate of Webster High School in Tulsa celebrated her 100th birthday on April 12! One of six children, she was born in Red Fork, one of Tulsa's oldest communities. Happy Birthday, Rutha!