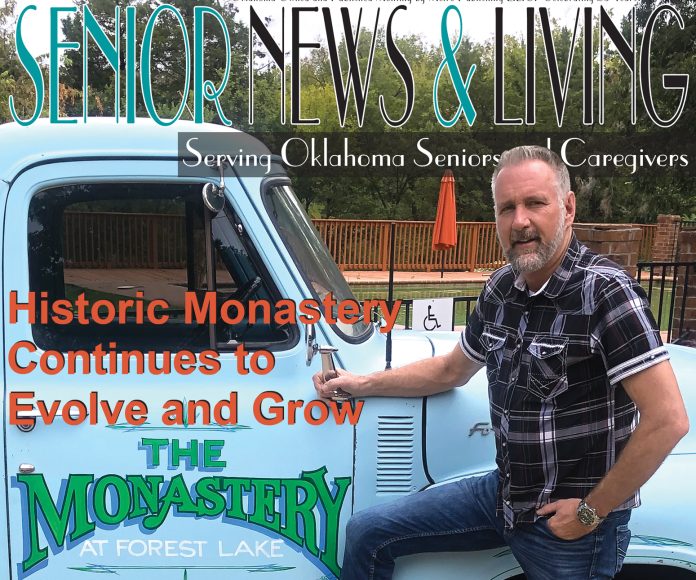 Matthew Pierce
Owner/Innkeeper of The Monastery at Forest Lake in Oklahoma City
Story and photo by Van Mitchell, Staff Writer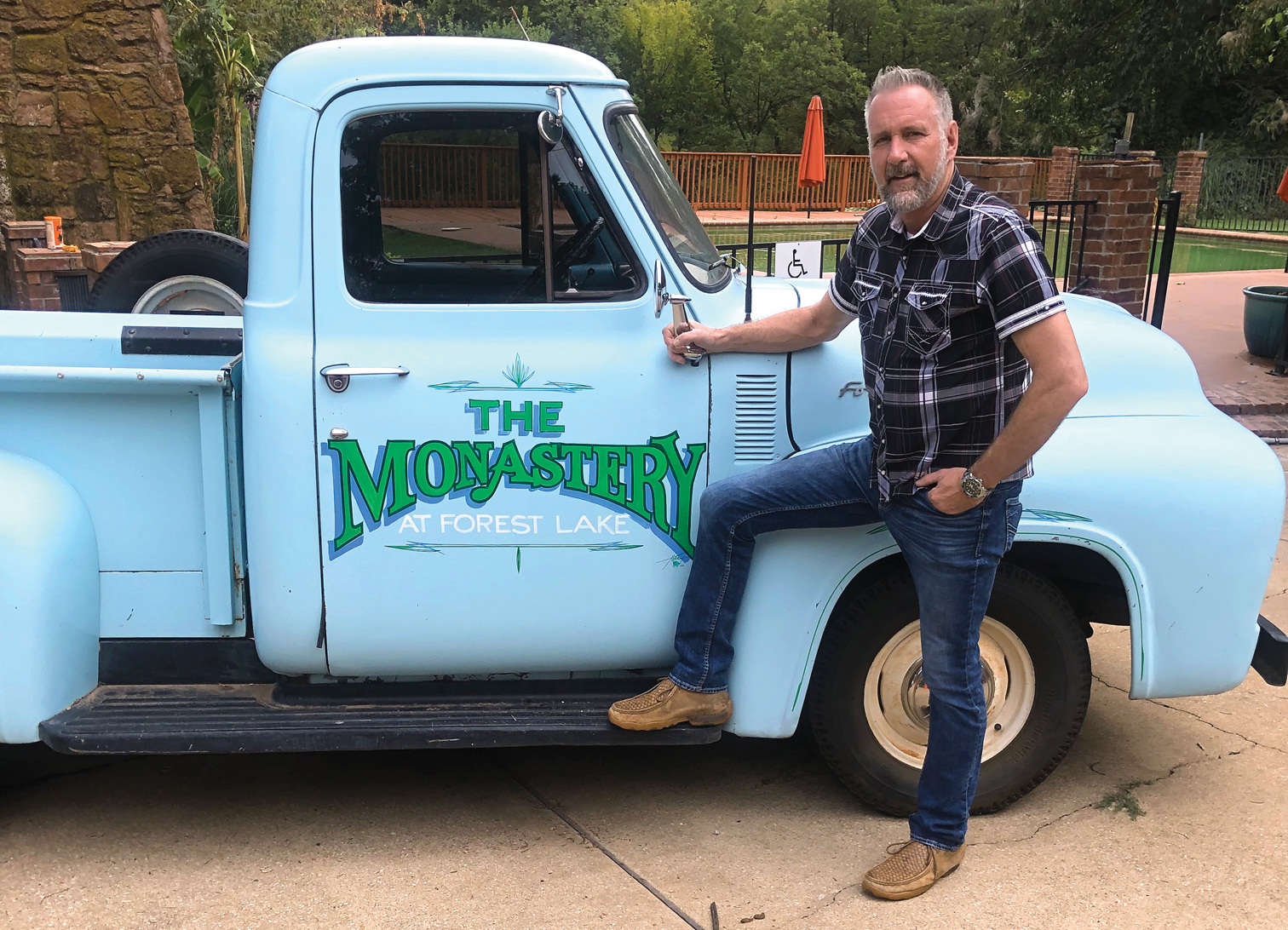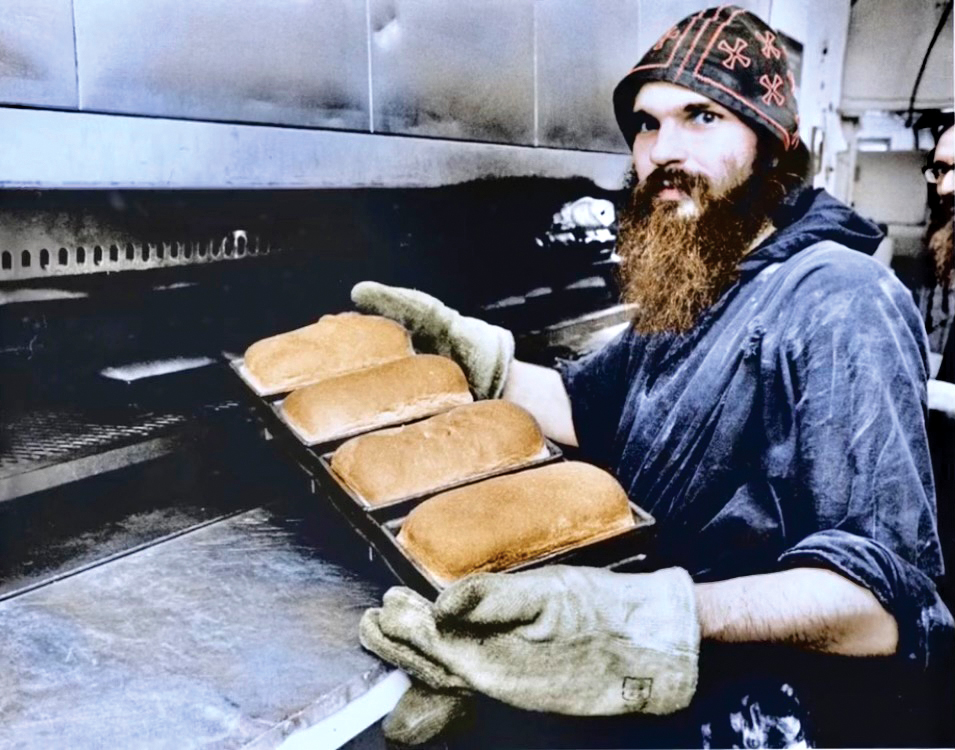 When Matthew Pierce purchased The Monastery at Forest Lake, located at 3500 North Coltrane Road in Oklahoma City, he knew the property had sat vacant for a decade.
What he didn't realize was the amount of time and money it was going to take to bring the historic property, which served as the mansion home of Oil Baron and Oklahoma Governor Robert S. Kerr, back to life.
"Within the first few months of buying the house and as the hidden catastrophes kept emerging, I thought it appropriate to watch the old Tom Hanks movie, "The Money Pit," and I began to realize what a financial and architectural challenge I had signed up for," Pierce said. "Within 12 months I had gone through my entire life savings, almost $400,000, trying to get the 100 year old stone castle-like structure back in shape."
The Monastery at Forest Lake features a 10,000-square-foot stone fortress on 14 acres, a swimming pool, two lakes, a wedding chapel, and starting in October, the 5-star Bed and Breakfast will transition into an Airbnb.
"We're going to still offer The Cottage as an Airbnb, (which was Governor Kerr's servant quarters until 1949) as our most historic suite," Pierce said. "The Cottage also serves as one of our bridal suites for the wedding venue. And, the old bakery building from the monks' time here, which is still on-site, that's a big three-room stone building which is going to be restored into another big cottage so that families can come and stay. It will have a waterfront view and a deck that extends right out to Forest Lake."
Pierce said the mansion was completed in 1926, and it has a plethora of Oklahoma history and characters. (STORY CONTINUED BELOW PHOTO)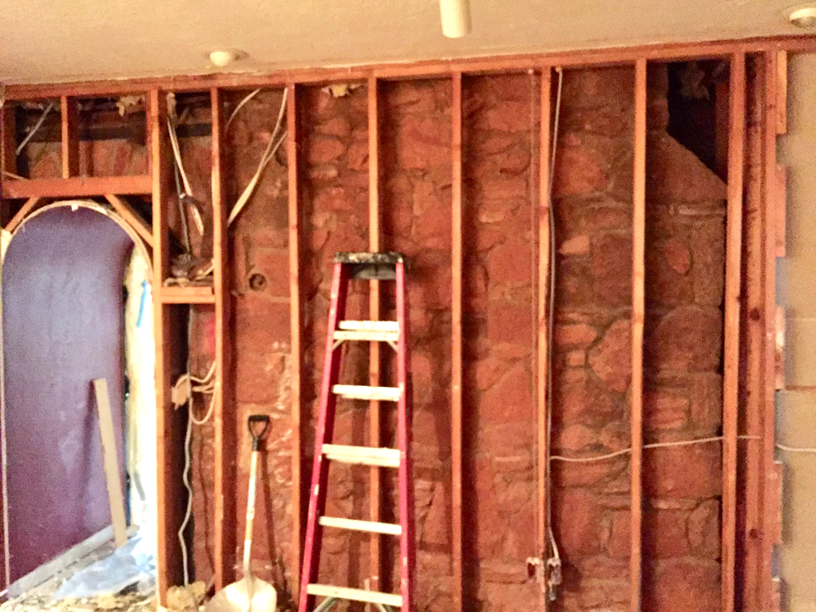 "In the summer of 1926, this mansion and the E.W. Marland mansion in Ponca City were both finishing construction," he said. "This was all oil money. The financiers were Oklahoma oil barons of the 1920s, as well as politicians, law-enforcement, and even an occasional gentleman gangster. They formed a "Hunting Lodge" in name only, cleverly incorporated as "The Anglers Association", which disguised the real purpose of the massive structure with 150-pound doors and 18-inch walls: an illegal speakeasy bar on 50 acres of walled and gated forest. The Twin Hills Golf and Country Club was built in 1918, so that predates it, there was a small lane that led to the Lodge from there."
Pierce said that there is a tunnel under the speakeasy that allowed bar patrons to quickly escape to the lake, accessed by a hidden staircase.
Pierce said the membership of the lodge held a high-stakes poker game weekly, featuring high rollers of the state's petroleum Industry. He said one night, the card game was moved to Oilman Charles Urschel's home in Heritage Hills, and it became the scene of an infamous kidnapping involving Oklahoma gangster "Machine Gun" Kelly.
"His wife, who gave him the moniker "Machine Gun", put him up for one last final caper, and then to retire from his life of crime," Pierce said. "The poker game was here most Thursdays and it unknowingly presented a lucrative target for a big "score ", but on that particular night, they had moved the card game to oilman Charles Urschel's house on NE 18th. Machine Gun Kelly kidnapped Urschel and another man, ultimately transporting Urschel to Texas in the middle of the night."
According to Oklahoma Historical Society archives, on July 22, 1933, using his trademark machine gun, George "Machine Gun" Kelly, along with Albert L. Bates, interrupted a bridge game at Charles F. Urschel's residence in Oklahoma City, abducting Urschel and Walter Jarrett at gunpoint while their wives helplessly watched.
The widower Urschel, oilman Tom Slick's brother-in-law and a trustee to his estate, had married Slick's widow, Berenice Slick, and combined their fortunes, creating one of the wealthiest couples in Oklahoma City. A criminal of relative obscurity, Kelly, born George Kelly Barnes in Memphis, Tennessee, in 1895, married Kathryn Thorne in 1930. Kathryn has been credited for creating Kelly's underworld persona, because she bought him his first Thompson submachine gun and dubbed him "Machine Gun."
After kidnapping Urschel, the criminals took him to a farmhouse in Paradise, Texas, and held him there for more than a week. The kidnappers released him on July 30 after a representative for the family paid $200,000 in documented bills. Kelly was convicted and sentenced to life in prison and served 21 years at Alcatraz, inmate No.117.
Pierce said the hunting lodge closed in 1933 when Prohibition ended nationally, but Oklahoma elected to continue prohibiting alcohol statewide (until 1959).
"The oil company executives freaked out, despite running an illegal bar for over a decade," he said. "They're like, "Nope, we're done." They shut the doors".
Pierce said Kerr decided to buy the lodge sometime after it closed.
"He watched it sit for three years and said, "He said this is stupid. I'll close the lodge. I'll buy out my brothers. I'll own the place. I'll make it my home," Pierce said.
Kerr later sold the home to Oklahoma City Children's Hospital pioneer, Dr. John Colmore.
"Colmore bought it in 1949, and raised seven children here," Pierce said. "We've been honored to have four of his now elderly children come and stay in the resort, in their old rooms from their childhood. "He was here until 1970".
His widow, Mrs. Colmore, sold the house to 13 Russian Orthodox-leaning monks in 1971 for $38,000.
"They were a rather eccentric sect of Monks from Illinois, led by Bishop Burke and Brother John," Pierce said. "They were here from 1971 to 1988. They raised ostriches for the OKC Zoo and were known citywide for their amazing baked bread."
Pierce said Dr. Andrew John bought the property from the monks when Burke moved the church to Nebraska, and he was there until 2004.
"Dr. John modernized the air conditioning, the plumbing, added 4,000 square feet of living space, put in the pool, and put in the whole north wing where the pool table is," Pierce said. "He did all of that work, but his masterpiece was eventually sold at Sheriffs Auction in 2004. Retired World Cup soccer player from Peru, Chico Villar, and his wife Judy bought the empty mansion and enjoyed it as a weekend lake house, and I bought it from them."
Pierce said the monks operated a bakery called Brother John's Bread for over a decade.
"Most of us here locally, we remember that the monks were the Forest Park Volunteer Fire Department," Pierce said. "One day I was sitting in my office and I saw an older gentleman, in full monk garb with a rope for a belt, step out of a vehicle in the parking lot. Incredibly, it was Brother John stopping by unannounced for a visit."
Pierce said it was Brother John's first trip back to the Monastery since 1982.
"We had a grand time visiting, and I finally got to ask Brother John a question I had wondered about since childhood: "How in the world did you guys become the Fire Department? Pierce said. "I told him I had a copy of the NBC television feature which was aired in April 1979, of him and the "Firefighting Monks". He remembered NBC filming it but he had never seen it."
Pierce said Brother John told him the story saying the fire department was across the street where the school is now, and one day he accidentally caught the bakery on fire.
"We waited and we waited and we're running around with little water hoses and we're trying to put this fire out," Brother John told Pierce. "We could see the windshields of the fire engines just 50 feet away in the station. Finally, the volunteer firefighters, they arrived, they jumped in the trucks, drove across the street, and put the fire out."
Pierce said the local fire chief asked Brother John if the monks would consider helping them fight fires because they were literally just steps away from the fire station.
"With Bishop Burke's approval, we agreed that that would be a righteous community service. And so that's how we became firefighters," Brother John told Pierce.
Pierce said The Monastery has also been home to several businesses.
"The Colmore's raised national award-winning AKC Dobermans until the late 60's," he said. "The same structure which became Brother John's Bakery, was originally built as a kennel for Dr. and Mrs. Colmore's show dogs."
Pierce said there were so many unknown money pits discovered during renovations of the property. At one point they were constructing a parking lot for the bed-and-breakfast resort, and Pierce's contractor could not figure out why the gravel base would seemingly disappear overnight.
"Every time we would pour a semi-tractor load of gravel out here in the parking lot area, within a day, it was gone. It would sink and mud would bubble up," Pierce said. "Finally, the contractor's like, "Dude, you've got a natural spring out here."
Pierce said a University of Central Oklahoma professor did some research on the property, and found the cause of the water issue.
"Greg James starts looking at the abstract and some photos from the Oklahoma Historical Archives and says, "You know Matt, this place had a commercial fish hatchery on it in 1928."
Pierce said there are some exciting projects beginning over the next few months, including several custom lakefront homes slated for construction by his business partner, Mike Menzel, on the east side of Forest Lake.
"It's exciting to see my original vision take shape, at such an important place of my childhood memory. My grandmother and I would stop at the bakery here and buy bread from the Monks in the early 1970s." he said.
For more information visit https://themonasteryatforestlake.com or call Mattew at (405) 760-9984.