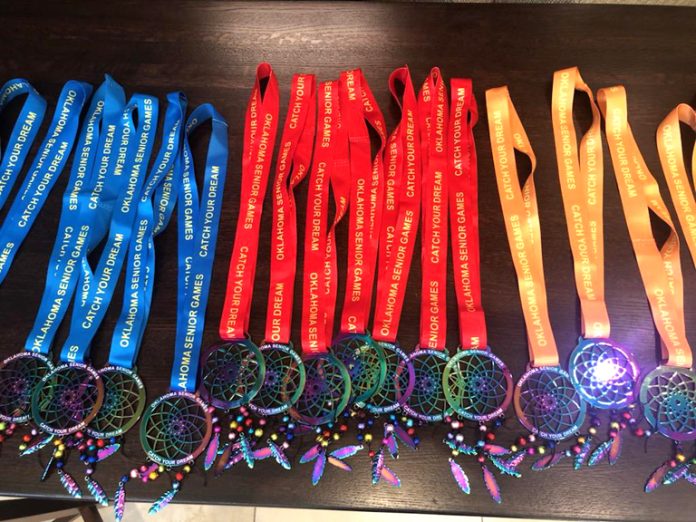 Story by Darl Devault, Contributing Editor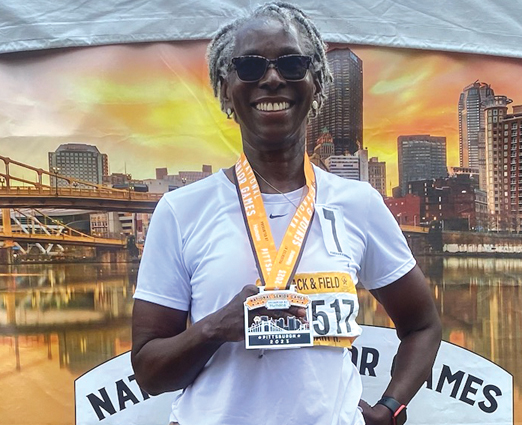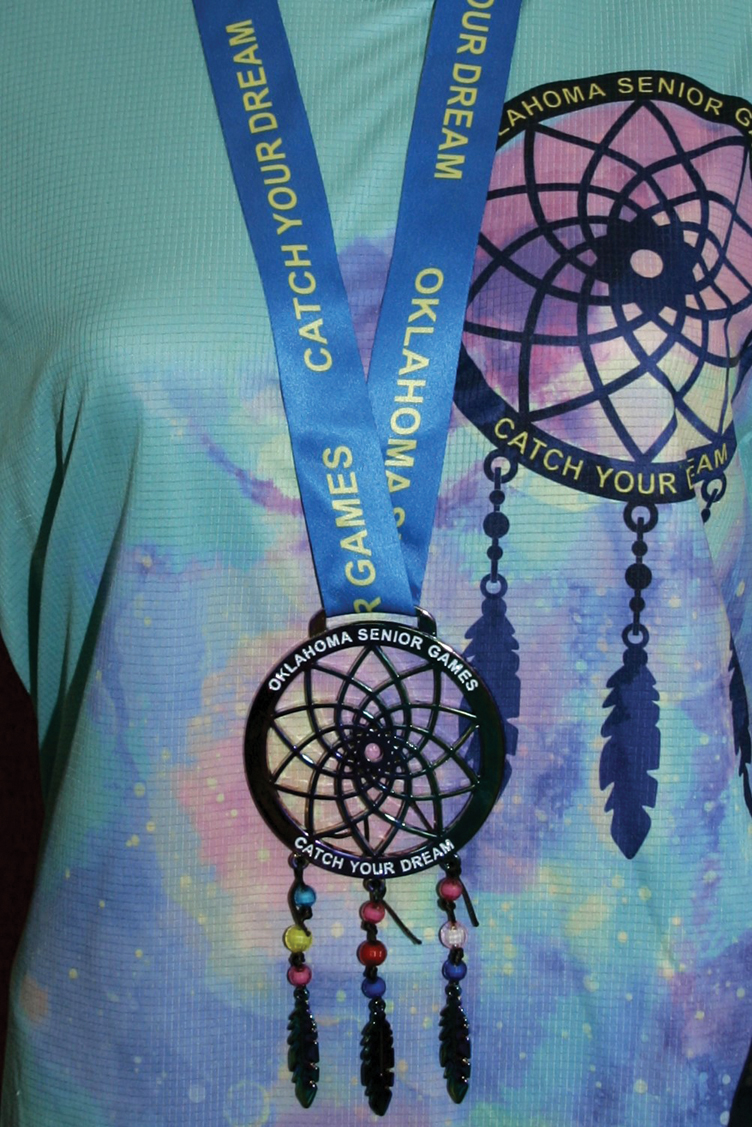 The Oklahoma Senior Games provided a demonstration area at the Oklahoma State Fair, featuring Cornhole and Pickleball for the whole run of the Fair while recruiting volunteers for the remainder of this year's events.
The largest interactive demonstration court for seniors at the Fair was one of the fastest-growing recreational sports, Pickleball. It is now widely embraced by seniors for its excellent health outcomes.
Pickleball is a recreational paddle sport for all ages and skill levels. Grandparents who welcome the opportunity to try new fitness outlets can play with their grandkids to stay active.
Whether seniors are looking for a way to exercise or want to be challenged at a competitive level, there is a place in the pickleball community.
Also displayed in the demonstration area were the uniquely Native American-influenced T-shirt and medal designs that earned the National Senior Games Association's highest award for this year, recognizing the highest standards of excellence. The Oklahoma Senior Games T-shirts and medals were cited for demonstrating innovation in program development and following the NSGA's and its athletes' mission. It is rare for a state to earn national awards in both design examples in the same year.
The Games organizers say they count on the warm hospitality and strong sense of community spirit our citizens have shown as volunteers to allow the Games to thrive.
"Our volunteers are a major part of how and why our state has proven itself as a great place to compete in senior games each year," longtime volunteer Regina Stewart said. "We have grown to offer more games because of the time and energy Oklahomans who do not compete have invested in offering the Games to those who compete."
Oklahomans with a flair for community service can help. Volunteers can help promote healthy lifestyles by encouraging active seniors 50 and over to enhance their lives through athletic and recreational competitions.
Stewart, also a Games' senior track athlete, directly supports the concept. "This keeps me motivated to stay active and compete, which allows me to be healthy," Stewart said.
Volunteering opportunities abound as the statewide events grow to more than 2,000 competitors this year. She said your fellow citizens need your help conducting the many activities required to allow events to run smoothly as they finish in October.
Stewart said she knows the community will continue embracing what has come to be known as the "Oklahoma Standard." The Games promote healthy lifestyles for seniors through education, fitness and the spirited competition of sports and recreational games. This inspires everyone to embrace health and enjoy the value of sports-related exercise.
Officials ask that corporations organize groups of volunteers of 10 or more employees who can be assigned to specific sports in Oklahoma City, Moore, Yukon, Muskogee, Norman, Shawnee, Bixby, Perry, El Reno, Catoosa, Lawton, and Owasso. These groups will be kept together to spark morale within the volunteering ranks.
Senior volunteers are the largest resource for the sanctioned state organization to produce yearly state games. This help allows the events to be the qualifying sites in the Sooner state for the NSGA national competitions.
The Games provide 29 sports, games and activities, some with variations, that provide athletic training opportunities and social interaction.
These are just some of the ways to volunteer for the 10 remaining sports on the schedule in October. For Cycling at Ft. Sill, the organizers seek help with check-in, course monitors, bike holders, refreshments, and medals. The other nine sports, such as Badminton, need check-in and refreshments help. Shuffleboard organizers need scorekeepers, while Tennis needs help with check-in, refreshments, water coolers, t-shirt sales, and ball retrieving/distribution. This gives senior volunteers willing to help an idea of the help needed in Cornhole, Volleyball, Pickleball, Golf, Table Tennis, Weight Lifting, Fitness Challenge, and Racquetball.
Please visit the newly expanded https://okseniorgames.com for more info on volunteering and all the sports and games offered. Call (405) 821-1500 for general questions or email [email protected].