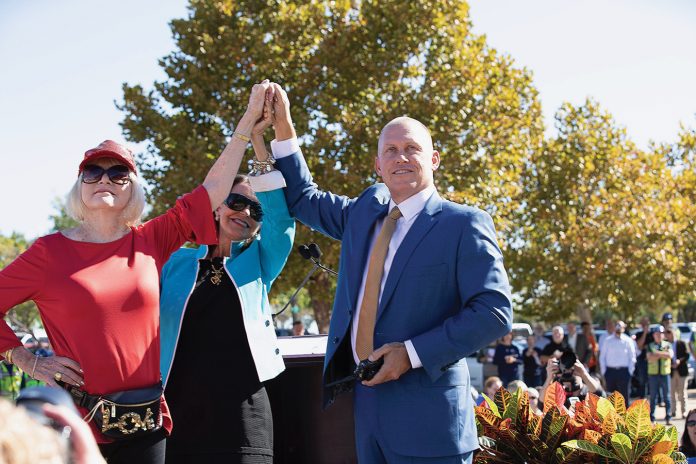 Crowds cheered as construction crews lifted the final steel beam into the frame of the new Love Family Women's Center Monday. The facility is under construction on the campus of Mercy Hospital Oklahoma City and will increase the hospital's capacity to deliver babies by 40%.
The women's center is being built at the northwest corner of Mercy's campus at West Memorial Road and North Meridian Avenue. Construction kicked off in July 2021 and is on schedule to be complete in fall 2023.
Labor and delivery and postpartum services at Mercy have been at capacity for years, limiting the hospital's ability to serve more patients. Over the last decade, Mercy has seen a 34% increase in births. The hospital, built in the 1970s, was designed to accommodate up to 3,000 births annually, but the hospital made room for a record 4,035 births last year.
"Like Mary and Joseph experienced the night Jesus was born, many days there's just not enough room in the inn here at Mercy," said Dr. Chad Smith, chief medical officer and obstetrician/gynecologist at Mercy Hospital Oklahoma City. "Our Mercy Birthplace team is awe-inspiring, and they do everything in their power to create as much room and serve as many families as possible. But we're excited this building will give us much more space to serve many more families when they need us."
The hospital currently has 43 patient rooms dedicated to labor and delivery and postpartum services. When the Love Family Women's Center opens, that number will increase to a total of 73 patient rooms.
The four-story, 175,000-square-foot building will feature an obstetrics emergency department and the state's first hospital-based low intervention birthing unit staffed by certified midwives. It will also serve as a hub for services designed for women of all ages, including women's surgical recovery and physical therapy.
Three large caesarean section suites in the women's center will connect to the hospital on the first floor via the existing hospital surgical suite. This strategic design allows for quick, safe access to additional services if medical emergencies occur during delivery.
Postpartum rooms will be on the third floor of the women's center and connect to the hospital via a skybridge. This allows moms of babies needing a higher level of care to have direct elevator access to the existing neonatal intensive care unit on the fifth floor of the hospital.
A large conference center will host support groups and classes on everything from childbirth and infant care to CPR and more.
"What makes this building so special is the love and support from our community that made it all possible," said Lori Cummins, vice president of development at Mercy Health Foundation Oklahoma. "They say it takes a village to raise a child. With more than 40% of this project funded through donations, it's taken a village of generous people across Oklahoma and the country to make this longtime dream a reality."
The Tom and Judy Love family, for whom the center is named, gave a $10 million lead donation to kick off the project, inspiring another $33 million total in donations toward the Love Family Women's Center.
https://scissortaildermatology.com/