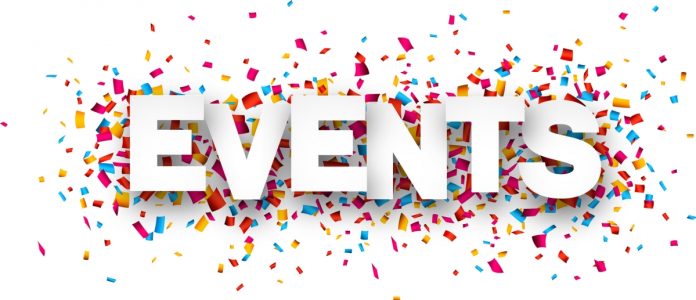 For a full list of events/details visit: www.okhistory.org/calendar/ohs
Will Rogers Days and Motion Picture Festival November 4, Will Rogers Memorial Museum, 1720 West Will Rogers Boulevard Claremore, OK 74017. The Will Rogers Memorial Museum (WRMM) and Birthplace Ranch will celebrate the 143rd birthday of Oklahoma's Favorite Son with the Will Rogers Motion Picture Festival. From November 2 through 5, four days of activities will be held to honor the memory of the Cherokee cowboy, philosopher, and movie actor who had starred in 50 silent movies and 21 talkies by the time of his death on August 15, 1935, in an Alaska airplane crash.
"The Music and Art of Our Oklahoma Community
Saturday, November 5th.  3 PM Doors open for Art Show and Live Music (background); 4PM Music, Storytelling; 5PM Meet the Artists at the Eastlake Church, 700 SW 134th St, Oklahoma City, OK  73170. Members of Painted Sky Opera; OKC Pianists' Club; Flute by Lauren Monteiro; Local Jazz Pianist Nathan Sobel; Local  Author Shelley White will present music. Local Artists will present original paintings, Crewel Embroidery, Quilting Exhibits, Original Jewelry designs. For more info contct Barbara Poppe,
[email protected]
(405)831-5343.
Blacksmithing Demonstrations with the Saltfork Craftsmen November 5, Cherokee Strip Museum and Rose Hill School, 2617 West Fir Street Perry, OK 73077. Visit the Cherokee Strip Museum in Perry to watch the Saltfork Craftsmen give a Blacksmithing Demonstration in the blacksmith shop. The demonstration will take place from 10 a.m. to 2 p.m. Guests can enjoy watching the craftsmen work and will have an opportunity for safe hands-on experiences. This event is for those who enjoy watching craftsmen at work, and for young and old alike to try their hand at the craft. The forge will be lighted at 10:00 am.
Cast-Iron Cooking class Chisholm Trail Museum and Horizon Hill, 605 Zellers Avenue Kingfisher, OK 73750. The Chisholm Trail Museum in Kingfisher will host a Cast-Iron Cooking class on Saturday, November 5, from noon to 4 p.m. In this casual, fun class, students will learn to care for and cook in cast-iron cookware. Participants will create a Dutch oven delight and participate in a group meal. The class will explore historical and modern recipes while learning backyard cooking skills. This class is restricted to children ages 10 and older with an adult.
Daughter of Dawn film screening at the Poncan Theatre  November 6, 2 p.m.–3 p.m. Poncan Theatre, 104 East Grand Avenue Ponca City, OK 74601. On Sunday, November 6, at 2 p.m. the Pioneer Woman Museum and Statue will host a film screening of "The Daughter of Dawn" at the Poncan Theatre, located at 104 E. Grand Ave. in Ponca City. Rather than a set ticket price, patrons are encouraged to give a donation as admission to the screening. The program begins at 2 p.m.
Flames of Memory November 10, 5:30 p.m.–6:30 p.m. The Oklahoma Territorial Museum and Carnegie Library will honor veterans at a special event called Flames of Memory on Thursday, November 10, starting at 5:30 p.m. Veterans' families are invited to place a luminaria to help light up the steps of the library. The luminaria display will stay in place for the Veterans Day parade and ceremony in Guthrie that will start at 10:30 a.m. on Friday, November 11. The guest speaker at Flames of Memory will be retired U.S. Navy Rear Adm. Gregory Slavonic, who previously served as acting undersecretary of the Navy and the assistant secretary of the Navy for manpower and reserve affairs. The American Legion, Veterans of Foreign Wars and other groups will take part. This event is sponsored by the Samuel King Chapter of the Daughters of the American Revolution.
Quilting workshop with Martha Ray
November 12, 9 a.m.–11 a.m. Sod House Museum, 4628 State Highway 8 Aline, OK 73716. Visit the Sod House Museum southeast of Aline for a quilting workshop on Saturday. The workshop will take place from 9 to 11 a.m. with instructor Martha Ray, and the cost is $5 per person. For more information, please contact Director Renee Trindle at 580-463-2441 or
[email protected]
.
Choctaw Code Talkers documentary film screening November 12, 1 p.m.–3 p.m. Oklahoma History Center, 800 Nazih Zuhdi Drive Oklahoma City, OK 73105. In honor of Native American Heritage Month, on Saturday, November 12, from 1 to 3 p.m., the Oklahoma History Center will screen the documentary of Choctaw Code Talkers. In 1918, although the Choctaw soldiers of the US American Expeditionary Forces were not considered citizens of the country, they served, using the Choctaw language as a powerful tool against the German Forces in World War I.
Rushmore Four performances at the Oklahoma History Center November 16, 2 p.m. Oklahoma History Center, 800 Nazih Zuhdi Drive Oklahoma City, OK 73105. On Wednesday, November 16, the Rushmore Four, a program featuring the presidents who appear on Mount Rushmore, will be returning to the Oklahoma History Center! Performances are scheduled for 2 p.m. and 7 p.m. There is no charge for the 2 p.m. performance, however, patrons are required to pre-register. Admission for the evening performance is $10 for Historical Society members and $20 for nonmembers.
"Hunter Trapper" living history program Fort Gibson Historic Site, 907 North Garrison Avenue Fort Gibson, OK 74434. On Friday, November 18, and Saturday, November 19, 2022, from 10 a.m. to noon and again from 1 to 3 p.m., the Fort Gibson Historic Site will hold a living history program about the practices of hunters and trappers of the area. Visitors will learn about the trade through a hands-on examination of the different animal furs and by seeing the different equipment, tools, and paraphernalia involved in making a successful hunting season.
Secrets of the OHC Research Library November 17, 12 p.m. Dive into the past with Laura Martin, Deputy Director of Research at the Oklahoma History Center, as she shares the vast historical and genealogical collections of the Research Library in this exclusive behind-the-scenes tour. You may be an archaeologist or an architectural historian, a student or researcher, a genealogist, or just someone interested in learning about your ancestors or the state of Oklahoma—the Research Library has the tools you need! From allotment records to Land Run claims, Dawes Rolls lists to Freedmen records, census documents and cemetery lists, newspapers, maps, photographs, film, and more. Learn how the Research Library can help you unlock the secrets of your ancestors and of our collective past.
Let's Talk About It: Lonesome Dove (1985) by Larry McMurtry November 19, 6:30 p.m.–8 p.m. Pawnee Bill Ranch and Museum, 1141 Pawnee Bill Road Pawnee, OK 74058. Pawnee Bill Ranch and Museum in Pawnee has partnered with Oklahoma Humanities (OH) to host OH's book discussion series "Let's Talk About It." The book club meeting will take place as monthly in-person and online gatherings at the museum on Blue Hawk Peak.
"Holiday Special" Kilgen Organ Performance feat. Lance Luce Oklahoma History Center, 800 Nazih Zuhdi Drive Oklahoma City, OK 73105. On Monday, November 28, from 7 to 8:30 p.m., the Oklahoma History Center will present the 2022 winter performance of the Kilgen Organ series featuring organist Lance Luce. The theme for the concert will be "Holiday Special." A short film and an audience sing-along are planned as a part of the performance. Lance Luce is an internationally acclaimed theatre organist.
Will's Country Christmas December 2, 5 p.m.–9 p.m. Will Rogers Birthplace Ranch, 9501 East 380 Road Oologah, OK 74053. isit Will Rogers Birthplace Ranch in Oologah for Will's Country Christmas on Friday, December 2, and Saturday, December 3, from 5 to 9 p.m. The ranch house will be decorated for an Indian Territory Christmas. The evening will include storytelling, Wild West shootouts, children's crafts, 19th-century games, carriage rides, a shooting gallery, music, vendors, and food trucks.
Guthrie's Distinctive Homes Tour and Wassail at the Carnegie Library December 3, 10 a.m.–4 p.m. Oklahoma Territorial Museum and Carnegie Library, 406 East Oklahoma Avenue Guthrie, OK 73044. The Oklahoma Territorial Museum and Carnegie Library will be part of Guthrie's Distinctive Homes Tour on Saturday, December 3, from 10 a.m. to 4 p.m. which gives an exclusive look inside some of Guthrie's most distinctive homes and historic buildings, decorated for the holiday season. The Carnegie Library—a stop on the tour—is the place for tour participants to hear tales of the early days of Oklahoma's first capital while having a warming cup of wassail.
Steamboat Heroine film screening and discussion December 10. Oklahoma History Center, 800 Nazih Zuhdi Drive Oklahoma City, OK 73105.  On Saturday, December 10, the Oklahoma History Center will feature a film screening that follows the excavation of the steamboat Heroine from the Red River and how it was transported to the Oklahoma History Center. In 1990, the sunken steamboat, Heroine, was discovered in Oklahoma's Red River. It provided evidence of the role steamboats played in Oklahoma and how they transformed the region.
Movie Night featuring Meet Me in St. Louis (1944) December 30, 6 p.m.–9 p.m. Will Rogers Memorial Museum, 1720 West Will Rogers Boulevard Claremore, OK 74017. Will Rogers Memorial Museum in Claremore will host a Movie Night featuring the film Meet Me in St. Louis (1944) in its theater on Friday, December 30, at 7 p.m. "Horsing Around with Will" will take place from 6 to 7 p.m., during which families can enjoy activities and crafts relating to the movie's theme. Guests can enjoy free admission, popcorn, and drinks while watching the film. Seating is limited, so early arrival is suggested.