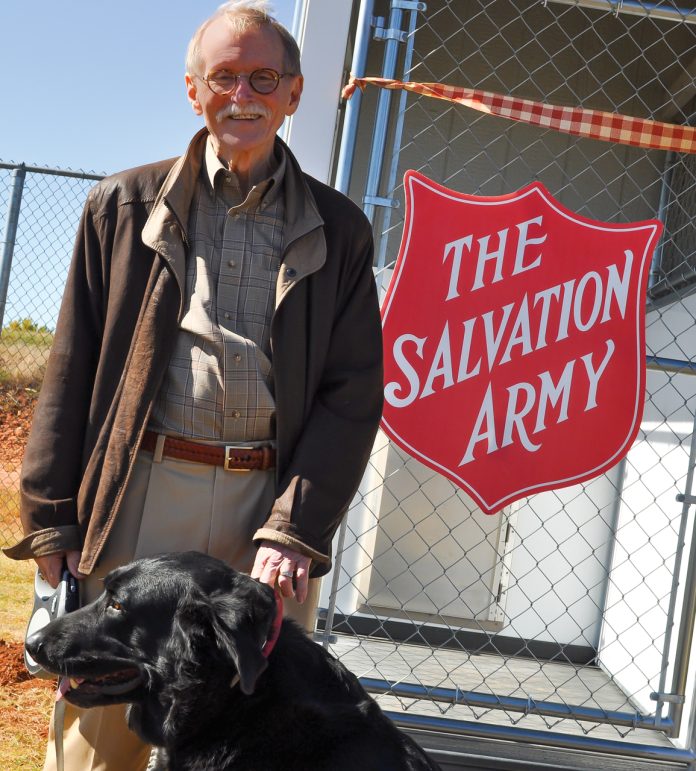 Story and photos by Bobby Anderson, Staff Writer
This winter is about to be a little warmer for a few homeless four-legged friends thanks to Chuck Musgrave and the Salvation Army of Central Oklahoma.
Musgrave helped cut the ribbon on the Army's new dog shelter recently just as the temperatures began to fall.
Musgrave first learned of the project at his Edmond Rotary Club meeting a while back.
The Salvation Army was making a presentation on the variety of services the group offered to Oklahomans.
It wasn't until after the meeting when he approached a Salvation Army member and asked a question that he got involved.
"I asked them 'what do you really need? What is it that's not in your budget that you really need,'" Musgrave recalled. "They explained to me that this was really a pretty vital project of the services that needed to be provided and the people that needed to be served.
"It interested me."
Salvation Army Advisory Board Chairman Ryan Frace grew up with a father who was a veterinarian. He understands the bond that exists between people and animals and this project was a reminder of that.
"This is an extension of the Salvation Army's reach here in Central Oklahoma to help individuals and to help their families as well," Frace said. "I'm honored today to welcome you to the opening of this new kennel for guests that are staying at the shelter that also need support for their family member which happens to be a four-legged family member."
Every Thursday night a group of Salvation Army volunteers drives into sections of OKC reaching out to the homeless population through Night Watch to serve with compassion, and provide food, blankets, clothing, or toiletries.
Frace has been on those missions and noticed something each time out.
"I know how important pets are in everybody's lives," Frace said. "We would go out and it was so prevalent how often people would have an animal with them as a companion as protection and they would make the choice to stay on the streets – sometimes in extremely harsh, inclement weather and dangerous environments to stay with their pets rather than have nowhere for the pet to go and them to come into a shelter."
Frace said the Salvation Army is breaking new ground in terms of solving the issue that so many face when it comes to deciding between their safety and the safety of their pets.
The shelter itself is fully plumbed with heating and cooling allowing dogs to safely avoid inclement weather less than 100 yards from where their humans will be staying for the night.
Musgrave already was familiar with the Salvation Army and the good it does. He's routinely worked with the Buck$ 4 Bikes program where the Women's Auxiliary and its community partners work to raise funds to provide a bike to every child who asks for one during The Salvation Army's Angel Tree Program.
Oklahoma Bicycle Society generously donates a new bike helmet for each bike. Last Christmas, Buck$ 4 Bikes was able to provide 594 Christmas wishes to Angel Tree children who requested bikes.
Musgrave is now retired but formerly served as president of Sunbelt Industries, a recycler of aluminum oxide abrasives.
"The thing that called to me was the real need was there but nobody had the capacity to meet the need and the Salvation Army was trying to step up," said Musgrave, a lifelong dog owner. "The thing about doing business with the Salvation Army is you know the money is not going to be wasted and is going to be meeting the critical needs of people. That makes it a real safe place to participate."
Musgrave also works with the local Pet Food Pantry so the pet connection was natural for him.
"What I learned at the Pantry was there are people that will feed their pets rather than feed themselves," he said. "When you think about when you're alone and don't have a community support system then your pet is your support system. They think of them like their brother, their sister, or their baby and they're not going to leave them out."
Approximately 30 million Americans receive assistance from the Salvation Army each year through a range of social services including outreach to the elderly and ill.
The Salvation Army uses 82 cents of every dollar donated to support those services in 5,000 communities nationwide.
Findusonfacebook: https://www.facebook.com/TheChateausinMoore/