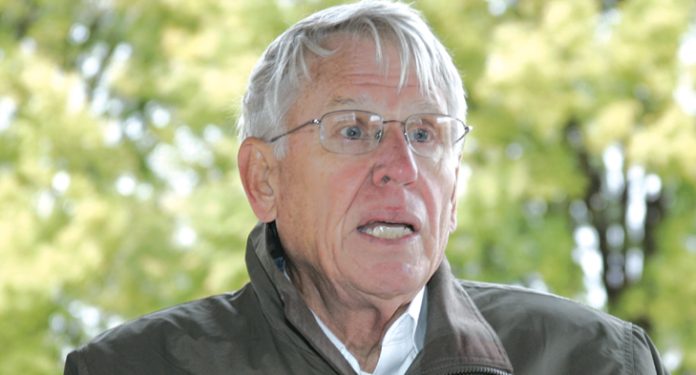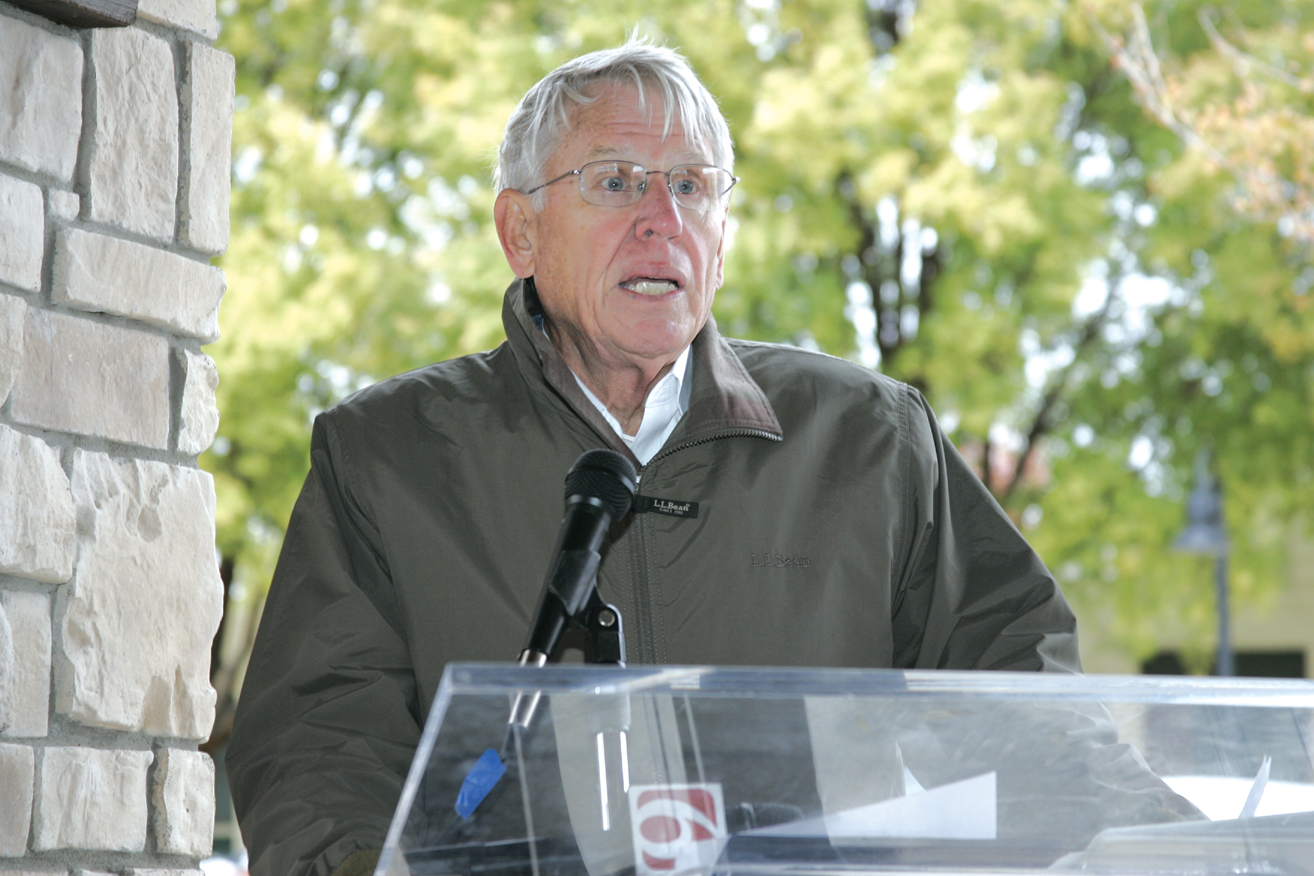 Story by Darl Devault, Contributing Editor
In the early hours, just after dawn on October 25, 1944, the Japanese sent the largest naval battle group ever assembled to destroy the landing of a quarter million men on Leyte. Their goal was to push the American forces off the beaches and out of the Philippines. Never had one man's actions diverted the burden of attack from so many American service members.
The Japanese forces attempting to surprise the overmatched Taffy 3 task force in the Battle Off Samar were introduced to the unwavering courage and self-sacrifice of one of the U.S Navy's finest. The destroyer escorts, commonly referred to as "tin cans," were in for the fight of their lives against a superior force.
U.S. Navy Commander Ernest Edwin Evans, Commander of the USS Johnston, assured himself a place in U.S. Naval history with his courageous initiative in the face of the enemy. Before the order to attack could be issued, against a far superior force, Commander Evans fulfilled his duty to his country and his fellow man by navigating his vessel into harm's way, deploying his torpedoes and laying a smoke screen to protect his fellow ships.
Evans' bravery, leadership and historic sacrifice delivered the immediate first blow that let the enemy know the Americans had begun the battle. Instilling chaos within the Japanese naval ranks, his torpedoes tore the bow off the Japanese cruiser Kumano. Commander Evans relentlessly displayed the power of his crew as he continued his forward attack on the enemy.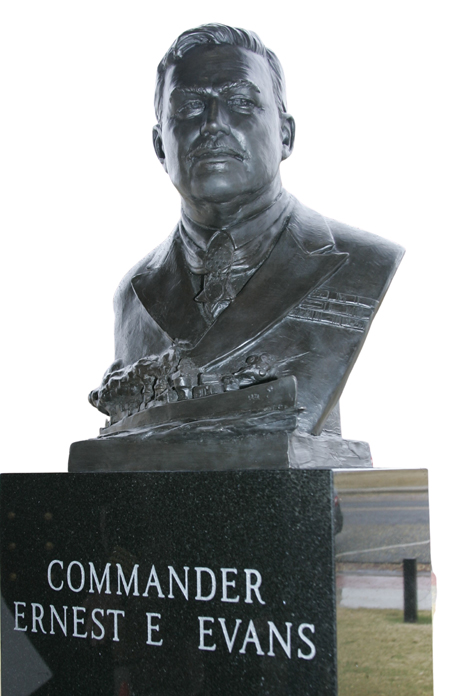 This "preemptive retaliatory strike with extreme prejudice" was a product of Evans's fierce fighting spirit.
The Japanese thought they would have a far easier beginning to any battle off Samar. They were bringing a far superior number of ships and were surprising their enemy. What they did not account for was the fighting spirit of the tin can Sailors sworn to protect the rest of Taffy 3. Echoing the war cries of their earliest Naval ancestors, the Sailors of Taffy 3 had not yet begun to fight.
Evans and his only 2,000-ton warship, the newly built Fletcher Class USS Johnston, promised to be the readiest-for-battle warship in the Navy.
As he took command at the USS Johnston's commissioning in October 1943, Evans let his assembled crew know his intentions. "This is going to be a fighting ship," he said. "I intend to go in harm's way, and anyone who doesn't want to go along had better get off right now. I will never retreat from an enemy force."
Evans's tactical blitzkrieg was everything a ship that size could accomplish in that short a time. The Johnston rejoined the additional frigate line of destroyer escorts as they made their torpedo runs at the far superior forces. This action meant the small Taffy 3 task force presented a "larger than real" profile in the water. Although his ship had already fired her torpedoes, Commander Evans wanted to protect his fellow sailors as much as possible with his five-inch guns, firing 800 rounds in the battle.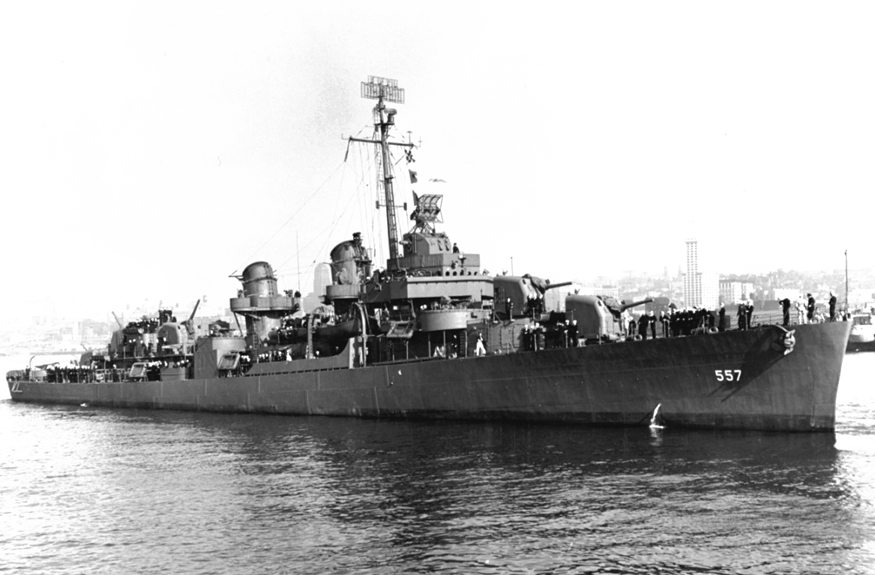 This second suicide run met with far less success against the enemy. After almost three hours of battle, the Johnston eased over on her side for 20 minutes until finally sinking. Her destruction was for a good cause. The enemy, confusing the aggression as a genuine effort made by a more significant force, broke off the attack and headed for home.
Evans earned a Medal of Honor for his courageous actions but lost his life that day along with 185 members of his crew.
As Veterans Day approaches November 11, Oklahomans proved their servicemen and women are never forgotten in a recent solemn ceremony. The emphasis was family, in both those gathered and those mentioned during the ceremony dedicating a monument to Oklahoma's most famous Navy hero of WWII in Muskogee, Okla., on October 25, 78 years to the day after he died in the Battle Off Samar.
Several families connected with the effort to commemorate Evans' courageous Medal of Honor defining effort made the trip to Oklahoma to attend the event.
A retired U.S. Air Force lieutenant colonel and dentist, and Norman, Okla. resident Stephen Reagan spearheaded the effort to honor Evans. His family, including his son, an active-duty U.S. Air Force Colonel, surrounded him at the bust unveiling.
In giving credit for the final push to make the event happen after a three-year and nine-month campaign to raise funds and resources to create the monument, the mayor of Muskogee mentioned by that time he felt as if he had become a brother to Steven Reagan in the effort.
"It was a humbling experience to unveil Commander Evans' memorial bust in the City of Muskogee," said Muskogee Mayor Marlon J. Coleman. "Retired Lieutenant Colonel Stephen Reagan led a herculean effort recognizing Commander Evans's role in World War II. As a graduate of Muskogee High School, Evans' place in history is one that Muskogee should be proud of. Evans' leadership, tenacity, and love for his country showed the Japanese naval fleet what it means to challenge American democracy—that our principles of life, liberty, and the pursuit of happiness are worth dying for. Stephen Reagan is a modern-day hero, a champion of causes for Sailors such as Ernest Evans, whose legacy would otherwise go unknown or told incorrectly. I am proud to call Stephen a brother."
University of Oklahoma Naval ROTC Commanding Officer and 30-year veteran Capt. Paul Young spoke about a typical day as a captain of a surface ship on patrol and his respect for Evans.
During historian Larry Floyd's detailing of Evans' life and courageous actions, he spoke of the families. He said Evans had two children with his wife during his 17-year career in the Navy leading up to that critical moment in the history of the United States Navy.
On Sept. 28, 1945, not long after World War II ended, Commander Evans was posthumously awarded the Medal of Honor. Presented to his wife, Margaret, in San Pedro, California, the ceremony included his mother, sister and sons Jerry and Ernest Jr.
The first Navy Native American to earn the Medal of Honor, Evans is one of only two World War II destroyer captains to attain it.
Evans' exploits have now been interwoven into the Navy legacy as his name has gone on to grace a warship and a U.S. Navy Academy building.
"I consider my work to help Muskogee honor Commander Ernest Evans one of the most significant things I have ever done," Reagan said. "It's a good feeling to help others. I am very proud of my three sons, their families and my wife Alice and to have Alice and all three sons present helped make it a great day for me."
His son Col. Eric Reagan, active-duty US Air Force, summed up what he saw as his father's motives. "Over the last three years, I've asked myself, 'what interest does a retired Air Force dentist have in relentlessly pursuing recognition of a Navy ship captain?' The answer is service," Eric said. "My dad still serves veterans, his community, Oklahoma, and our great nation. This project was a reflection of his service. My brothers and I are proud of him, and we were so honored to be in Muskogee today to honor Ernest Evans…and our father."
Reagan volunteers to help all service veterans to ensure they receive their full benefits from their military service with the Dale K. Graham Veterans Foundation in Norman. This event in Muskogee is just another example of the wrap-around concept of our nation's gratitude and attention to the families left behind while their loved ones are serving and those families deprived of their service members through death. Gold Star families of the U.S. Armed Forces have lost loved ones since 1776. Nationally noted Paul Moore of Norman sculpted the bronze bust of Evans wearing his Medal of Honor. It sits atop a square black granite pedestal. Below his image at the front of the bust is a miniature model of the USS Johnston firing her five-inch guns and creating a smoke screen. The front of the pedestal features Evans' significant dates and his Medal of Honor Citation on the back.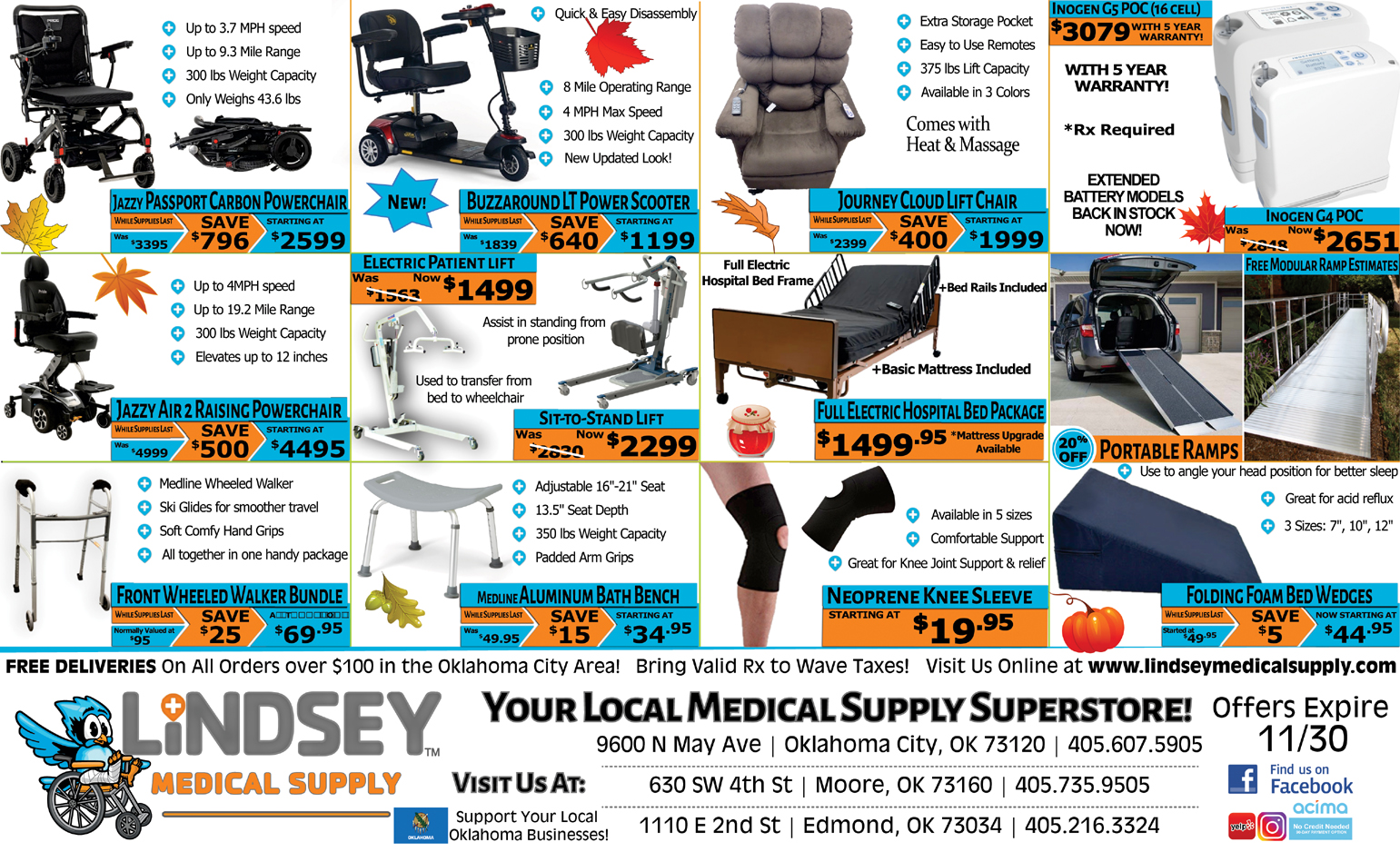 https://www.lindseymedicalsupply.com/