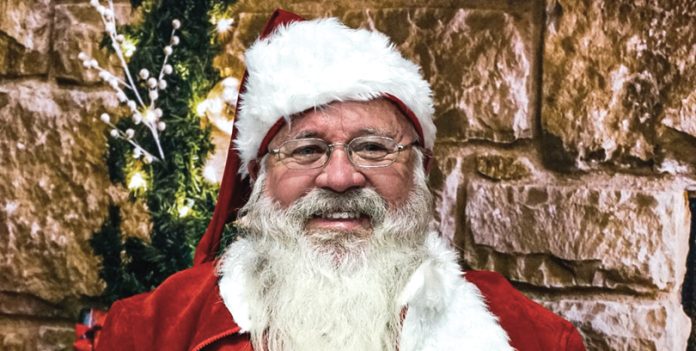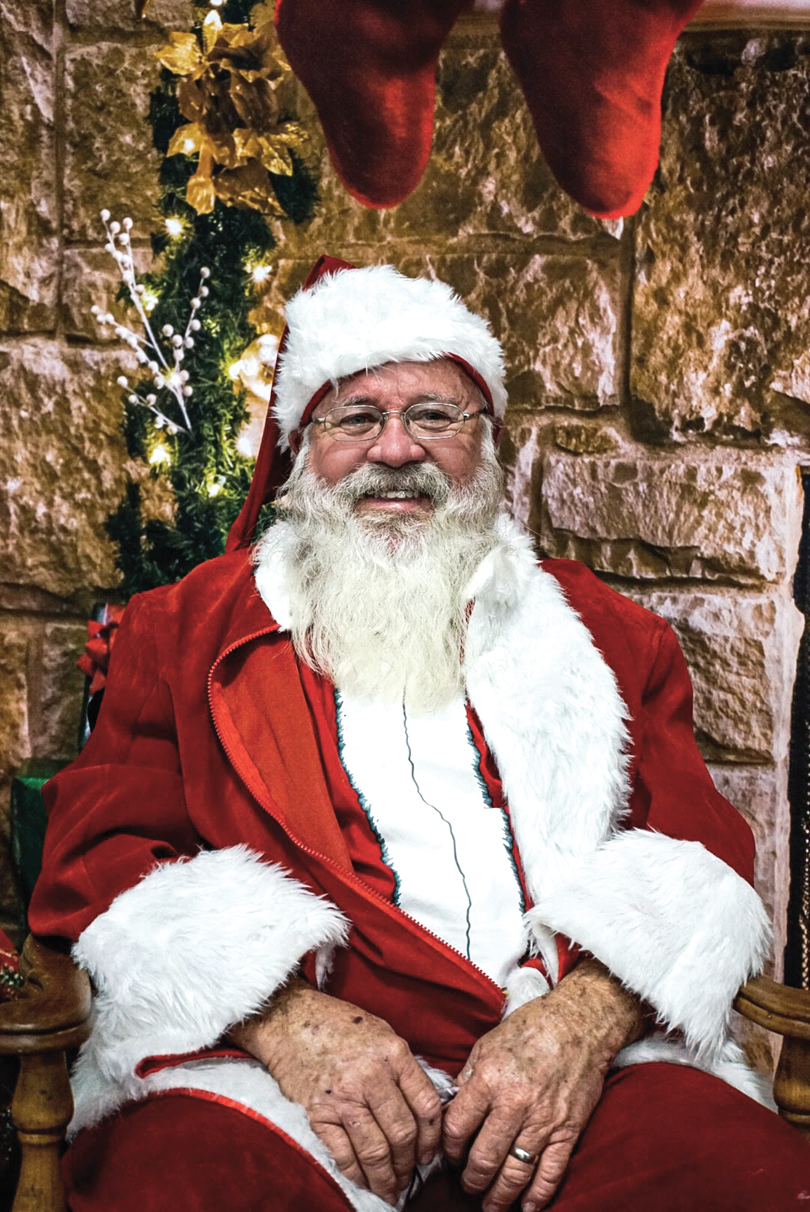 Story and photos by Darl DeVault, Contributing Editor
The Santa Market Craft Show December 2-3 in the Pavilion Building at State Fair Park is Oklahoma City's premiere free two-day showcase for one-of-a-kind Christmas-themed creations, benefiting the Alzheimer's Association of Oklahoma.
As one of Oklahoma's most extensive free-admission nonprofit arts and craft shows, more than 180 carefully chosen creative vendors will sell their products during the 13th annual festive shopping experience. The show offers free parking, a silent auction, and more. The hours are 9 a.m. to 4 p.m., Friday and Saturday. Handcrafted items are available for all of your seasonal gift needs. (story continues below)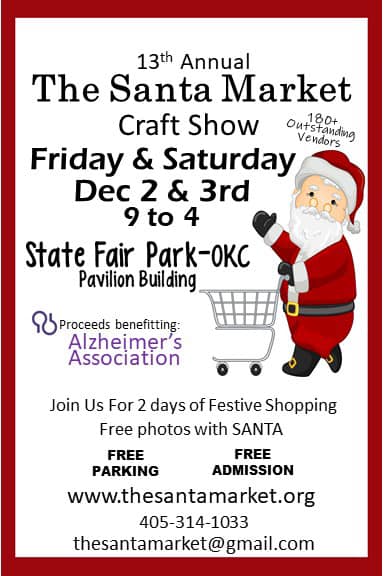 Visitors are always encouraged to bring their children to get their free photos taken all day with Santa at Oklahoma City's most prestigious Christmas market each year.
Shoppers are treated to home decor, homemade arts and crafts, boutique and holiday items, jewelry, children's clothes, and food goodies. The first 1,000 visitors receive free shopping bags sponsored by local businesses.
Joan Clarke, Molly Nye and Megan Nye began the event in 2010 after Joan's husband died of Alzheimer's Disease (AD) in 2007. It has been their labor of love to enlist many volunteers to help showcase the wares of the many high-quality vendors. They see it as an opportunity to support a local charity addressing one of America's most challenging diseases.
"Molly and I had been selling items at craft shows for years, and we decided to start our event. We booked a small room in a hotel and started with 17 vendors," Clarke said. "By the time our third year began, we realized how much work putting on a quality show involves, so we decided to make it a fundraiser. Molly immediately suggested Alzheimer's since I lost my husband and Megan lost her father to the terrible disease."
All funds raised through The Santa Market further the care, support and research efforts of the Alzheimer's Association, a nonprofit 501(c)3 organization. All donations are tax-deductible as allowed by law.
"Our excellent vendors make this show what it is each year. We are one big family; everyone helps promote the show, advertise, and find new vendors. They donate to our cause, monetarily and with their products, even though it's voluntary," Clarke said. "They help with set up, clean up and everything in between. We have three vendors that have been with us all 13 years. Countless more have been with us for 5, 8, or even 10 years. One vendor named it 'The Greatest Show on Earth,' and it truly is."
The organizers limit the number of crafters assigned spaces. Clarke says It is not about turning away new vendors; it is about only allowing a limited number of each type of vendor. They wish they could take everyone, but having a variety makes for a better shopping experience, and the vendors have a much better chance of success.
Clarke says some of the vendors see the event as an opportunity to make sure their favorite charity receives as much as possible from their craft world and them personally. By writing personal checks to the Alzheimer's Association when The Santa Market rolls around, these vendors do their part to help. They also donate products and gift certificates to the Alzheimer's auction and the Alzheimer's booth.
The Santa Market promoted its event at the annual Walk to End Alzheimer's that occurred on October 22 in downtown OKC. This year the event saw 1,612 people walk in 338 teams at Scissortail Park to help raise awareness and funds for care, support and research. Clarke and her family have walked every year since 2003.
National presenting sponsors Edward Jones and CVS Health help to make the walks the world's largest event to fight Alzheimer's. The Santa Market was one of three Impact Sponsors this year and fielded a team for the walk.
Last year, the US Food and Drug Administration approved Aducanumab, a monoclonal antibody, to treat particular cases of mild AD. This is the only approved drug in the US for treating amyloid plaques in the brain. Once the plaques are removed, the brain cells stop dying, and the patient's memory, thinking, function, and behavior stop worsening.
However, there is still debate about whether the drug works. While several small trials have shown that the drug prevents amyloid aggregation and decreases the symptoms, other clinical trials have shown no benefit. There is no long-term data on this agent and whether it can prevent dementia.  However, there is hope for an Alzheimer's cure breakthrough soon.
Aducanumab is only approved for use in select patients with mild cognitive impairment or early Alzheimer's disease. Before the treatment can be administered, all individuals with AD must undergo a PET scan to determine if they have amyloid plaques.
The organizers say the successful 12 years of The Santa Market Craft Show could only be done with the help of quality vendors, loyal customers, volunteers, sponsors, and donors.  They call it The Santa Market Family and hope everyone will attend to make it a success again this year. This year, Steve Eldridge, Senior News & Living and Oklahoma Nursing Times, is a Diamond Sponsor. For more info, see:
www.thesantamarket.org.