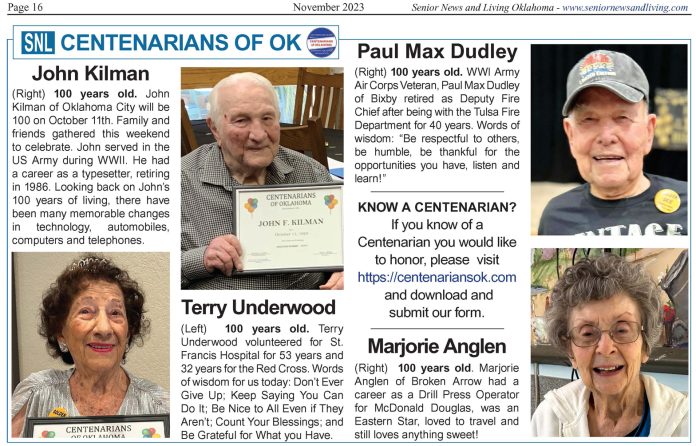 John Kilman: 100 years old. John Kilman of Oklahoma City will be 100 on October 11th. Family and friends gathered this weekend to celebrate. John served in the US Army during WWII. He had a career as a typesetter, retiring in 1986. Looking back on John's 100 years of living, there have been many memorable changes in technology, automobiles, computers and telephones.
Terry Underwood: 100 years old. Terry Underwood volunteered for St. Francis Hospital for 53 years and 32 years for the Red Cross. Words of wisdom for us today: Don't Ever Give Up; Keep Saying You Can Do It; Be Nice to All Even if They Aren't; Count Your Blessings; and Be Grateful for What you Have.
Paul Max Dudley: 100 years old. WWI Army Air Corps Veteran, Paul Max Dudley of Bixby retired as Deputy Fire Chief after being with the Tulsa Fire Department for 40 years. Words of wisdom: "Be respectful to others, be humble, be thankful for the opportunities you have, listen and learn!"
Marjorie Anglen: 100 years old. Marjorie Anglen of Broken Arrow had a career as a Drill Press Operator for McDonald Douglas, was an Eastern Star, loved to travel and still loves anything sweet!
KNOW A CENTENARIAN?
If you know of a Centenarian you would like to honor, please visit https://centenariansok.com and download and submit our form.