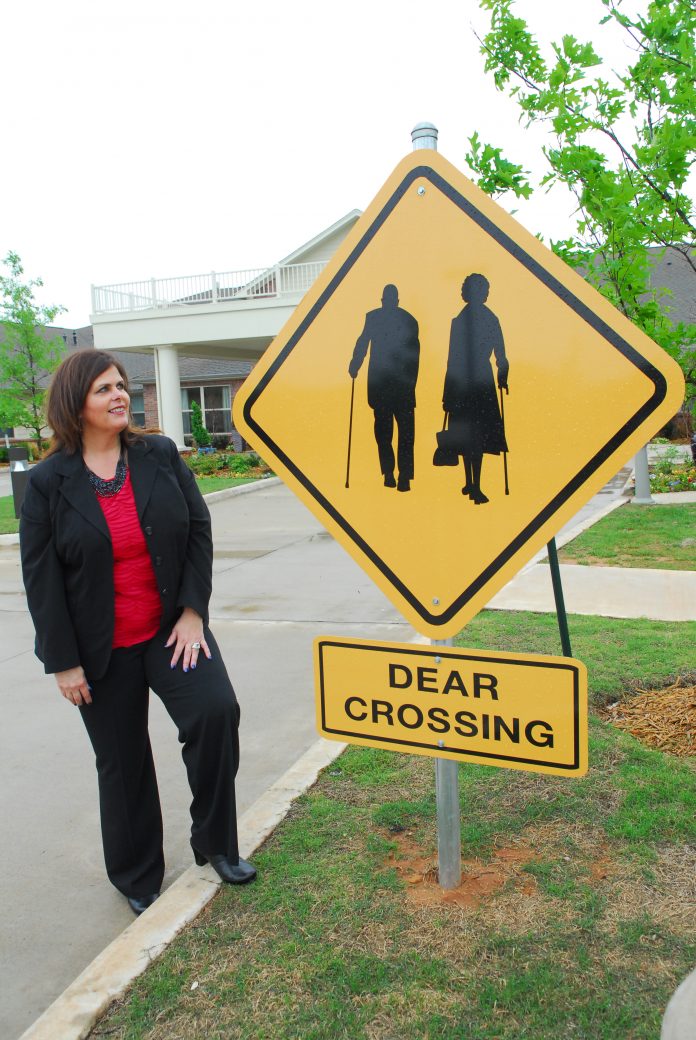 by Mike Lee
Staff Writer
Aging in place is a buzzword these days. But what does it really mean?
Joyce Clark has devoted her life's work to ensuring seniors feel comfortable in their surroundings, no matter where they are living.
Clark has made life a little brighter and a little better for literally thousands of seniors in Oklahoma.
As the founder and CEO of Achievis Senior Living Associates, Clark spends her time breathing life into senior communities. Whether it be a community that has faltered and needs to get back on track or a brand new building, Clark plays a vital role.
The 53-year-old understands the people she serves. She knows that when she's called in as a consultant she's doing more than just meeting a budget or a goal.
"I'm a pretty aggressive goal-setter," Clark said. "The goal for me is to always position a community to where it has the best resident care and its services and amenities are competitive. Making a profit is vitally important of course but I find it comes much easier when you put residents and employees first."
Clark's current project is Whispering Creek, 5712 Goldfinger Road, on the border of south Oklahoma City and Mustang. It is an active adult retirement neighborhood with homes for lease. Whispering Creek is made up of 70 attractive duplex homes in a private, gated neighborhood that features a clubhouse, ponds with waterfalls, storm shelter, and walking trails. Friendly neighbors and premier amenities such as a fitness center and social events are steps away from your front door. All lawn care, maintenance, and property management is included so you can focus on fun and friends.
Scheduled events, organized by Whispering Creek staff and residents, include theme nights, holiday parties, and day trips to local attractions. Residents can be active in a variety of clubs that may include bridge, canasta, book of the month, poker, dinner club, and scrapbooking.
It's these types of amenities that Clark makes sure she includes in all her properties.
But staying at home as long as possible is also the wish for many. Clark says there are things people need to consider to better age in place.
Clark is a proponent of making homes safer and easier to maintain. Reducing trip hazards and sharp corners is important. Grab bars, carefully placed furniture, non-slip flooring, and tucked away electric cords make a big difference.
Single-story homes without any steps are typically the best option. Doorways and halls should be at least 36 inches wide to incorporate wheelchairs, walkers or other mobility devices.
Oven knobs need to be on the front so that the cook does not have to reach over hot pans or a flame. Other suggestions are to ensure the microwave is at counter height and appliances have easy-to-read controls. Low-maintenance shrubs and plants are the best choice for foliage and decoration.
Clark is a leader of the senior housing industry. She's been in the business long enough to see dramatic changes.
"I find that since the recession things are different," Clark said. "People are waiting longer to make the move into assisted living. They're more crisis driven. Sometimes their family is struggling financially and dependent on the senior's income or housing". Inter-generational living is coming back into the American lifestyle and Clark feels that can be rewarding for everyone.