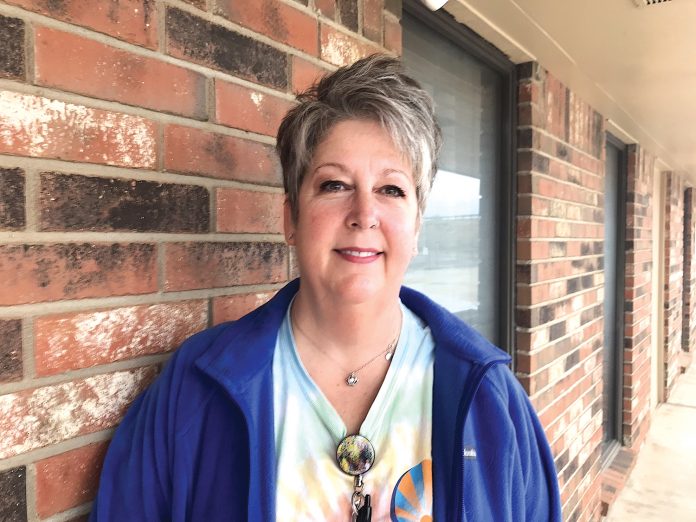 Check your pride at the door
by James Coburn – Staff Writer
Wendy Young knew she wanted to be a hospice nurse before attending nursing school. She has been with Frontier Hospice for nearly five years and serves as a case manager in the Oklahoma City metro.
"Everybody said, 'Oh, you're going to change your mind. You're going to learn about all these different types of nursing and change your mind.' I never did, but one thing you ran into at that time was you had to have nursing experience before you could be considered for a position," said Young, a registered nurse.
She began her career in health care after earning her LPN credentials at Canadian Valley Technology Center in El Reno. After serving as an LPN for three years she earned her Associate in Applied Science degree to become a registered nurse after graduating from Oklahoma City Community College. Her nursing experience includes working for the Veterans Administration in Norman, and workers compensation. Having served as director of nursing at Shannon Springs Nursing Home in Chickasha helped her move to hospice care, she said.
"I have a strong belief that none of us are brought into this world alone and none of us should leave this world alone," Young said. "I think that for families it can be one of the hardest things they ever do — being with a family member and going through that in a home setting — it can also be one of the most beautiful and precious things they can ever do for a loved one. I think being in an environment where you're familiar with the smells and the sounds and the people that you love — I hope when it's my turn that my family will give me that gift."
Young's mother was one of 12 children. So, she has many uncles and aunts who are elderly. Being a hospice nurse serves mostly older adults, but also younger people. Young embodies a natural affinity with the elderly. She affectionately calls them her LOLs and LOGs, meaning little old ladies and little old guys.
One of her opportunities she is most proud of by working for Frontier Hospice is they will go above and beyond in helping a patient or family in need.
"We have several non-funded patients that Frontier covers the cost of their care," Young explained. "If you have entered that time of your life where you're at the end of your life, it shouldn't matter if you have insurance or Medicare or what not. That brings in a human aspect for me that we are all people, not just names and numbers."
Young is grateful for the caring hearts of her coworkers that compliments her need to be compassionate as well, she said.
Her advice to anyone considering a career in hospice is to be in touch with your compassion. Be prepared with the technical aspects of palliative care, but at the end of the day a hospice nurse should always share their love with people, she said. It's vital to willingly accept people where they are in their life's journey.
"This is not my story. This is their story," she said. "And I'm just being allowed to be a part of that story."
A hospice nurse needs to check their pride at the door, shine with unconditional love and understand they are becoming part of their patient's lives.
A hallmark of Frontier Hospice is offering holistic care for the entire person. Nursing support involves 24/7 care. Young is always a phone call away for those needing help. Nurse aides provide hygiene care for people. A non-denominational chaplain service is available for anyone seeking spiritual support. Social workers help families navigate helpful sources to ease life.
"If their goal is to stay in the home, we try everything we can to make that happen for someone," Young said.
She has a support team out in the field whenever she has a concern. But the work is not drudgery. Young believes she works with one of the most loving groups of nurses in the state of Oklahoma. Nurses discuss their patients' individual needs during staff meetings. The nurses share their stories of humanity.
"I know that in the field if I have a problem that needs solving, I have five or six people I can immediately call," she added. "I admire that a lot, and everybody knows that we are all a team."
The question of why hospice was recently asked of the nursing staff to explain at a recent meeting.
"To my knowledge I've never had a family member on hospice services," she said.
Young recalls hearing the term, hospice, mentioned for the first time at the VA.
"Outside of that I just knew. I know that I am called to this field. I believe when it gets down to it, this is one of the purest forms of nursing. I'm not trying to fix anybody, I'm just trying to care and help keep people comfortable," Young said.
The goal of hospice is comfort and quality, she pointed out.
"I feel really blessed and that's something I am sure of," Young said.
For more information visit www.frontierhospice.com or call 405-789-2913 (Moore location) or 405-395-2184 (Shawnee location).