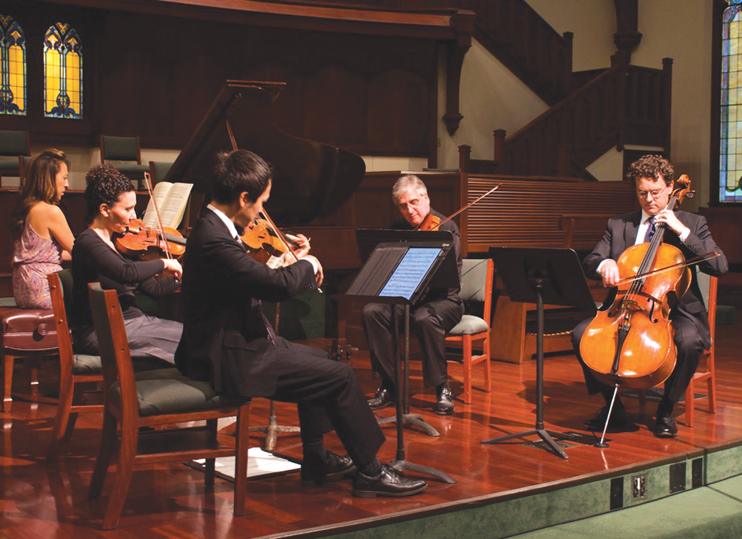 Strings take center stage in Brightmusic Chamber Ensemble's third concert, "Symphonic Strings," 7:30 pm on January 11 at First Baptist Church in Oklahoma City. The concert will present Ravel's Sonata for Violin and Cello, which marked a turning point in his career, Gerald Finzi's powerfully expressive Interlude for Oboe and String Quartet and Pyotr Ilyich Tchaikovsky's only sextet, his "Souvenir de Florence," which has been described as a symphony for six strings.
The concert takes place at the First Baptist Church, 1201 N. Robinson Ave., Oklahoma City. Season passes, available on the website, are $125 for the five regular-season concerts and all concerts of the summer festival. Single admission tickets are $20 at the door. Admission is free for students and active-duty military with ID.
Maurice Ravel composed his four-movement Sonata for Violin and Cello between 1920 and 1922 and dedicated it to the memory of Claude Debussy, who had died in 1918. Described as "lean" and "linear," the sonata stood in sharp contrast to the lush harmonies and textures of his earlier works and was, Ravel wrote, "stripped to the bone; harmonic charm is renounced, and there is an increasing return of emphasis on melody." The sonata would, as the composer predicted, mark a turning point: after Debussy's death, Ravel was widely considered the leading French composer of the era.
British composer Gerald Finzi's personal and introspective Interlude for Oboe and String Quartet was written between 1932 and 1936 and, along with his clarinet concerto, is one of his best-known instrumental compositions. The one-movement work was subsequently arranged for oboe and string orchestra and for oboe and piano. Despite its brevity, the Interlude is a big, passionate piece with wide-ranging moods and may have originally been intended as part of a concerto.
Tchaikovsky's four-movement sextet, "Souvenir de Florence," is a romantic symphony in microcosm. The work is so titled because one of the principal themes was sketched while the Russian composer was visiting Florence, Italy, but it is distinctly Russian. The composer wrote to a friend, "I am, in essence, composing for the orchestra, and only then arranging it for six string instruments," a task he described as "unimaginably difficult." The result is a small-ensemble work with the grandeur of a symphony and the grace of his ever-popular "Serenade for Strings."
The Brightmusic Chamber Ensemble is Oklahoma City's foremost presenter of classical chamber music. For more information, visit us at www.brightmusic.org and follow us on Facebook at https://www.facebook.com/BrightmusicOK.