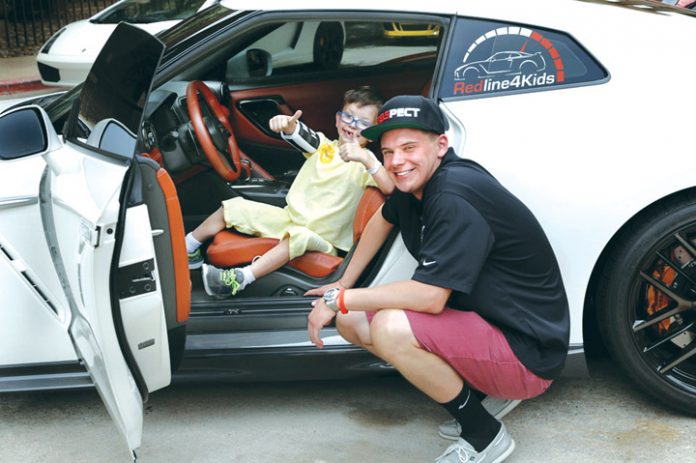 Story by Darl Devault, Feature Writer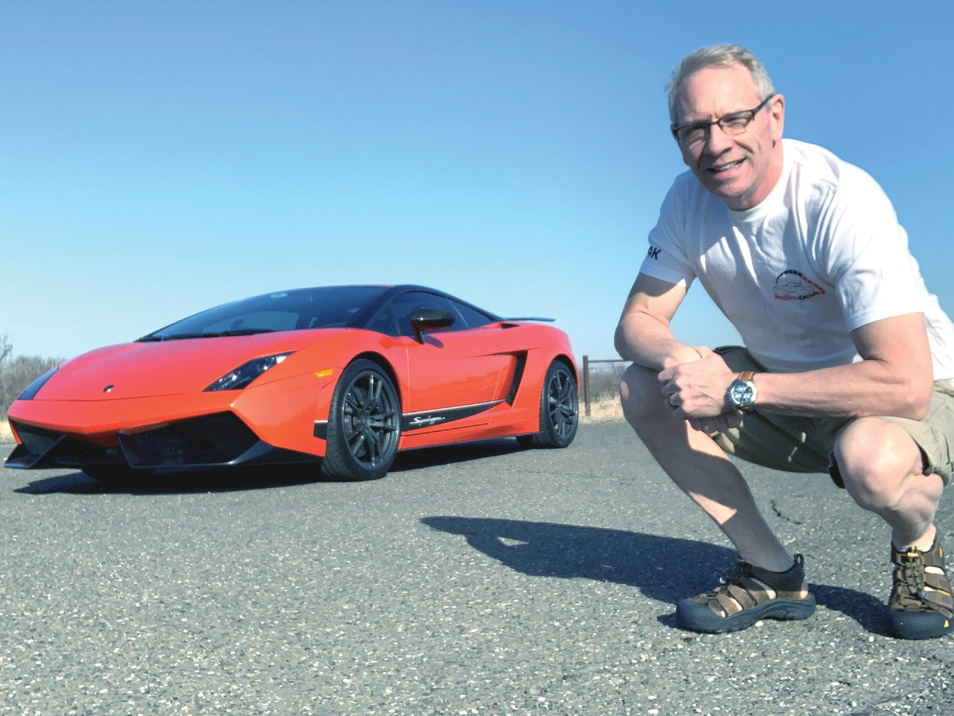 As Father's Day, June 20, rolls around an Oklahoma City father and son are proud to share their bond by continuing their mission to brighten the days of hospitalized children. The pair have created an exotic car outreach to give kids in hospitals a special experience to help keep their minds engaged and focused on a positive future.
Eric Wynn is the older of Redline4Kids original organizing duo who readily gives full credit to his son who had the idea. The two and nonprofit volunteers have been busy the last few years taking their exotic cars to children's hospitals for special events.
Youngsters in hospital beds may have access to exotic car driving video games at home using a controller and their TVs. This nonprofit gives them the ability to sit behind a real steering wheel of the latest generation of exotic cars to help them deal with the stress of being in a hospital environment. Their goal is to bring joy to kids, and hope to families, through an experience with exotic cars.
While not trying to foster a new group of automotive fanatics, the organizers want to give young patients a break from their normal routine.
This desire to create a novel experience for children in hospitals springs from the creator's early confinement to a hospital bed when he was first diagnosed with systemic juvenile idiopathic arthritis at age four.
Now 25, Chance wants to offer kids in a hospital environment a fun exposure to cars most adults do not get by adding a fun part to their long hospital stays. The organizations name comes from high performance manual shift cars, where its instrument panel features a tachometer with a red line showing engine revolutions per minute where it is important to make the next shift.
"From experience I know hospital life, especially as a kid, is not fun and can be pretty traumatic," said Chance Wynn, nonprofit president. "Any opportunity you get to escape, even if it is for just an hour is special. Whether you are a girl or boy, car lover or not, when you get close to these exotic cars it is a blast. It has been proven repeatedly as we have done so many of these events over the last four years from OKC to Dallas—Ft. Worth, and all the way to Miami Florida. It is all thanks to our great sponsors and volunteers. Without their support brightening children's patient days would not be possible."
The Wynns and volunteers want to give the kids a break from the hours upon hours of hospital routine by sparking their imagination of driving fun, fast cars. Chance is proud his idea gives such a memorable diversion from hospital routine to young children. The group offers them an outing, so the child can leave their hospital room which helps with cabin fever.
For those youngsters who already have a passion for automobiles it may be a dream come true to develop great memories that will stick with them.
The volunteers from Redline4Kids usually show up with a mixture of a dozen near-race cars, exotic or American muscle cars for the kids to enjoy. A few are among the fastest street-legal production cars in the world. Often the cream of the crop is European. They are built one at a time on a race engineered chassis with aerospace materials to create style, elegance, untamed power and speed on wheels.
"I love doing this event and excited to keep sharing my blessings with your organization and all of the kids!" said Tom Gore, volunteer car owner. Thank you so much for making this venue available to us." He volunteers his legendary exotic, a 2019 Lamborghini Huracán Performante Spyder.
For the young patients, the experience runs the gamut from receiving a 1/64-scale die-cast toy car to play with to being able to climb behind the wheel of what seems like to them a "one-of-a-kind life-size car creation" because of their iconic rarity. Each child receives an event T shirt, wristband, a little Hot Wheels car and cards with photos and info about each vehicle on display.
"Once my son Chance bought his first exotic car, we quickly learned how kids wanted to get their picture taken with the car, or even sit inside of these types of cars," said Eric Wynn, Redline4Kids board president. "As Chance spent a good deal of his childhood sick and in the hospital, the idea just came to him one day. He told me 'Dad, I have an idea to help kids that are just like me' and five years later here we are!"
The first event at OU Children's Hospital was well documented in videos on YouTube by Imagine Productions OKC. They have also been featured on the front page of The Oklahoman newspaper.
After the first event in 2017 for OU Children's Hospital where they have now appeared four times, the group targeted Texas patients. They visited the Scottish Rite Hospital for Children in Dallas, Children's Medical Center in Plano, the Cook Children's Hospital in Ft. Worth and Children's Health in Plano through 2018.
In 2018 they refocused on Oklahoma with appearances at Bethany's Children's Center Rehabilitation Hospital twice. The exotic cars have also brightened the patient's days at INTEGRIS Children's – Baptist Medical Center in Oklahoma City and the J.D. McCarty Center in Norman. And in 2019, Redline4Kids recruited more exotic car enthusiasts to launch in Florida at The Joe DiMaggio Children's Hospital in Fort Lauderdale.
As restrictions for the pandemic are lifting the Redline4Kids exotic cars are schedule to brighten the children's days at the J.D. McCarty Center in Norman the third Saturdays in June and July. The group is working to finalize the dates for OU Children's Hospital and INTEGRIS Children's – Baptist Medical Center in Oklahoma City.
For more info, or to make a tax-deductible donation, visit www.Redline4kids.org.