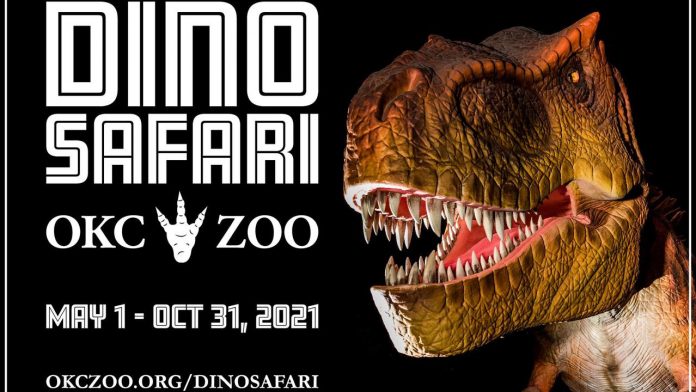 Journey back to the age of dinosaurs with the Zoo's new DINO SAFARI experience to discover the world's largest, most life-like animatronic prehistoric creatures.
Dinosaurs are back at the OKC Zoo! The Oklahoma City Zoo and Botanical Garden presents DINO SAFARI, a new immersive experience featuring life-sized, scientifically accurate animatronic dinosaurs that demonstrate movement and sounds like the prehistoric giants that once roamed the planet. Explore DINO SAFARI located in the Zoo's lush, 6-acre pollinator garden along the Lakeside to see several dinosaurs come to life through 15 one-of-a-kind animatronic displays and 8 skeleton replicas in a COVID safer setting.
These amazingly life-like creations were created by Jurassic Park advisor "Dino Don" Lessem's company Dino Don Inc., the premiere maker of robot animals in the world. DINO SAFARI is open to the public now through Sunday, October 31, from 9 a.m. to 4:30 p.m. daily. Entry into DINO SAFARI is the cost of general Zoo admission plus, $5 per person for ZOOfriends members and $6 per person for nonmembers. Children 2 and under are free and do not require tickets for entry into DINO SAFARI.
"Animal fans of all ages are drawn to dinosaurs so we are thrilled to bring this unique opportunity to the Zoo," said Dwight Lawson, OKC Zoo's executive director/CEO. "We hope to foster our guests' natural curiosity and interest to learn more about these prehistoric wonders of the past while connecting them to our incredible animal family today."
Learn how dinosaurs evolved over time and where they roamed as you encounter the fascinating creatures of DINO SAFARI. Stand next to one of the most popular predators of the late Cretaceous era, the Tyrannosaurus Rex, get an up-close look at a massive Woolly mammoth from the Pleistocene era as also referred to as the Great Ice Age and gaze at the 42-foot wingspan of a Tropeognathaus! Guests will also learn how the OKC Zoo is working with Tinker Air Force Base and the University of Oklahoma to help fight the extinction of Oklahoma's beloved lizard, the horny toad, also known as the Texas horned lizard, through educational displays setup near the DINO SAFARI gift shop.
Trek over to the newly, renovated Dino Bites, located next to the pollinator garden, for a selection of tasty favorites including turkey legs, chicken nuggets, hot dog and churros. Shop for the ultimate dinosaur souvenirs at the DINO SAFARI gift shop and discover a vast selection of unique toys and gifts, apparel for both children and adults, plush, children's books and more.
Additionally, guests can purchase exclusive DINO SAFARI OKC Zoo conservation wristbands. Choose from four limited-edition animal designs – Tyrannosaurus Rex, Triceratops, a raptor and Texas horned lizard – available for $2/each in the Guest Services office and stroller window located in the entry plaza. The Zoo's collectible, conservation wristbands benefit the Zoo's local and global conservation efforts with 100 percent of sales going to Round Up for Conservation.
DINO SAFARI TICKET OPTIONS
Bring on the big fun, purchase a single-day DINO SAFARI Adventure Ticket with unlimited walks through DINO SAFARI, unlimited lorikeet feedings, unlimited carousel and Elephant Express tram rides plus, general admission to the Zoo for $31/adult and $28/child and senior. ZOOfriends members can take advantage of a dino-mite deal and purchase the Zoo's DINO SAFARI Adventure Season Pass for unlimited admission to DINO SAFARI through October 31, along with lorikeet feedings, carousel rides and a souvenir Zoo Key. DINO SAFARI Adventure Season Passes range from $35 to $200. Must be a current member to purchase season passes.
DINO-RIFFIC BIRTHDAY PACKAGES
Surprise your kiddo with a dino-mite birthday party! Young explorers can try their hand at the fossil dig to excavate rare dinosaur "bones" just like a real paleontologist. With the Zoo's exclusive DINO SAFARI birthday package, your child's special day is sure to be memorable.