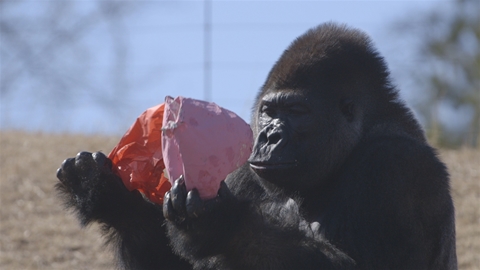 Cupid agrees these gift ideas from the Oklahoma City Zoo will keep you and your valentine wild at heart!
ZOOFRIENDS' MEMBERSHIP
ZOOfriends members enjoy free admission all year-long to the OKC Zoo, plus additional perks and discounts. Membership levels start at $35 and ZOOfriends has packages to fit every budget. Committed to giving 100 percent of your membership dollars back to the Zoo, these memberships support the care of the Zoo's animals, fund education programming and conservation initiatives and supports the overall expansion and growth of the Zoo. Purchase online at zoofriends.org or contact the ZOOfriends office at (405) 425-0618 for information.
ANIMAL ADOPTIONS
This is the perfect gift option for the animal lover in your life! Contributions from these symbolic adoptions support the health, enrichment and nutritional needs of all animals at the OKC Zoo. With each $45 donation, recipients receive their choice of a plush rhino, tiger or gorilla, adoption certificate, a fact sheet about their adopted animal and name recognition on the ZOOfriends' website for one year. Adoptions can be purchased in the ZOOfriends' membership office, by calling (405) 425-0618 or online at zoofriends.org.
ZOO ANIMAL PAINTINGS
Make an imprint on your love with an original OKC Zoo animal painting. As part of the Zoo's enrichment program, many animals paint during enrichment sessions with assistance from their caregivers. Be in awe of unique pieces created by elephants, sea lions, gorillas, snakes and more! Find the masterpiece that's right for your valentine by visiting the Zoo's Guest Services Office open daily from 9 a.m. to 5 p.m. Proceeds from all paintings support the Zoo's conservation projects. For more information, call (405) 425-0262.
SAFARI GIFT SHOP
The OKC Zoo's Safari Gift Shop offers a wide array of items including children's books and toys, green or recycled gifts and home décor. Many items available for purchase support local and global conservation, so you can feel good about the gifts your giving. Shop until your heart's content 9 a.m. to 5 p.m. daily.
FRIDAY, FEB. 9: VALENTINE'S DAY ENRICHMENT EVENT
We love our animal family and take pride in enriching their lives each and every day. Join us on Friday, February 9 for a special Valentine's Day enrichment event from 10 a.m. to 2 p.m. Select Zoo animals receive special enrichment treats and eats made with love by their caretakers. Watch your favorite animals' curiosity take over as they discover and interact with their unique valentines. Free with Zoo admission. Look for the day's enrichment schedule on your zoo map. For more information, call Guest Services at (405) 425-0262.
THURSDAY, FEB. 15–SATURDAY, MAR. 31: OKC ZOO & DR PEPPER HOST ANNUAL VENDING MACHINE ART CONTEST
All Oklahoma's talented students in K-12 are eligible to win wild prizes and the chance to have their original art designed on a Dr Pepper vending machine at the Zoo. Come on, get creative! Additional information about this year's contest theme, 2018 is the Year of the Bird: Celebrate our World's Winged Wonders, guidelines and entry forms will be available at okczoo.org. All submissions must be postmarked by March 31, 2018. Participation if free. For more information, contact Candice Rennels at (405) 425-0298 or [email protected].
SATURDAY, FEB. 17 / MONDAY, FEB. 19: OKC ZOO HOSTS GREAT BACKYARD BIRD COUNT
Flock to the Oklahoma City Zoo and Botanical Garden to help wild birds. The OKC Zoo is proud to host its first Great Backyard Bird Count, a global citizen science project that invites people to count native birds and help create a real-time look at wild populations. Participation is easy to do, fun for families and individuals–all ages welcome. Join us on Saturday, February 17 and Monday, February 19 from 10 a.m. to 1 p.m., both days, to assist with counting, identifying the native birds that make their home around the Zoo. Kids will enjoy an on-grounds bird scavenger safari. Visit our information tent in the Global Plaza to learn more about each day's activities including bird watching tours. All activities are free with Zoo admission. For more information, visit okczoo.org or call (405) 425-0262.