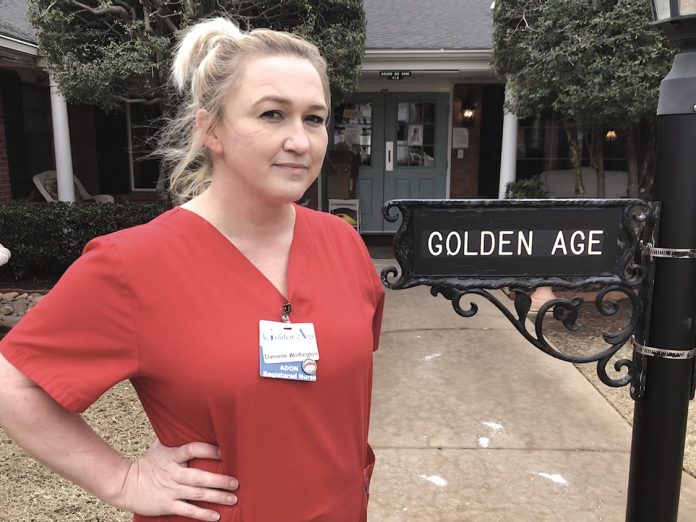 By James Coburn, Staff Writer
The regulatory challenge of working in long-term care is what appeals most to Danielle Wolfington, RN, Golden Age Nursing Home. Promoting quality is her forte.
"I love a challenge. There's just something about having to deal with all the aspects of leadership," Wolfington said. "At the hospital you just kind of go with the motions. There's always a challenge here. There's always some way to promote quality. That's what I like."
She has worked at Golden Age for five years. As the assistant director of nursing at the Guthrie home she is in charge of infection control and quality assurance. Wolfington was previously MDS coordinator.
She earned her Bachelor of Science in Nursing degree in December at Northern Oklahoma College. She is currently in the master's degree program for family nurse practitioner.
She worked a little bit at OU Medical Center, but was drawn back to long-term care.
She was only 16 when she became a CNA.
Today, you can see the smile in her eyes above her face mask as her admiration for coworkers shines through.
"I like the fact when I'm sitting in my office that I can hear my staff members talk to residents like they're very close to them," Wolfington said. "And the residents even reach for the staff member's hand and stuff like that when they are at the window visiting. They tell their families how much they love the staff. So, it tells me that behind the scenes, they are making a positive experience. You know how tough long-term care is right now. I feel that they do the best they can to try to make situations a little better."
Vaccinations against COVID-19 began for the residents and nursing staff on January 7.
"I think sometimes that we are too close, and it almost feels like, sometimes, that I am mad at my sister, she said with laughter," she said.
"But you come back the next day and it's like my family needs me."
There are always challenges and a way to promote quality of life. She strives to make her work person-centered, she said, with preferences. Wolfington is efficient when handling expenses.
"I don't so much like when surveyors come, but I like it when they say, 'Oh, you did good on that,'" she continued.
In 2019 The American Health Care Association and National Center for Assisted Living (AHCA/NCAL), the leading association for long term and post-acute care, recently held its 70th Annual Convention & Expo at the Orange County Convention Center in Orlando, Fla.
"That's one thing I love to show — that you have pretty good processes and quality of life," she said.
One thing that touches her life in a painful way is the COVID-19 pandemic, she said. Coronavirus has changed Wolfington, she explained, because almost a year has past since residents have not been able to touch their families.
"It makes me very sad," she said. "It really does."
Indoor visits are prohibited, however, when the weather is nice, they are able to provide outdoor visits by using plexiglass booths to shield residents from possible contamination of coronavirus. They continue to do window visits with phones and have iPads to further facilitate the process. Nurses understand the human need of togetherness among families and loved ones.
Some nurses have worked 12-hour shifts day-after-day to care for the welfare of patients.
"They don't want their residents to be without. They don't want us to be short-staffed. They don't want the residents to get anything less than they normally get," Wolfington said.
Wolfington commends the frontline of CNAs for diligent work when missing holidays, weekends, and family events in order to care for the residents. CNAs show up for work when scheduled and not spend holiday times with families.
"I know that sounds sad to say, but honestly I think that's pretty noble to do that."
She is frank when telling nursing students that long-term care is hard work, especially with the pandemic.
"But you help people that count on you, and they love you," she said. "And it's a really good feeling, so I do usually bring that up. I always tell them to reach for more. Go back to school — get promoted."
Little things in life build to help humanity when given with love. And love is not in short supply at Golden Age Nursing Home.