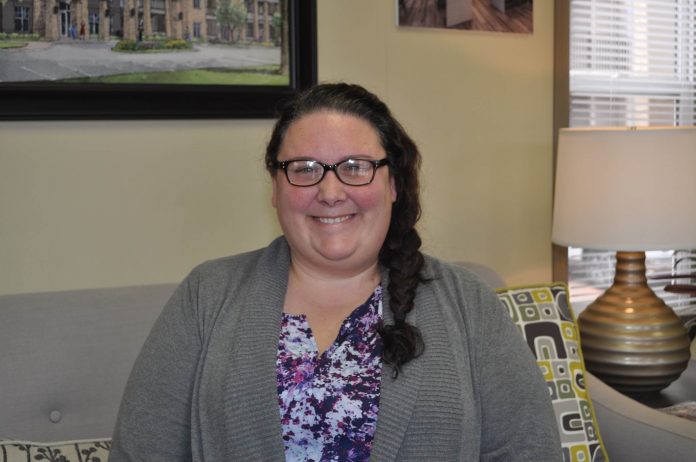 Grand Tapestry at Quail Springs is now OPEN
by Vickie Jenkins, Staff Writer
Meet Ms. Anja Mottern, serving as the Community Manager of Grand Tapestry at Quail Springs managed by Greystar in December 2015. Prior to joining Greystar, Ms. Mottern worked at KETTLER Management, a real estate development and management company based in McClean, VA. During her 15 years at KETTLER, she was a Property Manager and prior to her move to Oklahoma she was responsible for transitioning all new acquisitions related to residential management. She also served on the Executive Committee as ARM Chair for the Institute of Real Estate Management for 4 years.
Ms. Mottern moved here from Virginia where she lived for 15 years. She went to Penn State and majored in Elementary Education with a minor in Special Education. She moved here to be with her sister, niece and nephew. Making the 3-day trip with her cats Lil' Boo and Baby Emma. "It was a very interesting trip," she commented. "We made it though. I have really enjoyed living in Oklahoma but the tornados have proven to be a bit scary," she added. Asking her to describe herself in 3 words, she replied, "I would say loyal, passionate and energetic," she answered.
Ms. Mottern, a pleasant individual that was excited to share the news about Tapestry at Quail Springs. "We are excited to let you know that Tapestry at Quail Springs is now OPEN! Currently right now we have 12 apartments occupied. Our pool is due to open mid-June. We have been waiting for the opening of Tapestry and I am excited to see what lies ahead," she said. "This is a great place to live! Here you will find a new luxurious apartment community, exclusively for active adults 55 years and older. We have a community garden, outdoor dining and a dog park. We do 2-4 activities every day and we offer a continental breakfast Monday thru Friday. It really has everything you would want," she commented.
"We are located at 14101 North Kentucky Avenue in Oklahoma City, OK and we are proud to show off our newest development," said Ms. Mottern. "I would be happy to show you around. When the people come in to look at the individual rooms, I think they are pleasantly surprised. We have all of the conveniences of home. We are so proud to be the first Tapestry in this area. What a unique and wonderful place to live! This is a place you can call HOME," she said. "Here at Tapestry at Quail Springs, you will find that we are located in a most convenient area. We are close to Quail Springs Mall, retail, entertainment, restaurants and medical facilities. You will have convenience, comfort and availability under one roof. There are also churches close by," Ms. Mottern added.
Tapestry is designed to fit the needs of people 55 and older; the new place for active adult senior living. Providing a safe and secure lifestyle with a full daily schedule of physically invigorating, emotionally engaging and socially stimulated activities. The senior tenant lives independently with a full amenity and activity package. Shuttle transportation is available and garage apartments are available if needed. There is a comfortable, monthly rental cost that meets a senior's budget and there are no buy-in or entrance fees. Additional services can be added by the tenant on a la carte basis, so that the senior pays only for the services needed.
Tapestry at Quail Springs offers spacious rooms, granite countertops, paying close attention to the detailed work throughout. There are many daily activities to choose from, a continental breakfast Monday through Friday and several meeting rooms that will be offered free to our residents. Another feature that residents seem to like; several area chefs that will be coming in to do food demonstrations. The 3-tier theater room is fabulous! Catered brunches for residents and their families will be available on Sundays. "This is a great place to make new friends. It's like a close-knit community. Activities that one can enjoy with others; it's like a little community with all the extras," said Ms. Mottern. "The Tapestry brand will be expanding into Colorado, Tennessee and Illinois in the future," she added. Feel free to call Grand Tapestry at Quail Springs at 405-605-6901 or stop by and take a tour. You will be glad you did.