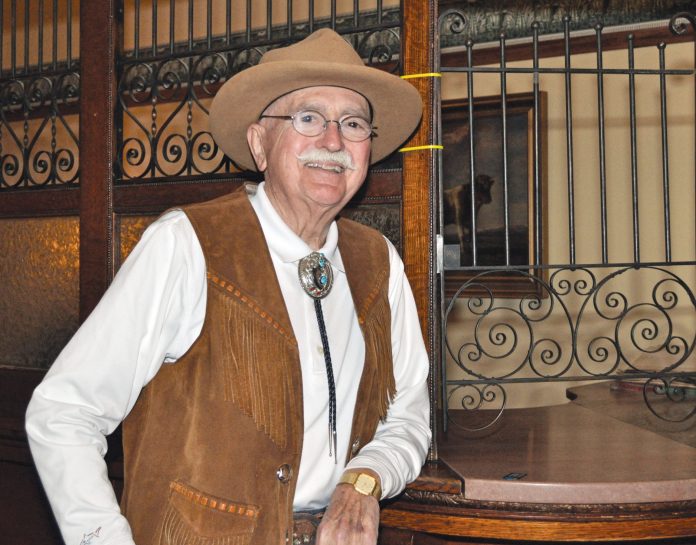 by Vickie Jenkins, Staff Writer
Meet Jerry Lee Tyner, a 78 year old who loves being around others. He is considered to be an Aficionado-True Tale Teller and Serendipity Songster. Tyner also volunteers as a tour guide at the National Cowboy & Western Heritage Museum, where he loves sharing bits of history and legends of the old west. "I started at the museum in the year 2007 and I enjoy what I do. The patrons are always eager to hear the stories," he said. "Everything I do, whether it's telling a story about the old west, or singing to a crowd, I like making people happy. I like being the one that puts a smile on their face. That's what is important," he added with a smile.
Tyner was born at home in a little house on the prairie in Washita County in Oklahoma. "It really was a little house on the prairie," he laughed. He attended Port elementary school and attended high school in Elk City, OK, where he was Senior class president. Tyner is a very distinguished, pleasant individual that enjoys life and enjoys making others happy. His friendly disposition seems to have a way of drawing people to him.
Tyner has been singing and performing for others since January of 2000. "I was in a band with several others but we lost a few," he said. "I was the lead and I really enjoyed that. We had a good thing going back then and it was a lot of fun. I did most of the vocals and played a little harmonica. Now all my music comes from a computer (Karaoke) which I admit is much easier to handle song requests than the way I did it before."
Tyner is known to sing all kinds of vintage songs; Hank Williams, Ray Charles, Frank Sinatra, and Muddy Water, Merle Haggard, Willie Nelson, Fats Domino, just to name a few. "I get quite a few requests for certain songs," he said with a laugh. "I know most of the old songs so that makes it nice when I entertain in the assisted living facilities. Bob Wills' songs are always a hit with the older folks. Those folks really like their music and some of them get up and dance to the tune. I love making these older folks happy. Seeing the people smile and enjoy my songs means a lot to me and that is why I do what I do."
"What inspires you to get up and go to work every day?" I asked Tyner. Being the character he is, he replied, "I just feel lucky to wake up," he laughed. Asking Tyner to describe himself in 3 words, he had an answer right away. "Oh, that's easy. Good Ole Boy!" When I asked him what his greatest blessing was, he answered, "it is definitely my 4 children. They are all very successful and I am proud of each one of them," he said. He loves spending time with his family and his 10 grandchildren; 5 granddaughters and his 5 grandsons. "My grandchildren call me Papa T. Oh, I just love being around them. They are really something," he added.
Tyner has lived an interesting life. "One time, a friend of mine, Ken Selby and I walked from Oklahoma City, OK to Tulsa in 2009. We were just discussing it one day and thought, we can do that. We just wanted to see if we could do it. I was 71 and Ken was 73. We had a good time and we made it!" Tyner helped pass the law of no smoking in restaurants in Oklahoma. "One thing led to another on that issue. From a simple email to traveling to speak, I was a part of that. I guess you could say when I get something in my head, I am determined to finish it." Being a storyteller comes natural to Tyner and he is in the process of writing a book about some of his early day adventures from the past.
It was 9 months before Tyner and his wife celebrated their 50th Golden Wedding Anniversary, that she passed away due to health issues. Being the considerate person Tyner is, now he helps others celebrate their 50th wedding anniversary by providing his entertainment for FREE. Jerry Lee Tyner is available to entertain at nursing homes, assisted living and independent living facilities. If you are interested, please call Jerry at 405-850-4865 to schedule a date or email him at [email protected]
A big thank-you to Jerry for being one of those entertainers, storytellers, good ole boy that enjoys life but most of all, enjoys making others happy.