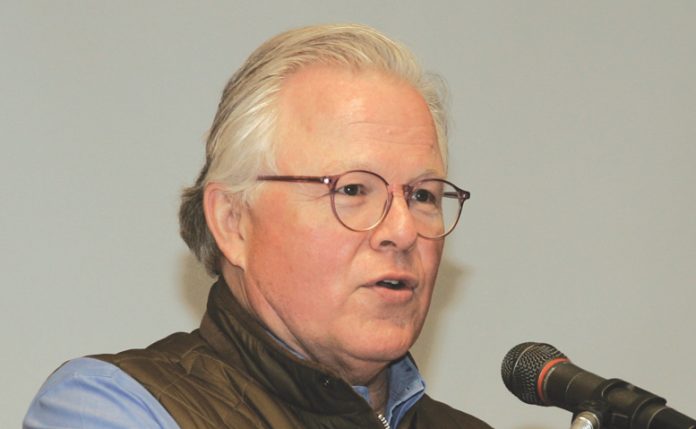 Story by Darl Devault, Contributing Editor
Cliff Hudson shared his story of earning an OU history degree, a Georgetown University law degree and leading Sonic Corporation's national growth to 3,600 franchises as a self-described jack-of-all-trades at the Second Half Expo in October.
As keynote speaker, the Edmond resident, 67, spoke at the National Cowboy and Western Heritage Museum in Oklahoma City. He emphasized at the beginning of his speech he still likes to read history. He made some history of his own during 34 years of helping lead Sonic to national acclaim in the drive-in restaurant world
"We were thrilled to have Cliff Hudson as the keynote speaker of our inaugural Second Half Expo," said Bob Loudermilk, event founder. "As a successful businessperson and community leader, he has the credentials to deliver an impactful and credible message. Just like in his thought-provoking memoir "Master of None – How a Jack-of-All-Trades Can Still Reach the Top," Cliff shared relatable experiences with his audience."
Hudson gave several examples of how he listened to his franchisees ideas and adapted them into Sonic's business of driving innovation and long-term business performance. Some would say this was crucial in making Sonic America's Drive-In.
Hudson was tapped to lead Sonic in 1995, overseeing the drive-in chain's growth from 1,500 locations in 27 states with systemwide yearly sales of $905 million to 3,547 locations in 46 states and systemwide sales of $4.5 billion. Franchise opportunities at Sonic have been rated as high as number three in the country.
His audience was treated to a surprisingly candid speaker who shared rare insight into his ability to climb the leadership ladder while guiding adaptation in the menu and business model at Sonic Corp.
Each time the Sonic board made him an offer to give him more leadership potential at the growing national brand Hudson was faced with a major decision, a consuming question about his career.
First hired as general counsel, promoted to chief financial officer and later chief operating officer, the board finally asked him to serve as CEO and chairman of the board.
As he became a more skilled negotiator and capable administrator, he said he would study at each new opportunity. He then had a dialogue with himself wherein he would ask himself what the outcome would be if he did not measure up to the new challenge.
Each time a promotion was offered he realized the worst thing that could happen to him was he would leave the company with more stock ownership and for the last promotion leave having been the CEO of a major national corporation. He served as CEO for 23 years.
But clearly all of this was based on a firm foundation of education, good interpersonal skills gained as president of Northwest Classen High School Student Council, and entrepreneurship from college on. While studying at the Georgetown University Law Center he edited the prestigious International Law Journal (a publication of the Association of Student International Law Societies).
He said several times there were valuable ideas offered by individual franchisees. He took their idea to sell ice cream, which Sonic did not then offer, to heart. He realized Sonic could add the two cheapest things to any product, air and water to create more sales and offer the customer more services. The more air added to ice cream produces a light and creamy texture. Water could be added to slushes and flavored drinks to expand a line of flavors to give the franchisees more products to sell and increase sales.
Seeing dissatisfaction among some of the franchisees about Sonic's national product being so regulated sparked his innovation mindset. Instead of addressing too much regulation, he innovated by proposing arranging for suppliers to provide national contracts to standardize supplies delivered to each franchise location. This dropped the price franchisees were paying for their supplies and made them more successful.
His speech was well received and after the applause died down many in the audience formed a line to buy his memoir at a book signing. Hudson's wife Leslie sat at the table with him, opening the books for him to autograph for the buyers.
"Hudson is a good role model for those in the 50+ generation and the gist of his philosophy is available at his web site. He appears to have no plans for slowing down anytime soon," Loudermilk said. "In addition to his time with family and now serving of counsel in the Crowe and Dunlevy's Oklahoma City office, Cliff serves on three non-profit boards as well one for-profit board."
Hudson's philanthropy extends to local schools and his alma maters. The Hudsons endowed the Hudson Fellows scholarship fund for select Ph.D. students at the University of Oklahoma College of Public Health. They increased their scholarship gifts to $5 million and the OU Board of Regents named the (now) Hudson College of Public Health in their honor in 2018.
He is past chairperson of Georgetown University Law Center's Board of Visitors. In addition he has served on the Oklahoma City School Board and the board of the Oklahoma City MAPS for Kids—a $700 million school revitalization program.