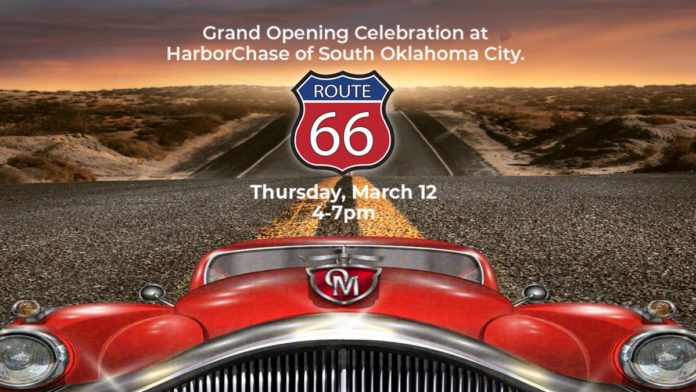 Themed Event to Celebrate "Route 66: The Ultimate American Road Trip"
HarborChase of South Oklahoma, a new luxury senior living community, is hosting "Route 66: The Ultimate American Road Trip" from 4pm to 7pm on Thursday, March 12. In honor of the community's grand opening, the event will feature live entertainment, community tours, cocktails, chef-prepared cuisine and a celebration of the iconic sights of Route 66. HarborChase of South Oklahoma City is managed by Harbor Retirement Associates (HRA), a regional senior living development and management company based in Vero Beach, Florida.
"We're very excited to host this Grand Opening Celebration as we formally open the doors to HarborChase of South Oklahoma," said Willie Ferguson, Executive Director of HarborChase of South Oklahoma City. "This is truly going to be an evening to remember for our friends, associates, residents and family members. This festive event will pay homage to the beloved and iconic 'Mother Road.' We look forward to introducing new friends to the unsurpassed hospitality and luxurious amenities of HarborChase."
During the event, HarborChase of South Oklahoma City will host community walking tours of its grounds and amenities. The celebration will feature live entertainment and a variety of themed food and beverage stations, each one celebrating one of Route 66's iconic sights or exits. Guests will have an opportunity to win prizes with a series of prize drawings. Space is limited. For more information or to RSVP, call (405) 259-2309.
Located at 10801 South May Avenue, HarborChase features 24-hour staff, supportive services, scheduled transportation daily, housekeeping service, concierge services and the exclusive Chef's Fare Dining program with customized dining experiences in multiple restaurants. It also includes HarborChase's signature Life Enrichment program, designed to provide social, devotional, fitness and recreational opportunities that have a positive impact on residents.
For more information on HarborChase of South Oklahoma City, visit www.HarborChase.com.