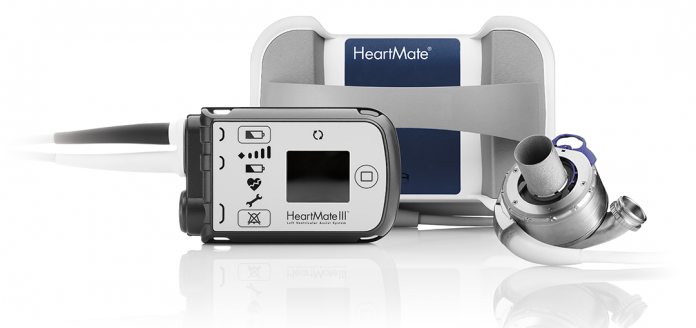 Recently Released Results Indicate the HeartMate 3 LVAS is a Promising New Tool for Patients Suffering from Advanced Heart Failure
St. Jude Medical Inc., a global medical device company, recently announced results of the MOMENTUM 3 U.S. IDE Clinical Study, comparing the HeartMate 3™ LVAS (Left Ventricular Assist System) to the HeartMate II™ LVAS in treating advanced stage heart failure.
The Advanced Cardiac Care program at INTEGRIS Baptist Medical Center is a proud participant in the study. In fact, INTEGRIS was the very first facility in the United States to implant this new technology in 2015. Currently, INTEGRIS remains a leading implanter of the HeartMate 3 LVAS in the country.
The HeartMate 3 LVAS is a small, implantable mechanical circulatory support device for advanced heart failure patients who are awaiting transplantation or are not candidates for heart transplantation. The HeartMate 3 LVAS restores blood flow with full MagLev™ technology, which allows the device's rotor to be "suspended" by magnetic forces. This design aims to reduce trauma to blood passing through the pump, thereby minimizing complications and improving outcomes for patients.
"The early results of the MOMENTUM 3 are encouraging. This trial is the single most important study in the world of heart pumps at this time," said James Long, M.D., Ph.D., cardiovascular surgeon and director of the INTEGRIS Advanced Cardiac Care program. "It has been the fastest enrolling trial in this field, indicating the importance of this therapy and the ever-increasing need for new generation heart pumps to treat people with end-stage heart failure when there are no other options."
The MOMENTUM 3 U.S. IDE Clinical Study is the largest LVAD trial in the world following more than 1,000 patients for a period of up to two years. The data just released to the public shows the six-month results of the first 294 patients enrolled. The patients receiving the HeartMate 3 LVAS had an 86.2 percent survival rate with freedom from disabling stroke and reoperation to repair or replace the device.
"The Heartmate 3 LVAS represents the continued advancement in therapy options available for patients living with debilitating heart failure," said Doug Horstmanshof, M.D., heart failure cardiologist and co-director of the INTEGRIS Advanced Cardiac Care program. "INTEGRIS, working with a network of partners, is the only center in our state and surrounding regions with the ability to offer this exciting new option on an ongoing investigational basis."
INTEGRIS holds a leadership role in the MOMENTUM trial, with such centers as Columbia Presbyterian Hospital, the Duke Heart Center, the University of Michigan and Barnes Jewish Hospital. Drs. Long and Horstmanshof joined in the authorship of a current article on the study in The New England Journal of Medicine.