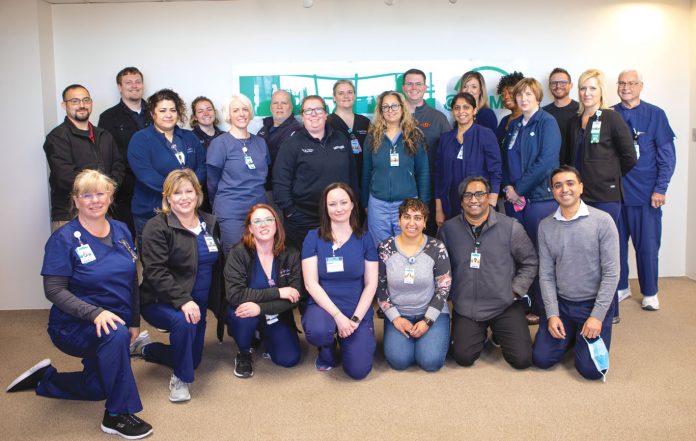 by Bobby Anderson, Staff Writer
With hospitals nationwide struggling with bed availability, Integris Health has embarked on a new healthcare model that could revolutionize the way patients receive care, all in the comfort of their own homes.
"Really what opened up the need for this is clearly the surge we've had with the Covid pandemic," said Lisa Rother, RN, director of Integris Health@Home. "It's opened up payor's eyes to actually reimburse hospitals for innovative care models that allow us to extend access to care within other creative environments such as the home environments."
With the onslaught of COVID-19, health systems everywhere have turned to technology to find better solutions for patients. Virtual doctor visits once thought impossible are now considered routine. In the pursuit of constant innovation, Integris Health partnered with Medically Home Group, Inc. to provide hospital-level care to patients in the comfort and convenience of their own homes.
"We have to demonstrate all of the care we could provide in a brick and mortar hospital that we would be able to support and provide that same level of care in the home environment," Rother said. "Now that we have a payor model that will allow us to bill for patient care it really allowed us to seek partners in helping us to provide a model of care we can deliver in that home environment."
The command center that receives all the data is monitored 24/7 by a team of Integris Health physicians and nurses who will respond to a patient's medical needs via video or telephone.
Daily in-home visits by a nurse practitioner and other health care professionals are also part of the treatment plan. IV therapies, oxygen treatments, lab tests, mobile imaging like x-rays, and ultrasound are all performed in the home. Other services include skilled nursing, medications, infusions, behavioral health, and rehabilitation.
Integris Health@Home at Integris Baptist and Southwest Medical Centers are now seeking qualifying patients to receive acute hospital-level care in the comfort and convenience of their own homes.
Patients consenting to admission into this model of care must meet inpatient admission criteria, live within a 30-mile radius of the admitting hospital, and have the clinical and social stability to receive care at home.
Common conditions for patients receiving acute care in the home include congestive heart failure, respiratory ailments, diabetes complications, infections like pneumonia, as well as COVID-19.
"We began researching innovative ways to provide this type of care to eligible patients before the pandemic began, but the COVID crisis prompted us to accelerate our timeline," said Timothy Pehrson, president, and chief executive officer of INTEGRIS Health. "We see the benefit as twofold. The program allows our patients to heal in a familiar environment surrounded by loved ones while improving access by opening up beds for other high acute issues."
Qualifying patients will receive a remote patient monitoring kit and other home health equipment as needed for their particular diagnoses. Standard equipment includes a blood pressure monitor, pulse oximeter, cellular-enabled digital tablet, and a digital scale. Based on need, additional equipment such as a continuous heart rate and oxygen sensor will be added. All the devices connect to a tablet through Bluetooth and transmit vital signs to a remote monitoring center. Patients are also given an emergency call bracelet.
The Integris Health@Home Command Center hospitalists and nurses connect with the patient through telehealth visits scheduled regularly throughout the day coupled with caregiver visits to the home to administer medications, deliver equipment and supplies, and perform clinical procedures.
The Integris Health@Home Command Center is located at Integris Baptist Medical Center Portland Avenue
Rother said patients will also have the ability to contact their nurses directly as needed through the push of a button.
"Technology is enabling us to provide the right care to patients in a way that is safe and helps them recover where they are most comfortable," Pehrson said. "As the Hospital at Home model continues to expand across the country, we expect more and more patients will choose to receive this high-quality care at home."
Research backing the clinical benefits of remote patient monitoring has been available for well over a decade, with a study published back in 2005 showing that hospital-at-home care resulted in patients having a shorter length of stay — 3.2 days versus 4.9 days — and fewer complications.
A Kaiser Permanente study revealed that of 13,055 patients enrolled in its COVID-19 Home Monitoring program between April 2020 and February 2021, 95.5 percent recovered and completed the program, 10.6 percent were admitted to the hospital, and 0.2 percent died. The model will be offered at Integris Canadian Valley and Integris Health Edmond in late spring.