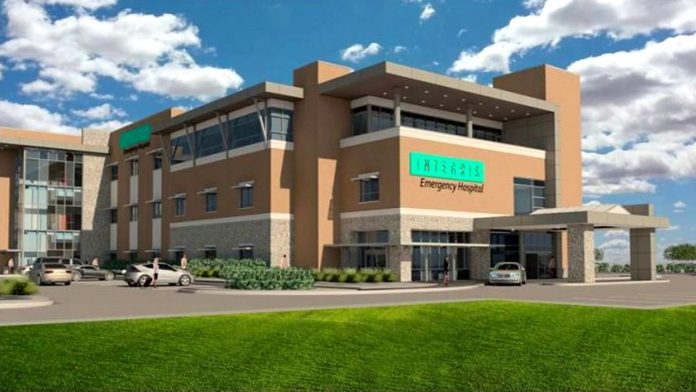 INTEGRIS broke ground on the health care system's first micro-hospital. The ceremony was take November 1st at 10 a.m. at 3391 S. I-35 Service Road in Moore. While the event was held at one location, it signified and celebrated all four of the micro-hospitals INTEGRIS plans to build in Central Oklahoma.
Last October, INTEGRIS officials announced they would be working with Emerus to open small-scale, fully licensed inpatient hospital facilities in different quadrants of Oklahoma City, to bring high-quality care closer to home. "We want to provide local neighborhoods with more choice and convenience when it comes to health care," said INTEGRIS President and Chief Executive Officer Bruce Lawrence. "Our micro-hospitals will offer 90 percent of the medical services many patients and families will ever need."
Emerus is the nation's first and largest operator of such hospitals and is a nationally recognized, innovative leader in the delivery of emergency, inpatient, and diagnostic health care. Each joint venture facility will be open 24-hours a day, seven days a week and will be equipped to respond to almost any medical issue a patient may present with; including those that may be life threatening or require complex, critical care.
"The benefit of these facilities is two-fold," stated Emerus Chief Executive Officer Craig Goguen. "While they help relieve emergency rooms at large comprehensive hospitals by treating the non-emergent needs that can overcrowd such institutions; they are also quickly accessible to stabilize and in many cases even treat truly emergent patients in their own neighborhood when time is of the essence. We've seen it in every community we're a part of, these hospitals make a huge difference in people's lives."
Emerus operates similar facilities across the country in places like Dallas, Denver and Houston. The INTEGRIS micro-hospital in Moore will total about 50,000 square feet and will include an emergency department, inpatient unit, laboratory, and imaging services as well as medical offices for physicians and other health care providers.
The new facility will offer expanded health care to the community with compassion, efficiency and excellence, while maintaining the highest standards for quality, safety and service.
All four INTEGRIS micro-hospitals will house between eight and 10 inpatient beds for observation and short-stay use, and include a similar number of emergency treatment and triage rooms, along with primary and specialty care physicians, diagnostic and other outpatient clinic services.
The three other planned locations are in Northwest Oklahoma City, Far West Oklahoma City and Del City. The Moore facility is scheduled to open in early 2019 and the remaining locations should be up and running by the end of that year. Additional INTEGRIS micro-hospitals could be on the horizon in the future.