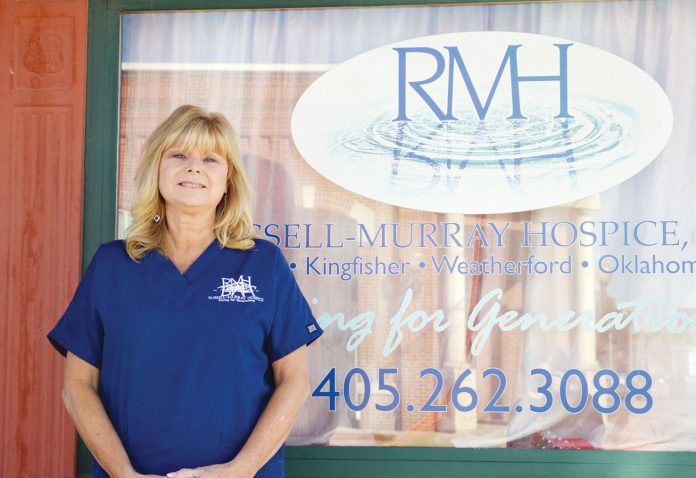 by Traci Chapman, staff writer
It takes great strength to deal with the finality that is hospice – to provide treatment not likely to provide recovery, to see the pain and suffering of patients and their family. It's also rewarding work, a chance to help make that patient's final journey one of peace, warmth and comfort.
"Hospice care can be difficult, of course, it takes something special to do this," Russell Murray Hospice Clinical Supervisor Missy Ellard said. "I believe hospice work is a calling."
That calling is something Ellard knows well. While she has worked in other nursing specialties, the Yukon RN has always come back, both to the type of work she loves and the company she said epitomizes the best of care and value that hospice brings to its patients and the people who love them.
Ellard did not start out as a nurse. For 10 years, she worked at the old Western Electric, later AT&T, facility. But, times changed for the industry and despite a strong and active labor union, she and many others were laid off.
"I always wanted to go into nursing," Ellard said. "I've always seen getting laid off as a God thing, just what was meant to be."
That outlook meant what many people would see as a step backward Ellard saw as an opportunity – and she jumped at it. It was in her early 30s that Ellard attended Redlands Community College and Southern Nazarene University, obtaining Associates of Applied Science and Bachelor of Science Nursing degrees.
In 1994, with school behind her, Ellard was ready to follow her new path and find her first nursing job. She learned about Russell Murray Hospice, then an El Reno hospice provider, and found a home – in the process becoming the first nurse RMH hired straight out of school.
"I worked as a staff nurse, as a case manager, I loved the work and the people I worked with, but after a time I wanted to try something new – I just really wanted to get other experience, so I branched out," Ellard said.
That decision led her to a variety of experiences – working in home health and in a doctor's office. She worked as a nurse for Canadian County Department of Human Services, making home visits to conduct patient assessments and evaluations, determining their qualification for Medicaid programs, including hospice referrals.
Ellard also used her skills for Oklahoma DHS Developmental Disabilities Services, responsible for health assessments at four Oklahoma City metropolitan area group homes. There, she recommended therapy, dietary consultations, wound care and other necessary services – but, as much as she enjoyed the work, something was missing, she said.
"I missed hospice care, I love hospice care," Ellard said. "I had family members who were being served by Russell Murray, and I realized just how much I missed working here."
So, she was back – Ellard said she realized she was home, exactly where she belonged. She was named clinical supervisor in Russell Murray's now home office – while El Reno remained its base, the not for profit now had offices in Kingfisher, Weatherford and Oklahoma City.
Patients are not always what one might imagine someone needing hospice care might look like, Ellard said. The five nurses she directly supervises also provide physical assessments to at-risk children, like those taken to Canadian County Youth and Family Shelter – children who have had their lives completely disrupted, with parents or guardians who could be incarcerated or are facing severe addiction or other problems.
For those patients who are facing an imminent end to their life, Ellard and her nurses are committed to using every resource at their disposal to make any time that individual may have left the best it can be – and that is something different for each patient, she said.
"The thing about hospice care, about palliative care, is it's truly holistic, something that provides not only relief from physical conditions, but encompasses everything to improve the quality of life for the patient," Ellard said. "It's the one area of nursing you can truly practice holistic care." That might mean incorporating spiritual guidance or comfort, or it might involve finding a way to bridge an estranged family relationship; it could be making it possible for the patient to do something they've always dreamt of or simply ensuring they're comfortable as they live their final days.
"Some of our patients want to fight their disease every single minute, as long as they possibly can, and we help and encouragement them with that," Ellard said. "Others just want to be comfortable, to spend their time with their families or their friends, and we follow their lead on that, as well."
No matter a RMH patient's beliefs, needs or approach to their condition, they do have one thing in common – they are never turned away due to financial considerations, Ellard said.
"If a patient qualifies and desires hospice care, we do not turn patients away based on their reimbursement status," she said. "Many hospices, even not for profit hospices, have a 'quota' of non-reimbursable patients and will decline patients if they don't have a payer source – RMH has never done that."
That approach has helped spur the company's growth, which includes not only Ellard and her five-member nursing staff in El Reno, but a total of 25 full-time RNs and LPNs, as well as several per diem PRN nurses, across RMH's four offices. That staff serves about 100 patients throughout the Oklahoma City metropolitan area and an approximately 75-mile radius surrounding each of its offices at any given time.
"Everybody deserves to die with dignity – to me, if we can bring peace, if we can bring comfort, we help them to do that," Ellard said. "It's that mission, it's that ability to be a part of that – well, that's the reason this was my first job, and I want it to be my last."