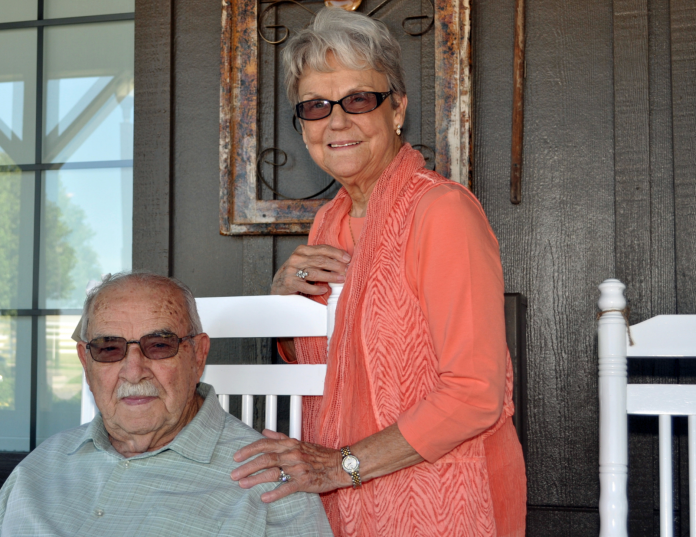 by Vickie Jenkins
Bill Howard is a retired Oklahoma City businessman and former minister. Now, he is a published author of 3 mystery books, " Rick Wade: Investigations," "The Case for Sarah" and "A Time to Reap." The unique thing about Bill is the fact that he began writing his first book in 2013 at the age of 83 and is almost finished with his 4th book.
"I have always felt like I needed to be busy, doing something or producing something," Bill comments. "When I was young, I spent a lot of time reading. I remember my grandmother gave me my first book and it was a mystery. After that, it seems like that was the only kind of book I read. At first, it was the Hardy Boys and then the Nancy Drew series and as I got older, I advanced to the Perry Mason books. I didn't have a lot of my own books, but there was a small school library and a small town library. I was only interested in mysteries."
Asking Bill how he came about naming the main character in his first book, "Rick Wade," he replied, "I have a friend with the name of Rick and a friend with the last name of Wade so I guess I had those names on my mind," he replied. "A lot of the characters in the book are named after some of my friends."
Bill does admit he gets writer's block sometimes but it doesn't last long and he is ready to go again. "The stories just come to me and then, it takes off. You have heard the saying, flying by the seat of your pants? I write by the seat of my pants," he says with a laugh. "Where do you get your story ideas?" I ask. "I just pull them out of the air," he says. " I actually think I read so many books over the years, the stories just flow out."
"After Bill writes his stories, I go through and edit his work," Juanita says. "I'm good at words and she is excellent with punctuations," Bill adds. Bill is not the only author in the family. Juanita has written a cookbook, "Grammy's Favorite Recipes, A Seventy-Year Collection." "I decided to write a cookbook since my kids were always asking for a recipe," she said. "I gathered the recipes, put them in a book, sharing the recipes with others. "Are you planning on writing another cookbook?" I ask. 'No, not now, I'm staying too busy," she replies "I am enjoying spending time with my family."
Bill's hobbies include reading, writing and watching movies. Bill is also a fantastic artist. A modest man, Juanita holds he r cell phone, showing me some of his art work that is hanging in their house. "No painting lessons, just a few painting tips from one of his friends," Juanita says.
"What inspires you every day?" I ask Bill. "Oh, it is definitely my faith and my beliefs and my religious connections. Juanita and I start every morning by reading God's Word. I want to be the best Christian, husband and best father I can be."
Asking Juanita, to describe Bill's personality, she replies, "Bill is just wonderful and enjoys the simple life. He is very thoughtful and caring and always thinks before he speaks. He is definitely a problem solver and he gets things done." How does Bill describe Juanita? "She is the most thoughtful, caring person I know. She is always looking out for the other person. She is involved in church activities and is always helping someone out. It seems like people are drawn to her. She is such a sweet person," Bill replies.
Both Bill and Juanita agree that faith is the most important thing in their life. "I am a big believer in the fact that everything happens for a reason. We are both faithful and honest and we trust each other in everything," Bill comments as he gives Juanita a little pat on the hand. "We live a simple life and a God-fearing life. We are both very happy," Juanita adds.
Bill and Juanita Howard reside right outside of Shawnee, Oklahoma. Their blended family consists of eight children, sixteen grandchildren and thirteen great grandchildren. If you are interested in purchasing their books, please contact Vickie at [email protected].