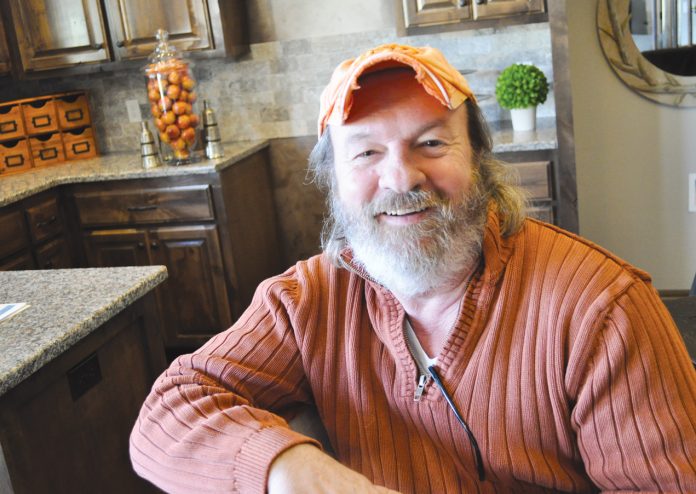 by Bobby Anderson, Staff Writer
Several decades ago Gary Owens and his family were grazing Angus cattle on the hundred acres near SW 17th and Czech Hall Road.
Little did the future home builder know that that patch of Oklahoma prairie would be a once-in-a-lifetime opportunity for seniors searching for affordable living.
"It's just a good deal for someone that's a working class person and just doesn't have tons of income," he said of his current home building project.
For the last 39 years the Owens name has been synonymous with quality homes in the Mustang area.
Now it's also becoming known for truly affordable senior living with the opening of Belmont Cove.
That grazing land has given way to beautifully appointed homes seniors can afford to lease at $1 a square foot.
AMENITIES ABOUND
The luxury two-bedroom homes are 1,000 square feet of handicap-accessible living space. Baths are adorned with granite vanity and ceramic tile flooring.
Granite countertops and beautiful wood flooring spill into the kitchen with a host of stainless steel appliances.
Enclosed washer and dryer connections and a one-car garage add to the residence.
Fenced backyards and a covered porch allow for easy pet-friendly outdoor living.
There's no costly buy-in to get into Belmont Cove either.
A deposit and first month's rent allows residents to move in.
Belmont Cove is two miles away from Wal-Mart, Target, Homeland and other shopping venues.
Integris Canadian Valley Hospital is three miles away and the senior center is five miles down the road.
"You can be just about anywhere in Oklahoma City in 15 minutes," Owens said.
Owens made sure that all leases included a buyout clause in the case that someone's circumstances changed and they needed to move into an assisted living facility.
For the cost of a month's rent residents are able to make that needed move.
It's personal for Owens, who made sure he built the type of residence he would want his mother to live in. That's because his mother did live in one of those homes until she was in her 90s.
Owens built a similar community in the 1990s and it was quickly purchased by a California investor.
Then Owens and his three brothers had to pool their resources when their mother required around-the-clock care.
"We wished we hadn't sold it," Owens said of the 47-home project.
That was an inspiration for Belmont Cove which is opening in three phases with a 2,500-square-foot clubhouse.
"The biggest thing is we do all the maintenance," Owens said. "They can even take off for two or three months and we'll watch after it for them."
Mowing the yard, changing the light bulbs or air filters – it's all included.
And it's all markedly cheaper than any comparable property.
It's truly a once-in-a-lifetime opportunity.
"It's pretty hard for anybody to compete with us on price because we've owned the land so long," Owens explained.
Owens also passes along deep discounts to residents at Galleria Furniture, which he also owns.
LOCAL HISTORY
Owens built his first house in 1978, while still in high school. Overcoming many obstacles due to beginning at such a young age, he has now built some 2,000 homes and 135 commercial buildings. He has also developed 26 housing additions in the Yukon/Mustang area.
Creating a fully integrated construction company, Owens performs a lot of work that would normally be contracted out by other builders, including carpeting, dirt work and sand and gravel delivery. This keeps costs low, allowing savings to be passed on to customers.
It's always been about family for Owens, who has taught son Justin to carry on the legacy he's built. Justin serves as construction superintendent, overseeing day-to-day operations and working with his dad since 1996.
His mother-in-law is expecting to move into Belmont Cove in the coming months.
Spend a few minutes with Owens and a couple things become obvious.
The elder Owens is relational and foundational. A handshake with Owens is a promise that he'll deliver exactly what he says he will, even if it costs him more.
Many of Owens' contractors have been working with him since the late 1970s. Most grew up with him in the Mustang area.
That shared foundation was carried over into the home building process and attention poured into the details.
For instance, everyone knows that a prefab cabinet will never enter an Owens home.
All wood cabinets are built from scratch with raw wood, stained and then finished.
It's just another example of how every home is unique.
And he takes great pride in developing land that sustained his family into affordable homes that will be a blessing for more Oklahoma families.