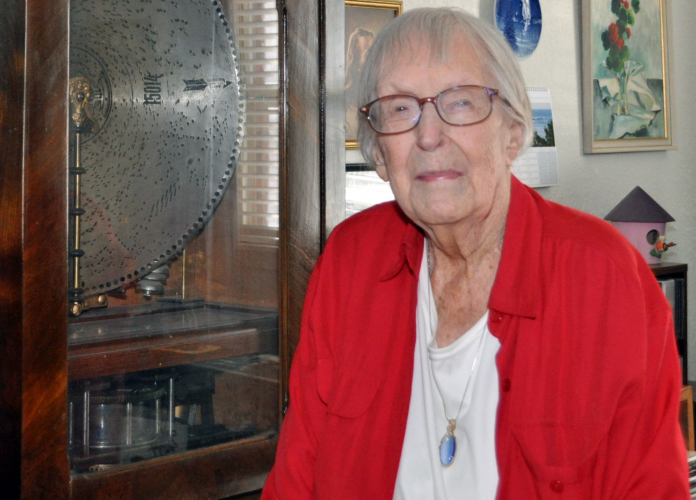 by Vickie Jenkins
Meet Evelyn Brown, also known as 'Bobbie Brown' by her friends. She lives at Spanish Cove Retirement Village and has been a resident for 13 years. "I just love living here. I have lots of friends here and we have the best time," she states. Her apartment is nice and cozy as treasured memories are all around.
One would never know that Evelyn just turned 100 years old. I was honored to be invited to her birthday party, which was held in the Club House at Spanish Cove. Since Evelyn's birthday was October 31, the room was decorated with orange and black decorations. Friends began arriving as hugs were given and 'happy birthday' was heard. Friend after friend came by to give her a hug and tell her how much they appreciated her. One of her friends, Dell South sat down beside the two of us and began telling me how much Evelyn meant to her. "I tell you what, Bobbie is so knowledgeable in history. If anyone around here has a question about history, she has the answer," she laughed. "She is a delight to be around and I see her every day. It's so good to be friends with Bobbie Brown," she added. Meeting some of Evelyn's family members was a true sign of love and compassion. A special thank you to Evelyn's daughter, Enda for allowing me to interview such a wonderful woman as Evelyn Brown. About 150 family and friends showed up to wish her a happy birthday.
Evelyn had some very interesting stories to tell. She grew up in Eastern Colorado on a farm near the site of the Sand Creek massacre. She recalls one of her favorite memories from her teen years. "I loved hunting arrowheads. Once, I found one in pristine condition and I had it made into a ring," she said with a bit of pride in her voice. "I still have that ring to this day."
"My first job, outside of working on the farm was working at Longs Peaks Inn where I made forty dollars a month," she commented with a laugh. "I think jobs have changed quite a bit since then. In the winter, I worked in the County Clerk's office in Eads, Colorado."
Meeting a few of Evelyn's friends, they each had something nice to say about her. "Evelyn is such a good friend," one of them said. "Oh, she is so good with history," another friend commented. "Someone can ask Evelyn about history and she seems to know the right answer," she added. Over the years, Evelyn has been a member of Daughters of the Revolution, Founders and Patriots of America, Colonial Dames of the 17th Century, War of 1812, Union Veterans of the Civil War and Huguenots of the Manakintown. "I love history and always have," she said.
I am sure most people in Oklahoma are familiar with the annual Friends of the Metropolitan Library System book sale. This was formed in 1978 as a non-profit organization for the purpose of focusing public attention on library services and needs. This organization was started by Evelyn Brown, Sally Hirte (who is still living and lives in Arizona) and Linda Levy, a library employee at the time. "There was a query in the daily newspaper needing volunteers. The next day, the three of us met in Linda Levy's office in the library and that was the beginning of the book sale," Evelyn said. The organization is still going strong as people flock to the fairgrounds, carrying large bags, pulling wagons, in search of just the right books to buy. It makes perfect sense that Evelyn's favorite past time is reading.
Asking Evelyn what she likes to do to keep busy, she replied, "I like to spend time with my friends. My friend, Dee and I make a trip to Starbucks every afternoon, and I get my favorite drink, a Chai Tea Latte. Starbucks even gave me a party for my birthday," she added. "I don't watch much T.V. but I do have a favorite show which is 'Antique Roadshow.' I watch the news every night too." When asked if she had a favorite actor or actress now, she replied, "I don't have a favorite now but in my younger years, I liked Nelson Eddy and Jeanette McDonald."
Today, Evelyn continues to stay busy, whether it be gathering with friends, reading a book, drinking a Chai Tea Latte or just listening to a tune on her music box. Happy birthday Evelyn Brown! You are loved and respected by many.