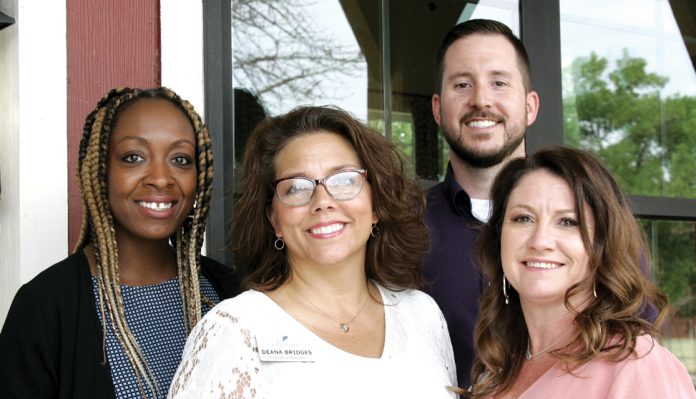 Story and photos by Darl DeVault, contributing editor
Lyndale Edmond Senior Living Sales and Marketing Director Amber Compton welcomed the group of 52 Senior Business Solution colleagues to their networking luncheon on July 21 at Lyndale Edmond. Emphasizing how shifting demographics and reshaping complexes built for older Americans address a variety of rates and services, she explained Lyndale features nine cottages on their remodeled senior living property as well as 115 independent living and 48 assisted living apartments.
The Lyndale Edmond Senior Living hosts shared their premium meeting space, their clubhouse adjacent to their pool, for the monthly gathering of senior healthcare marketers and senior-focused company workers.
Newly appointed Regional Director of Sales & Marketing Cameron Gruenberg was on hand to observe from his office in Tulsa.
"Lyndale Edmond is a beautiful senior living community offering independent and assisted living with a resident-first philosophy, caring associates, great lifestyle programs and delicious meals," Gruenberg said in an interview. "Hosting this event allowed attendees to experience what life is like at Lyndale Emond."
The networking group was treated to one of many of the host's amenities when Lyndale Culinary Director Bryan Newton offered a well-received lunch of BBQ ribs.
Many attendees were learning about their community peers for the first time. For others, it was apparent they had been attending the networking luncheons for many of the six years the SBS group has been getting together.
The luncheon continued with each invitee giving a few minutes of background on their employer and how they saw their role in helping seniors with their needs in the community. A few people outlined special events their venues were planning in the near future, inviting others to attend.
The discussion often centered on getting calls from care managers or discharge planners from hospitals and rehabs. Some explained they were available to help them find a community with openings, who is full, who can offer space, and who can provide temp nurse slots.
Other speakers reached out to all those gathered for more interaction to support the booths available at the upcoming Senior Day on September 21 at the Oklahoma State Fair.
Several speakers shared information about upcoming professional events. The guests were reminded of the Oklahoma Assisted Living Association Annual Convention & Trade Show as the association celebrates its 25th anniversary August 23 – 25 at the River Spirit Casino Resort in Tulsa.
The meeting was a more personalized version of a monthly networking newsletter with information, announcements, and networking within the retirement industry.
Several speakers highlighted how to get involved in Oklahoma's many Alzheimer's Association Walk to End Alzheimer's, with the main ones being September 17 in Tulsa and October 22 in OKC.
Some providers reported real-time availability for their care and housing options along with home care and hospice providers.
A radio station representative who primarily markets information emphasized the station strives to be a dependable senior community resource.
Later, Lyndale Executive Director Deana Bridges explained the spacious, fully featured clubhouse the meeting was in is available to clients for special events and also for rent to outside groups. The remodeling at Lyndale allows them to offer the cottages as private residences along with independent living and assisted living apartments as more affordable housing models.
Sagora Senior Living operates the property. It is one of America's top 50 privately-owned senior housing operators with communities throughout Oklahoma, Texas, Alabama, Florida and soon California.
Lyndale Lifestyles Director Michelle Robbins also offered to make their bus available if anyone wanted a quick property tour.
Conversations before and after the more formal portion allowed attendees to stay connected with their senior industry peers while building possible referral networks.