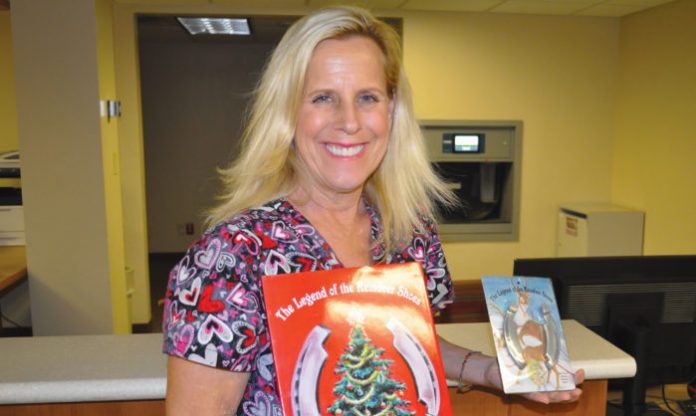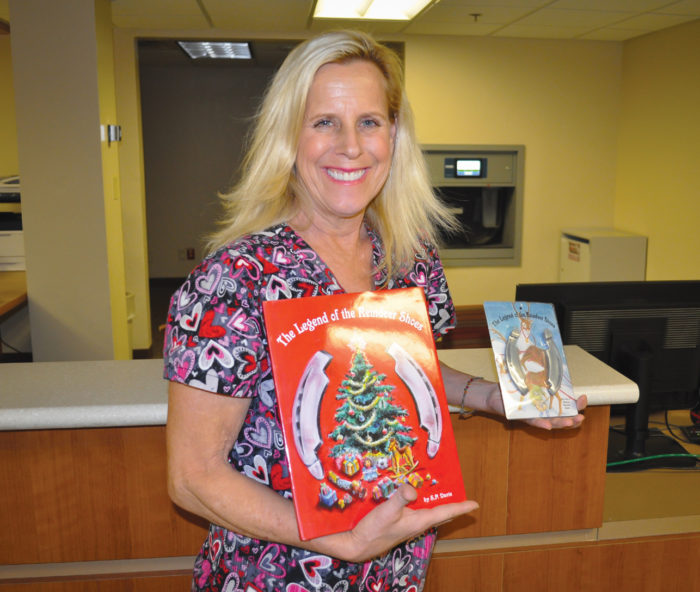 by Bobby Anderson, Staff Writer
Growing up with four siblings, Christmas was always a very special time for Sharon Smith-Davis, RN. Lots of fun, lots of games and lots of family always made the season one she would look forward to all year long.
Christmas in the Smith-Davis household meant attending Midnight Mass before coming home to eat and open presents.
It was a night filled with wonderment – and to Smith-Davis – one bursting with magic.
That's why decades later the Norman Regional Health System nurse decided she needed to capture that magic and pass it on by writing her first book, The Legend of the Reindeer Shoes.
"I tapped into something I had been thinking about," she said. "I just wanted to leave behind for future generations some good, old-fashioned Christmas magic."
The Legend of the Reindeer Shoes is a tribute to the tradition of that Christmas magic. This delightful story chronicles the preparation and journey of Santa and his reindeer on Christmas Eve and introduces Jingle, the North Pole's blacksmith.
According to the legend, the reindeer need shoes on their hooves before they can leave on their famous flight. During the trip their shoes are in frequent need of repair and replacing if lost.
Jingle is there to attend to their needs and assure that the reindeer have a full set of shoes on their hooves for the job ahead.
The story reveals that the reindeer shoe itself is a magical source and if you are lucky enough to find one and hang it from your Christmas tree, you too will experience a little bit of good old fashioned Christmas magic.
Smith-Davis wants everyone to make Christmas Eve a memorable family tradition but it took a devastating accident to settle her down long enough to put what was in her head and her heart down onto paper.
Smith-Davis had long written poetry just for herself but a professional barrel riding accident in 1997 on her sport's largest stage that unsaddled her from her best friend.
The five-time National Finals Rodeo competitor was separated briefly from riding due to a personal injury and found herself alone with her thoughts.
Looking to occupy her time, she turned her attention to writing a book. Her leg fracture was long healed by the time she completed her labor of love.
It took an entire year from start to finish to complete the book.
They say write what you know and Smith-Davis did.
The reindeer's eyes are drawn from one of her best quarterhorses.
The reindeer shoes were originally forged by a six-time world champion blacksmith and then sent onto a toy factory to create the molds.
When she's not working you can find Smith-Davis reading her book at local schools.
"I always ask my kids 'did my book make you smile,'" said Smith-Davis, who still competes locally. "When I see that smile it's all good."
"My big hope for it is to maybe one day be made into a traditional Christmas movie."
Labors of love can be expensive. She poured $20,000 into the venture through illustration and publishing costs alone.
But it's all worth it to her.
It was years later Smith-Davis realized how much her mother, a registered nurse herself, put into the whole night before getting up early to work her shift on Christmas Day.
It was just one of the memories that came to her when her mother passed away last week.
That selfless love is part of the season to Smith-Davis, who already has her thoughts swirling around her next book, an Easter theme to go with her love of rabbits.
When she's not writing she's working at one of Norman Regional's campus as a flex nurse, drawing a new assignment, new unit and new campus each shift.
"I love nursing," Smith-Davis said. "I love the science part of it. I like maintaining healthcare standards and assuring that people get quality care."
From home health to supervisor of a medical surgical floor Smith-Davis has worked in every setting outside of women's and children's services during her nursing career.
After 35 years she can recover a heart or take pretty much any post-op patient that comes her way.
And she still loves it.
"I love my boss," Smith-Davis said. "I just like – as the work implies – the flexibility. You don't go to the same place every day. I learn something new every day and I'm amongst the most experienced people that are awesome to work with. And we're blessed to have the quality of doctors we have."
"I love it all."
You can buy the Legend of the Reindeer Shoes book and a magical pair of reindeer shoes online at www.reindeershoes.com. You can also contact her directly through the website.
And her greatest hope is that your family will make its own holiday tradition and the magic returns each and every year.