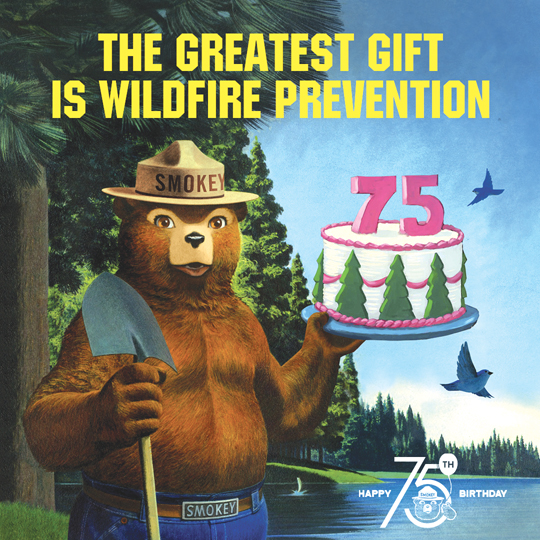 The Oklahoma City Zoo and Botanical Garden partnered with Oklahoma Forestry Services to celebrate the 75th birthday of America's favorite fire prevention personality, Smokey Bear. The celebration took place July 26th at the Oklahoma City Zoo's Oklahoma Trails, Big Rivers Building.
"Together with Oklahoma Forestry Services, we were honored to commemorate this historical occasion celebrating one of the world's most recognizable animal ambassadors," said Barry Downer, OKC Zoo's Deputy Director. "Like Smokey Bear, the OKC Zoo is dedicated to the conservation and preservation of our natural world and this event is a memorable way to connect Oklahomans to this vital campaign and its message."
Smokey Bear's birthday party featured Oklahoma Forestry Services firefighters, fire prevention information, fun Smokey giveaways, birthday cake—and of course, the bear himself! Plus, the OKC Zoo's grizzly and black bears received their own birthday cakes created by their caretakers as part of the festivities. Grizzly bear brothers, Will and Wiley, received enrichment treats as did the black bears, Maynard and Woody Both the grizzly and black bear enrichment sessions were viewable from inside the Big Rivers Building and were free with regular Zoo admission.
For 75 years, Smokey Bear has been educating the public about fire prevention and the importance of protecting America's wild places from unwanted, human-caused fire. Smokey, one of the most beloved ambassadors of our time, and his signature catchphrase, "Only you can prevent wildfires," are truly iconic. His message of wildfire prevention is the center of the longest-running PSA campaign in our nation's history.
"We are excited to partner with the OKC Zoo to celebrate Smokey Bear's 75th birthday," said Mark Goeller, Director, Oklahoma Forestry Services and State Forester. "Smokey's fire prevention message is as relevant today as it was in 1944, and we hope it continues to resonate with generations to come."
Located at the crossroads of I-44 and I-35, the Oklahoma City Zoo is a proud member of the Association of Zoos and Aquariums, the American Alliance of Museums, Oklahoma City's Adventure District and an Adventure Road partner. Hours of operation are 9 a.m. to 5 p.m. daily. Regular admission is $11 for adults and $8 for children ages 3-11 and seniors ages 65 and over. Children two and under are admitted free. Stay up-to-date with the Zoo on Facebook, Twitter and Instagram and by visiting Our Stories. Zoo fans can support the OKC Zoo by becoming Oklahoma Zoological Society members at ZOOfriends.org or in-person at the Zoo! To learn more about these and other happenings, call (405) 424-3344 or visit okczoo.org.