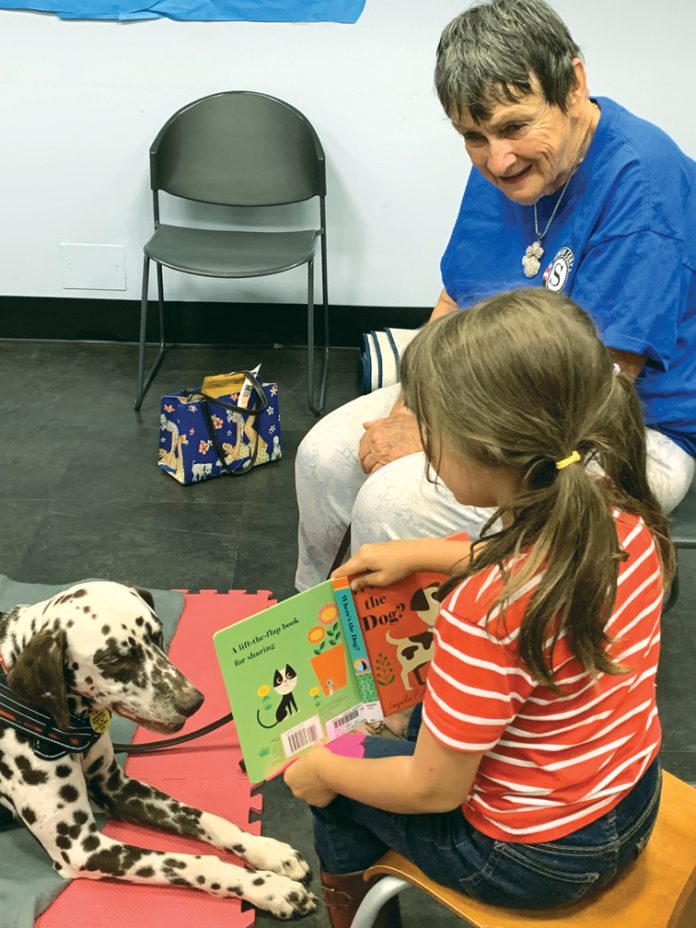 Macaroni "Mackee", a 10-year-old Dalmatian therapy dog, walks close by owner Jane Neely and settles on the floor surrounded by children and books at the Midwest City Library.
After a little girl reads a book to Jane, while showing pictures to Mackee, a young boy comes in near the spotted dog and begins reading a book about cougars.
"Children are so open. They just sit down without any inhibitions and pet Mackee or read to him," said Jane, a Retired and Senior Volunteer Program (RSVP) of Central Oklahoma volunteer since 2005. "Sometimes they read to me and sometimes they like me to help them with their reading. Mackee is patient and just loves the kids."
Jane is an active member of Therapy Dogs International, the leader in training and certifying therapy dogs, and Mackee is a certified therapy dog. She has had a love of Dalmatians for years, having owned nine. When she first began volunteering with RSVP, she gave her time delivering meals, but the love she has for her dogs and sharing them with others blossomed into a new volunteer opportunity reading to children at libraries and visiting nursing homes, where sometimes Mackee performs tricks for the residents.
Laura McPheeters, RSVP of Central Oklahoma volunteer coordinator, said that Jane's dog is an icebreaker and comfort to children and the elderly, and that people feel no judgment and feel unconditionally supported by the dogs almost instantaneously.
"I think it's fun to be a volunteer with RSVP and share my dog with people," Jane said. "Dogs are born to love."
Since 1973, RSVP of Central Oklahoma has helped senior adults continue to live with purpose and meaning by connecting them with rewarding community volunteer opportunities, including RSVP's Provide-A-Ride Senior Transportation Program. RSVP is a partner of Senior Corps and the United Way of Central Oklahoma. To learn more about becoming a volunteer, call Laura McPheeters at 405.605.3110 or visit rsvpokc.org. You can also follow RSVP on Facebook at facebook.com/RSVPokc.